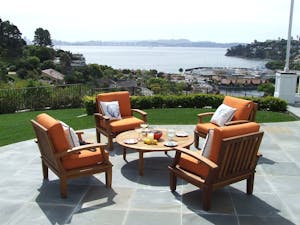 There's nothing that says "summer" more than clean, bright, comfortable patio furniture. When the weather is nice, your patio or deck is your escape.
It's where you enjoy a glass of wine after a long day at work or lounge for an entire weekend reading the summer novel that everyone's talking about. It's where friends and family gather for barbecues, kid parties, and, if you're lucky, long days by the pool.
The Sun and Your Patio Furniture
When we first purchase patio furniture, it looks perfect, and we pretty much expect it to stay that way. Despite the fact that it spends more than half of the year outside in the rain, sun, and blistering heat, we want our furniture to look good year after year.
In recent years, we've heard a lot about the dangers of spending too much time in the sun. Most of us are diligent about using broad-spectrum sunscreen on ourselves and our families. You can even buy clothing that has built-in sun protection.
While we may not consider this when we're excitedly choosing new patio furniture, the sun takes a toll on more than just our skin. Patio furniture is probably the item that spends more time in the sun than any other, and patio furniture is not cheap. The reality is that even the highest quality patio furniture can and will take a beating from the sun over time.
With this in mind, there are several factors to consider when selecting new patio furniture – or when you're having existing patio furniture rehabbed – that will be left in a sunny spot.
Protecting Your Patio Furniture From Fading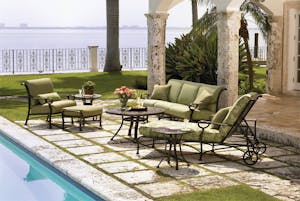 The sun will inevitably fade any fabric over time. Dark colors will fade more noticeably than light-colored fabric. Fabrics such as Sunbrella are resistant but not completely immune to fading.
Fabrics are not the only part of outdoor furniture that suffers in the constant sun. Wood furniture needs to be protected with some type of sealant or paint, and it will need to be reapplied regularly. Even metal and plastic frames will sustain some sun damage over time.
Here are some tips that will keep your patio furniture fabric and frames looking like new for as long as possible:
Make sure to put furniture in the basement, shed, or garage at the end of the season to keep it out of the harsh winter weather.
Consider investing in furniture covers. Make sure they are easy to fit and remove so that you will be more likely to use them regularly.
Choose fabrics and materials that are resistant to the sun and repel water.
Choosing Fabric for Your Patio Furniture
Selecting fabrics that are made to last can keep your furniture looking great for many years. While all of the premium patio furniture brands design their textiles and materials with longevity in mind, some offer fabrics that are specially designed to be weather resistant.
Brown Jordan: All of Brown Jordan's fabrics – including the Suncloth and Sling Collections – are manufactured by Sunbrella, an industry leader in creating and manufacturing sun and weather-resistant outdoor fabrics. Sunbrella fabrics are resistant to soil, abrasion, and UV light. Sunbrella's Versatex mesh, a performance fabric with a contemporary look, is proprietary to Brown Jordan. A wide array of colors and patterns are available, from bold to sophisticated. If your current fabrics are faded or outdated, The Southern Company can replace them with your choice of Brown Jordan fabrics.
Tropitone: Tropitone has several options for fabrics that are particularly sun resistant. Sunbrella manufactures its Marine Grade fabrics that can be used for accents such as pillows or valances. Its Basta Sole umbrellas and cabanas also use Sunbrella fabrics, which coordinate with many of its 300+ choices of furniture fabrics. Tropitone also offers Firesist fabrics on their umbrellas, which are flame retardant as well as UV resistant. It goes without saying that a good umbrella can protect furniture fabric at the sunniest part of the day.
Winston: Winston Furniture carries an extensive line of muted, sophisticated colors and patterns, all of which are specially designed and tested to be resistant to UV damage. Vinyl-coated polyesters are selected for their suitability for slings, while acrylic fabrics keep cushions and umbrellas looking their best. As always, when these fabrics eventually begin to wear out, The Southern Company will be happy to replace the fabrics to get your patio furniture looking brand new again.
Woodard: Woodard Furniture carries an array of unique patterned and textured fabrics, many of which are available in the Sunbrella's Rain fabric, which is 100 percent waterproof, a feature that will help to protect against mildew as well as sun damage.
Is Your Patio Furniture Sunburned? Call Us!
Brands like Winston, Tropitone, Woodard, and Brown Jordan make their fabrics and frames to last. However, years of exposure to UV light and other elements will eventually take their toll on outdoor patio furniture. The Southern Company offers the best solution to preserving furniture that you might otherwise throw away. Not only can we help your furniture last a lifetime, you get to choose the exact finishes and fabrics that you want. In fact, if you're ready for a completely new outdoor look, we can make it so that you hardly recognize your old furniture!
We can refurbish your patio furniture for less than you might think. Call The Southern Company today to find out how we can help you get the most possible value out of your investment. And don't forget the sunscreen!