The development of the Tropitone brand is one fascinating example of a post-war American success story.
After the harshness of World War II, in the early 1950's families across the United States were establishing settled households and becoming more affluent.
One of the major boom industries was in making people mobile. Cars were becoming affordable and air travel was transitioning from servicing mostly the wealthy to something any middle class suburban family could do.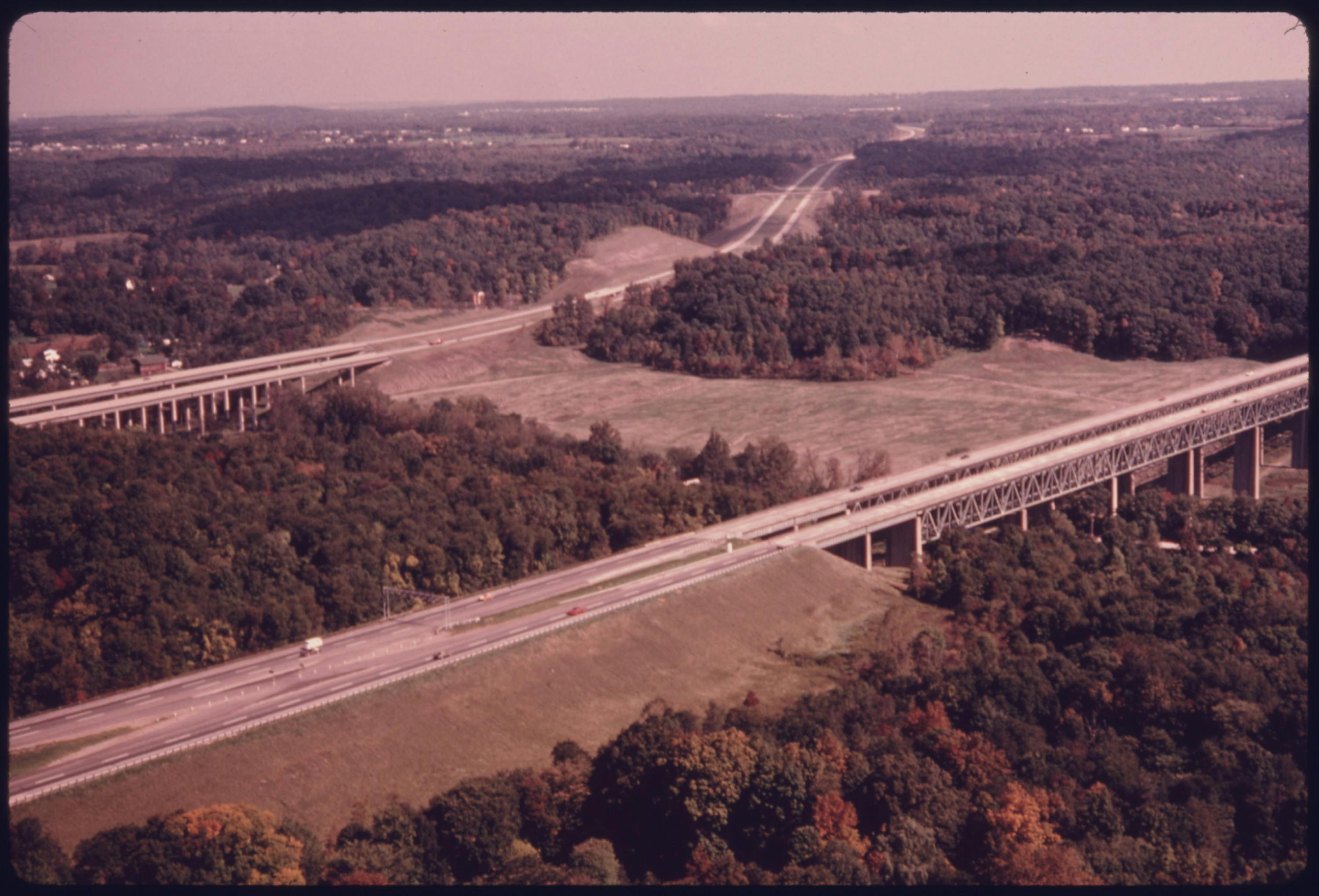 During this period 46,000 miles of US Interstate Highway were also built to connect the major urban centers of the North American continent together.
In conjunction with the rapid expansion of paid vacation and leisure time, faster travel helped huge quantities of hotels, motels, clubs and resorts to spring up at an amazing rate.
The Birth of a Trusted American Brand
It was against this background that the Tropitone brand was born.
In 1954 Mr. Burt M. Baker purchased the Saratosa Redwood Furniture Company and immediately switched from using redwood to aluminum for the frames of his outdoor patio furniture.
The Tropitone Furniture Company was established with the aim of supplying high quality outdoor furniture to the rapidly expanding commercial market. The exceptional quality of Tropitone patio furniture ensured that it was soon to be found on the lawns, gardens and patios of commercial leisure premises around the country.
As this market slowed, Tropitone entered the domestic retail market. Changing the performance standards of an entire industry, the company raised the bar on expectations for consumers looking to enjoy the benefits of outdoor leisure time.
With such pedigree and high standards of production, it's no surprise that with gentle cleaning, care and maintenance, Tropitone patio furniture can last a lifetime.
Caring for the Frames of Your Tropitone Furniture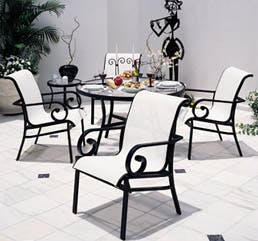 The golden rule when caring for your Tropitone outdoor furniture is to undertake a gentle and regular maintenance routine rather than occasional, heavy duty cleaning. This is particularly relevant for the frames of your furniture, which can suffer if neglected or treated harshly.
It's best to regularly tighten all hardware, because loosening can eventually lead to failure and breakage. Regularly check and tighten all bolts and then confirm that movement is smooth and not obstructed because the bolts are too tight.
Painted finishes are used on some Tropitone aluminum seating tables and parasols. A regular cleaning with a sponge or soft bristle brush will keep the surface clean without excess abrasion, which could damage the surface. Avoid using harsh chemicals and instead mix 2 ounces of mild, biodegradable liquid soap in 1 gallon of lukewarm water for cleaning.
This routine should be particularly frequent and thorough if the furniture is to be used near the sea or a pool area. Salt and chlorides can accumulate over time, leading to finish failure.
Areas of your furniture that are made from stainless steel should be cleaned using a gentle solution of mild, biodegradable liquid soap if possible. Where a more specialized cleaner is required, it's important to remove cushions and protect the fabric around the area to be cleaned to prevent staining. Always rinse thoroughly with fresh water to remove these cleaners.
Stainless steel should be dried thoroughly to prevent streaks. Rub with the grain using a soft cloth. Thoroughly rinsing and drying stainless steel components will remove excess detergent and allow the metal to breathe, which helps to prevent corrosion.
Extending the Fabric Life of Tropitone Patio Furniture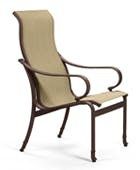 Many people do not realize that the lifespan of your outdoor furniture fabric is largely dependent on the care given to it.
As well as cleaning up spills promptly, you can extend the life of Tropitone fabric by rinsing down your furniture regularly with warm water.
Suntan products can permanently discolor furniture fabric if they contain a substance called PABA. It would be a good idea to use PABA-free sunscreen when possible, but be sure to clean your furniture after every sunbathing session when using a sunscreen that includes this chemical.
Simple things such as storing cushions away and covering the fabric when not in use will also dramatically extend its lifespan.
In all instances it's best to clean fabric with a mild, biodegradable soap and water mix. Sponge down the fabric and use a soft brush for dealing with any obvious stains.
Some things to avoid when it comes to fabric care include:
1. Never use a bleach solution unless it is specifically listed as suitable for fabric.
2. Do not submerse cushions in water, or allow them to lie in standing water.
3. Do not put cushions or other fabric into the dryer.
4. Do not use hard bristle brushes or harsh detergents.
5. Do not apply heat or use very hot water.
Care of Tropitone Straps, Lacing and EZ Span Segments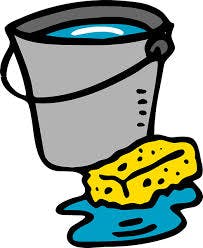 In areas with high concentrations of acid rain, fog or humid conditions, vinyl straps must be cleaned at least monthly with lukewarm water and ammonia mixture. As a guide you should use three parts of water to one part of ammonia. Always rinse thoroughly afterward.
In other geographical areas you can clean vinyl straps, lacing and EZ Span segments less frequently, using mild, biodegradable liquid soap. Always use a soft bristle brush and sponge.
An important point to make is to always lift straps or lacing where possible to clean beneath them. These areas are where the straps can collect dirt and other debris, which can affect the material to which they are attached.
A reputable commercial furniture cleaner will help lift embedded dirt from vinyl, so we recommend using one should you feel your furniture is in need of a deeper clean.
Looking After Tropitone Table Tops

Tabletops are often forgotten as they are assumed to be very durable. However, over time abrasive materials can affect their integrity. It's advisable to avoid a build-up of grease and stains on acrylic tabletops by washing them regularly with a mild, biodegradable liquid soap and lukewarm water cleaning solution.
An important tip is to occasionally use a small amount of high-grade automotive liquid wax on acrylic tabletops as this will keep them looking like new.
For Tropitone glass tabletops you can use a glass cleaner. A mixture of vinegar and water can also be used on glass table surfaces and it can also be used on Stoneworks® solid surfaces, such as faux granite tops.
Caring for Tropitone Natural Stone Surfaces
Tropitone natural stone surfaces should be cleaned routinely using a soft cloth and a mild soap solution.
Generally, always clean spills immediately and use coasters to ensure that stains are not ground into the stone surface. This is particularly relevant if the spillage is alcohol as this can etch natural stone if it is not cleaned promptly.
You should never use bleach, glass cleaners, vinegar, ammonia, lemon or orange juice on natural stone surfaces. You should also never scrub or scour a natural stone surface.
If you use detergent to clean the stone surface of your Tropitone outdoor furniture, then eventually a soap film will develop on it. In this case apply a natural stone cleaner, always following the manufacturers instructions.
Letting the Professionals Refurbish Your Tropitone Furniture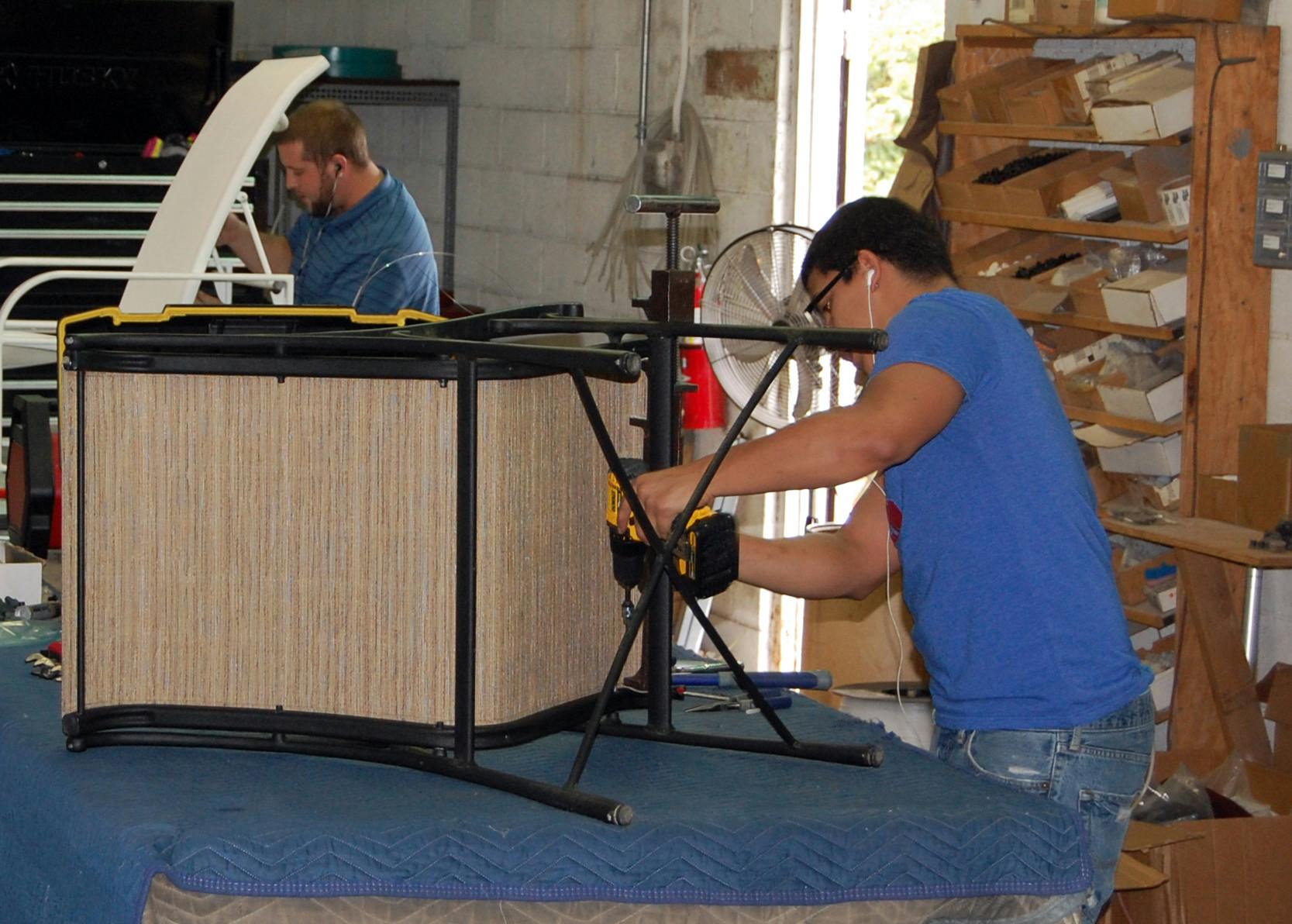 High quality, Tropitone outdoor furniture will last a lifetime if cared for properly using the tips we have given you here.
If your furniture is currently in need of restorative work, then let the experts at The Southern Company clean and restore your outdoor furniture. We understand that high-quality patio furniture is a long-term investment and our standard of care and service will ensure that your investment is safe for the long-term.