Why Media Proper?
Media Proper is a small web design and consulting firm working out of Media, PA. We work with clients in Willow Grove, Philadelphia, and all over the Main Line. We've been in business since 2001, and we know how to create a buzz. With years of experience under our belts, we understand what a small business website should be, how it should work, what it should look like, and, most importantly, how to build one that rocks.
The Business Behind a World-Class Website
To design a truly effective website, you need to understand the business behind it. Online marketing is a complex skill set that should go hand in hand with web development. Media Proper knows how to tailor a site to ALL the needs of your business. Buyer beware: A developer who doesn't understand marketing and selling may be able to create eye candy—and little else.
Your One-Stop Web Shop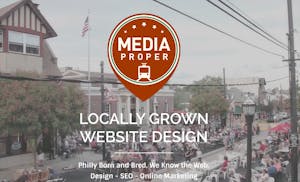 Web development means so much more than building an attractive website. From copy creation to SEO to graphic design to branding, a website is a truly complex product. At Media Proper, you can find all of your web development needs under one roof.
We're From Around Here
With Media Proper, what you see is what you get. We're a crack team of locals, and we're here to get the job done. We believe that you can get big city quality right here on the Main Line—without paying big city prices. And since we're from around here, too, we know your market inside out.
It's About More Than Just Business
We don't mean to brag, but we believe that we do what we do better than anyone else. But we're not just web developers; we're people too, and we want your business to succeed. We're passionate about helping our clients get to the top of their industries, and there's nothing we like more than seeing our neighbors make it big. We build websites, but we also build relationships, and we think you'll see the difference.
The Perfect Site
Whether you can envision your perfect website or you have no idea where to start, you're in good hands. Our creative team can translate your vision into an online destination for your brand—or create one out of thin air. We know how important it is to create the perfect impression with your site. We promise you're in good hands with the Media Proper creative team.
Like Clockwork
We've been honing our development process for more than 15 years, and it works like clockwork. We don't like to waste your time. We use a systematic approach to creating your perfect site. And our obsession with detail means that when Media Proper builds your site, we do it right.
Search Engine Optimization—Helping Your Customers Find You
The Internet is massive, and sometimes it can seem like your business is just one of millions. The cream rises to the top, but only if you help it along. Search engine optimization, or SEO, is what gets your site in front of the customers who want to see it. SEO is a highly technical and ever-changing science that is a discipline all its own. The good news? Media Proper knows it inside out.
Content That Makes an Impact
Search engine optimization will get your website in front of eyeballs, but only good content will keep them there. Valuable content is the lifeblood of every website—and every brand. That's why we make sure that our copywriters are the best in the business.
Drive Traffic With Adwords
Google Adwords is a powerful tool, but only in the hands of an expert. Without experience and no-how, you might as well drop your money into a slot machine. Take our advice: Don't launch your Google Adwords campaign unless you know what you're doing. And if you don't, you're in luck, because Media Proper does.
Your Market is Our Market
We design sites for small businesses in Willow Grove, Philadelphia, and beyond, and our services are more affordable than you might think.
If you're a local business, the Media Proper team knows your market from top to bottom. We live and work here, too, and we know there's no substitute for first-hand knowledge.
It's time to put the experience and Media Proper to work for you. Check out our portfolio at www.mediaproper.com.