Mesh patio chairs are comfortable and stylish pieces that make any outdoor space feel cozy and inviting. Now that summer has come to a close, it's time to pack up the patio furniture and get it ready for storage. An important step of storing your furniture for the fall and winter is having repairs done on the pieces that may need mending after a long season of use. If you think you might be in need of mesh patio chair repair, this guide will explain the process the professionals at The Southern Company use to return patio chairs to their former glory.
What Causes Mesh Patio Chair Damage?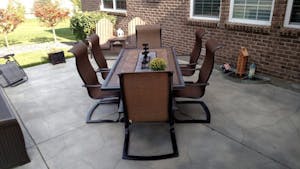 There are several factors that can contribute to the deterioration of outdoor furniture. UV rays from the sun can dull the colors of your fabrics and wither the appearance of metal frames. Both extreme heat and cold cause patio furniture to warp, break, or rip due to rapid changes in temperature. Mold and mildew caused by moisture often affect fabrics and wicker that are improperly cleaned or stored. Spilled food and drink can create stubborn stains that might be resistant to your cleaning products.
High-quality brands like Agio, Brown Jordan, Telescope, and others are investments that should be given meticulous care and maintenance. The longer you own a piece, the more susceptible it is to wear and tear. Patio furniture restoration is an inexpensive and eco-friendly alternative to replacing your current, top brand furniture.
Important Steps of Mesh Patio Chair Repair
The Southern Company's process of mesh patio chair restoration includes several steps that ensure a long-lasting repair and beautiful results.
First Steps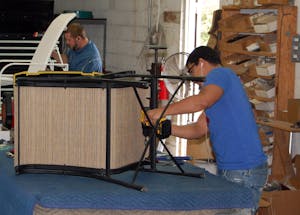 Before restoring a chair, a careful and deliberate inspection is conducted in order to determine all the necessary repairs. This includes examining welds, bolts, rivets, the frame, and fabric in order to spot damages and wear. Once it's time to begin the repair process, the furniture is disassembled by removing the sling and any damaged bolts and rivets.
Frame Repair
Once the initial steps are completed, the frame repair can begin.
Sandblasting—In order to strip the frame of its old finish, our technicians sandblast it to remove paint, oils, and debris, preparing the frame for a new finish. We have a variety of over 25 paint colors to choose from so you're bound to find the perfect one for your desired look.
Apply the finish and powder coat—After administering the new finish, we create a high-quality powder coat to apply. The coat contains resin and additives that are melted together and finely ground into a smooth powder. This coat is applied electrostatically and increases the durability of the piece and adds a gorgeous, like-new shine.
Curing—The final step is curing the frame in a 400-degree oven to harden the coating. This guarantees the frame will be resilient, long-lasting and look as good as it did on day one.
Sling Repair
After the frame repair and restoration, a new sling is created and installed.

Cutting a new sling—Our customers can choose from a wide array of over 125 different fabrics and colors to match their desired aesthetic. The sling is then custom cut to perfectly fit the chair.
Installation—The new sling is expertly installed by our technicians with the proper amount of tension. We double stitch and double hem the slings with GORE-Tenara thread help prevent rips, mold, UV light, and drying out.
Why Do-It-Yourself Mesh Patio Chair Repair Is a Bad Idea
You might think that trying to repair your mesh patio chairs yourself will save time and money, but it's a much better idea to leave this expert wrok to the professionals.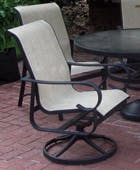 Poor quality slings— If you aren't a trained technician working for a reputable patio furniture repair company, you likely don't have knowledge on what type of material is durable and best for your chairs, nor do you have easy access to the correct supplies. The Southern Company has extensive experience that allows our technicians to choose the proper materials for a repair and we're well-stocked with the appropriate provisions. In addition to top quality fabric, we can offer a variety of vibrant colors that can either match the original look of the chair or update it with something new.
Loose installation—Without training, you'll find it difficult to correctly install a new sling on a chair. If done improperly, the sling will eventually loosen and become uncomfortable to sit on. Not only does this cause discomfort, but a sling that doesn't distribute weight well can deteriorate quickly and cause damage to the frame.
Complex frame repair—In addition to sling installation, frame repair is very difficult for an untrained individual without access to necessary supplies. Our technicians are able to safely and correctly strip the finish from your frame, add a powder finish, and cure in an oven. Most people do not have access to the required tools and materials to complete this process, such as an oven for curing or ingredients for the powder finish. It's also quite dangerous to work with welding, sandblasting, and other hazardous procedures without any training.
Mesh Patio Chair Repair by The Southern Company
If you're in need of mesh patio chair repair, then contact The Southern Company. Our technicians are highly trained and have years of experience in furniture restoration working on many different high quality brands. We take pride in bringing outdoor furniture back to life with our intensive and meticulous restoration process. Our work is guaranteed so you can rest assured that your patio furniture will be showroom ready once we're finished.