As another sunny and warm summer comes to a close, the task of packing up our outdoor furniture arrives yet again. The barbecues, pool parties, and family dinners on the patio were great while they lasted, but now it's time to prepare ourselves, and our furniture, for the cold months ahead. Storing outdoor furniture during cold weather is simple, but it's imperative that you do it correctly. Our guide will help you with this annual chore so your furniture will be in good shape for next year.
The Importance of Properly Storing Outdoor Furniture During Cold Weather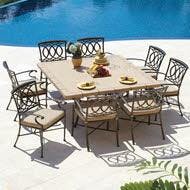 Your patio furniture is an investment that should be carefully maintained. It's quite simple to take routine care of your furniture, but if you don't, the consequences could leave you with harshly affected pieces that need several repairs. If not stored correctly, metal furniture could rust, wicker pieces may get mildew, fabrics could be affected by mold, and several other effects that shorten the lifespan of your collection can occur. In order to avoid damage or deterioration, it's crucial to take the proper steps for storing outdoor furniture during cold weather.
Steps for Preparing Outdoor Furniture for Storage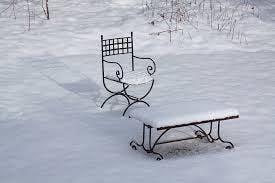 Follow this process to thoroughly prepare your outdoor furniture for storage.
Start early – You might get so caught up in enjoying the last few weeks of summer warmth and sunshine that you forget to start preparing the patio. No one wants to do outdoor chores in the cold, so make sure you start getting your furniture ready for storage before the comfortable weather is gone. Another tip is to make sure that you perform routine care during the summer like cleaning up spills, keeping cushions out of the rain, and doing minor repairs when needed. This will make the end of summer procedure much easier.
Clean and treat – Different materials require different cleaning methods. Clean your furniture accordingly before storing it in order to get rid of any accumulation from summer.
Wrought iron – Remove rust with a wire brush and sandpaper until smooth. Touch up with paint and let dry before storing.
Aluminum – Wash with a gentle detergent and water then dry completely. Look for minor scratches and touch them up with car paint. Finish with a coat of car wax to help protect and preserve its longevity.
Wood – At the end of every summer, sand the wood, treat it with Chinese tung oil, and add a coat of water repellent such as car wax. Touch up any chips on painted wood furniture.
Natural wicker – Use a mixture of water and gentle detergent to clean with a sponge. Let it dry naturally and use a coat of lemon oil or paste wax for protection.
Marble – Use a gentle detergent with water to clean stains and dry completely. Coat your marble countertops with a stone sealer at the end of summer and the beginning of spring.
Vinyl chair straps – Clean with a mix of mild detergent and water then add a coat of vinyl protectant. Remove any stains with a soft cloth and rubbing alcohol.
Pillows and cushions – Clean the surfaces with a gentle brushing then wash with a mild detergent. Use a mildew treatment before storing.
Repairs – Having repairs and restoration done before storing your pieces will prevent any damages from getting worse. For the best results, take your furniture to a professional repair and restoration company. They will carefully inspect your furniture, perform all necessary repairs, restore the furniture to its former glory, and prep it for safe and secure storage.
Steps for Storing Outdoor Furniture During Cold Weather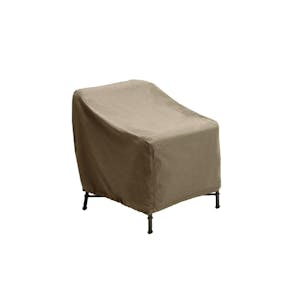 Now that your furniture is ready to be put away for winter, follow these steps to properly store it.
Disassemble and collapse – Storing outdoor furniture correctly requires ample space and proper distribution of weight. Take apart and collapse pieces (if they are meant to be) in order to make storage easier. Follow disassembly instructions in order to avoid damages.
Cover – Covering your furniture will protect it from dust, moisture, and insects. If you have specific bags and coverage materials for your furniture, put them on before storing and make sure they are closed correctly. You can also use plastic wrap for pieces that don't have designated bags in order to keep out damaging elements. Some pieces can be left outside during the fall and winter, but they also require proper coverage. Synthetic wicker, aluminum, and wood can be stored outdoors as long as they are stored under waterproof tarps or covers that are made to withstand harsh weather.
Store flat – Distribution of weight is a crucial aspect of storing outdoor furniture. Do not lean furniture at an angle or stack pieces on top of each other. This could cause warping and other damages that will need to be repaired come summer, so keep your furniture flat on the ground.
Store in the right location – Keep your furniture in a temperature-controlled space away from any windows. If you're storing some pieces outdoors, ensure they are not left in the open and that they're securely fastened in order to prevent the wind from blowing them away.
Use it as indoor furniture – Plenty of outdoor furniture can be used inside during the fall and winter. Feel free to use tables for extra food space during Halloween parties, dining sets for Thanksgiving dinner, and chairs for extra seating around Christmas time. Not only will the furniture add a touch of summer warmth to your home, but it will also be safe from the elements.
Need Repairs or Restoration Before Storing Outdoor Furniture During Cold Weather?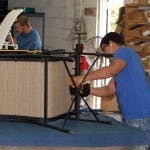 Addressing all damage your furniture suffered during the spring and summer is a crucial step of storage. If your pieces require professional care, please contact Southern Company so we can help you prepare your furniture for the fall and winter. We have decades of experience and are experts when it comes to furniture repair and restoration. Call us today for a phone consultation so we can begin assisting you as soon as possible.