Spring is in full swing and with that comes increasingly warmer weather. As the weather turns from warm to hot and Spring flows into summer, many families and individuals will be heading to local pools, swim clubs, or even to their own backyard to enjoy the sun and warmth poolside. As we move forward towards pool season, now is a good time to review pool safety tips from a patio furniture sling repair company.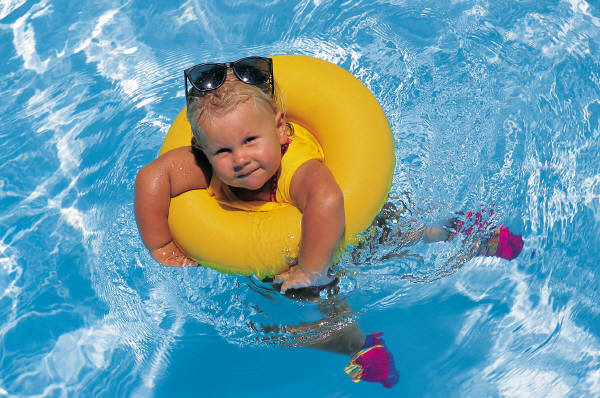 When it comes to pool safety, chances are there are many hazards, both poolside and the surrounding areas that many people won't think about. If you are visiting a public pool, the first thing you want to be sure of, is whether or not the facility follows, local, state, and federal safety regulations. If for some reason they do not, the best advice we can give you is to visit a different pool.
Outside of the standard safety precautions you would typically take, including ensuring there is a lifeguard on duty, keeping an eye on your family, and knowing if there is life-saving equipment at the facility, there are other hazards that can be caused by pool furniture, that you may not think about.
Furniture Hazards
At our pool and patio furniture sling repair company, we see that pool furniture can cause a great many hazards, if proper precautions aren't taken.
Be sure to keep pool furniture away from the edges of the pool. Furniture that is too close to the edge is a tripping hazard for children and adults alike. If someone isn't paying attention when walking along the side of the pool, they could easily walk or run into furniture and fall either into the water or on the pool deck and get seriously injured.
No climbing. To children, outdoor furniture may look like something fun to climb on. Make sure any and all children are aware that furniture is for sitting, not for climbing. Along those same lines, you'll want to be sure that you don't place the furniture too close to fences. If a child sees a piece of patio furniture sitting next to a fence, they could be tempted to climb not just on the seat, but even up and over the fence.
Poolside furniture doesn't double as a diving board. In the same regard that leaving furniture too close to the edge of the pool can cause trips, it also leads to temptation. Children and adults alike may be tempted to climb aboard a chair or table and take a dive into the pool. This can lead to serious injury.
So, whenever you head to a community pool, or even take a swim in a residential pool, take the advice of our patio furniture sling repair company and make sure patio furniture isn't hazardous or dangerous for your residents, guests, or your own family.