Your patio furniture goes a long way in defining your sense of summer style. Whether you're thinking of refurbishing your existing set or shopping for new furniture, there are many colors and styles to choose from that let you bring your style into your outdoor spaces.
Let's look at some of the coolest options for your patio furniture frames that will give your outdoor look just the right amount of summer sizzle.
The Right Material for Your Patio Furniture
Here in the mid-Atlantic region, both our summers and winters are harsh and give us many weather elements to contend with. Summers are sweltering with strong sun, wind, and rain. Winters range from very cold to frigid; sometimes the temperature stays below zero for weeks on end.
In an ideal world, we would all bring our patio furniture into the garage or basement for winter storage and clean our furniture regularly in the summer to extend its life, but many of us have other priorities! Choosing frames that are made with the most durable materials is one way to get the longest life out of your patio furniture with the least amount of maintenance.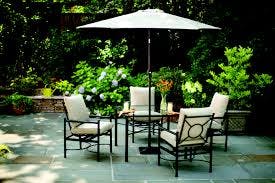 Aluminum is a very popular material used in making patio furniture. It happens to be ideal for use in the mid-Atlantic region for many reasons. Aluminum is virtually rust proof, and it is more resistant to moisture damage than most materials. The powder coating it is typically finished with makes it even more durable. Most aluminum furniture is lightweight enough to be easily moved into storage for the winter, yet it is heavy enough to stay put during most summer storms. When and if the finish does chip, a professional can have it looking like new very cost effectively.
Wrought iron patio furniture can last a lifetime as it is a very durable material, but it does require upkeep as it is prone to rusting. Fortunately, it is possible to add powder coating to wrought iron, which when done properly can last 3 to 4 times longer than a wet or spray coat paint finish. Many people simply adore the traditional look of wrought iron furniture and are willing to put the money into keeping it looking its best.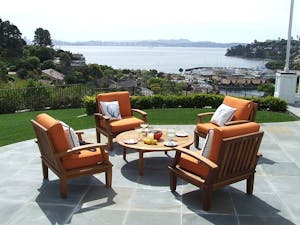 While wood furniture is not typically valued for its longevity, teak is an exception. Teak is naturally resistant to pests such as termites, as well as to the elements. You can choose to apply a sealer to your teak furniture if you want to maintain its golden color, or you can let it fade to its characteristic light gray if you like a weathered, rustic look. Teak furniture will require a little more attention to cleaning than its aluminum counterparts, but it is still very easy to maintain.
Trends in Outdoor Patio Furniture
Woodard Choice
Woodard makes a dizzying array of patio furniture sets in both aluminum and iron that will make you the star of the summer party season. While Woodard manufactures furniture for pretty much every taste, choosing trendy, modern, sleek furniture is just a matter of opening their catalog.
When you want to create a sleek city vibe on your terrace or next to your pool, Woodard has some spectacular aluminum lines that make it easy for you to be a trendsetter. For instance, Tribeca captures the modern, artistic, clean New York aesthetic. On the other hand, if you feel an affinity with the West Coast, consider the architecturally inspired Palm Coast line. Or for some European flavor, the Metropolis collection has a modular, square, Scandinavian feel. If you're in the market for a wrought iron set, Woodard's Uptown collection has a sophisticated feel that really stands out.
Choose from a wide array of colors fabrics and finishes to truly personalize your new aluminum or iron Woodard furniture, or make your existing set look brand new with The Southern Company's refinishing services.
Molla Style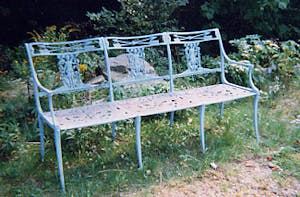 The vintage feel of Molla furniture is unparalleled for an elegant, timeless, poolside experience. Molla is a British company dating to the 19th century that specializes in a unique neoclassical style. Molla patio furniture is made from a durable aluminum-magnesium hybrid material. This ornately designed cast iron furniture would be equally at home in a prim English garden or a swanky Hollywood hotel in the 1960s.
Whether you were lucky enough to inherit some Molla pieces from your grandparents or you scour the internet to find exactly the right Molla drink cart or chaise lounge, you can trust The Southern Company to restore your pieces to their original grandeur.
And since The Southern Company has over 25 colors of paint to choose from when you're ready to rehab your Molla frames, we can help you strike just the right note for your personal space. White Molla furniture creates such a romantic, vintage feel that it may inspire you to change up other parts of your backyard as well. You may want to create a small nook in your space for reading or relaxing. A potted lavender plant and an arched trellis covered with climbing English roses would be the perfect complement to a small white Molla loveseat and table. Painting the same furniture red or black will create an entirely different look and feel in your space, and the possibilities are nearly endless.
Brown Jordan Color
Brown Jordan is a trusted leader in upscale patio furniture manufacture and design. Their furniture is as stylish as it is durable, and it comes in a curated palette of colors that are both modern and classic at the same time.
One of Brown Jordan's newest lines, the Arc collection, offers on-trend lounge seating for the most stylish pool or terrace setting. Brown Jordan's new line of brightly colored gloss finishes gives you the opportunity to make a nearly effortless style statement – just choose from their eye-catching frame colors, add some coordinating tableware or beach towels, and you're ready for summer.
Their Tamiami collection offers the same brilliant colors in a line with a distinctive retro feel that debuted in 1961 but looks as relevant as ever. Just choose your colors, kick back with an Old Fashioned, and you'll feel like you're in the Manhattan of Mad Men in the 1960s.
Choose Your Patio Furniture Styles and Colors Wisely!
Whether you're looking to bring your existing patio furniture back to life or purchasing a new patio furniture set, choosing the style and color wisely can make the difference between a deck that looks just OK and one that looks spectacular! The Southern Company's experts are waiting to help you make the right decision. Call us today!