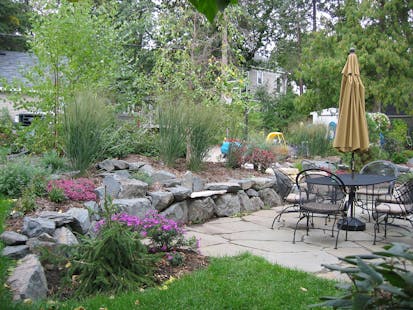 The cold weather is about to break, and spring is right around the corner. It won't be long before we invite family and friends over to enjoy one of the best parts of the house — the outdoor space. Now is the time to prepare your patio for entertaining and enjoy the sound of birds chirping, the sun shining, and making memories with those most dear to us.
But where to start? Well, The Southern Company can help you with that! Here's our complete guide to getting your outdoor space – including patio furniture, barbecue grill, and outdoor decor – ready for entertaining guests this spring and summer.
Planning Your Outdoor Furniture Space
The first thing you'll want to do is plan your outdoor furniture space. Where will the grill go? Where does that chaise lounge fit best? Do you have to work around a pool or garden? These factors should be taken into account when you plot your patio layout. You may even want to sketch it out for better visualization. Consider changing up the layout from last year if you have enough room — you'd be surprised what a difference it can make!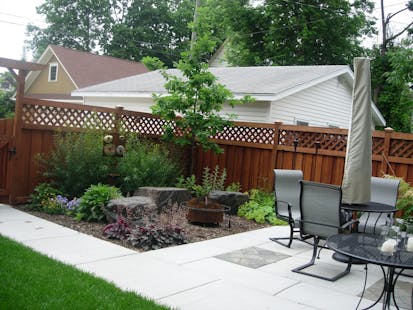 Cleaning your patio furniture is the next step when preparing your outdoor space for spring. Furniture tends to collect cobwebs, dirt, and mold after being in storage all winter, so make sure it is freshened up before your guests arrive. Not only will you want to thoroughly clean your outdoor furniture, but you'll also want to take steps to ensure it stays looking fabulous all season long.
When patio furniture is in disrepair, send it to the professionals at The Southern Company. We will make your aging outdoor furniture look brand new again. It pays to have your high-end patio furniture restored and renewed. We offer various services – such as restrapping, sandblasting, powder-coating and sling replacement – to help your investment last a lifetime.
Survey the Damage to Your Patio and Patio Furniture
Once you've figured out what needs only to be cleaned versus what needs to be repaired, you can begin to tackle both.
To clean your furniture, use a hose to remove dust and cobwebs. For stubborn stains, use a pressure washer carefully or scrub the area with a brush and some soapy water. Take a sponge dipped in lukewarm water and a mild detergent to rub away stubborn dirt and grime from your cushions and slings. Taking the time to give your furniture a little extra TLC will increase its longevity. Follow these steps depending on the type of furniture you have:
Wrought iron should be dusted off and treated with rust-resistant primer since it is prone to oxidation. If you already have rust, your best bet is to have it professionally restored by sanding away the rust, painting, and coating the pieces with a rust-resistant sealant.
Aluminum and metal furniture can be washed with a brush and mild detergent and rinsed with water. Minor paint scratches can be hidden with some car paint and finished with car wax to preserve the finish.
Wood furniture should be sanded and oiled annually to preserve its look. Make any paint touch-ups right away so that moisture doesn't seep into your piece. Coat it with a water repellent and a coat of car wax to keep it beautiful and strong.
Wicker furniture does well with a light cleaning and a coat of paste wax or lemon oil.
Synthetic materials are usually low maintenance and only require a wipe down. There are also protectants available for synthetic materials, like vinyl, that help fight salt water erosion, sun exposure, and more.
Fabrics should be washed per manufacturer instructions. Most can be wiped down with a mild detergent and water. Permanent discoloration and damage to fabrics can be restored by The Southern Company. We have hundreds of colors and fabric styles to choose from.
Cleaning the Grill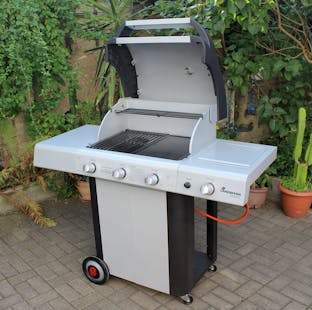 To prepare your grill for the warm weather, wipe down the inside and outside to remove pollen, dirt, and other debris. Next, make sure all your moving parts are lubricated and in working order. The grates in your grill should be cleaned per the manufacturer's instructions.
Fill your propane tank or stock up on charcoal. Wash your cooking accessories and tools and you are ready for your next barbecue.
Sprucing Up the Landscaping
Your landscaping can bring a whole new look and feel to your outdoor space. Make sure to pull any weeds and figure out where to add new flowers, trees, or other vegetation. Plants help make your space seem alive and immersed in nature.
Adding Something Fun To Your Outdoor Space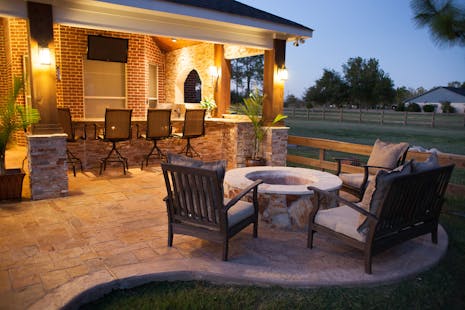 Make your backyard THE place to be in your neighborhood with some new outdoor additions. You can add personality to your patio with just a few cool accents:
Outdoor cushions and rugs can bring in the perfect amount of color to liven up your space. Make sure your fabrics are durable, waterproof, and mold/mildew resistant.
Outdoor lighting, such as hanging lanterns or LED pool lights, can set the mood and keep your backyard party going all night long.
Special touches like a fire pit, fountain, daybed swing, or great piece of art are what will make your patio special to you and your guests.
Follow these steps and you'll be ready to entertain for spring!
Get the Most Out of Your Furniture with The Southern Company
Even your expensive luxury furniture is no match for Mother Nature. Time, the elements, normal use, and chemical exposure will cause it to fade, rip, rust, break, and discolor. But there's no reason to buy new patio furniture when The Southern Company can make your current set look brand new again! Call today and we will refurbish your high-end patio furniture in no time.