It's a sad fact that most of us pay very little attention to our outdoors furniture until it has fallen into disrepair, then it becomes a problem because it costs us money to repair or replace.
With busy lives it's often too easy to overlook something which just sits outside. And an awful lot of us don't even bother to store our patio furniture properly during the winter either. How many of us have looked out into our garden to see our garden furniture and barbecue covered in snow and thought "I should have stored them in the shed."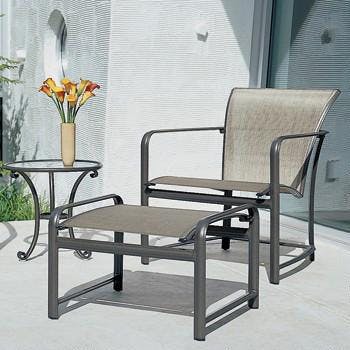 We tend to buy patio furniture at a price that reflects our spending power. So no matter what your income, your outdoors furniture is an investment. It makes sense to just spend a little bit of time each year making sure that your investment lasts as long as possible.
And on top of that, it's about impressing your friends. When they come round, if they have to brush dust and dirt off the chair before they sit down, then it doesn't reflect well on you. Who wants to sit on rusty, dusty, dirty furniture? You wouldn't do it indoors, so why allow it outside?
Always Regularly Clean Your Patio Furniture
Once a week, spend 10 minutes lightly brushing your patio furniture to remove dust and help to prevent the forming of mould and mildew.
If you have the time, also wash it over with a light detergent, such as household dishwashing liquid. Try to avoid abrasive cleaners and bleach.
How you clean your patio furniture can depend partly on the material it is made from:
1. Wicker
Abrasion is not good for wicker. Regular cleaning should consist of dusting and light washing only. Some people claim that wicker is so durable it can be left outside all year round. But you must remember that in very cold weather wicker stiffens and in a moist atmosphere it can sag and gather mildew.
2. Wood
Wood is resilient and doesn't require as much short-term maintenance as other materials. However, the same light dusting or brushing and washing will help. If mould appears on wood then using powdered oxygen bleach can help.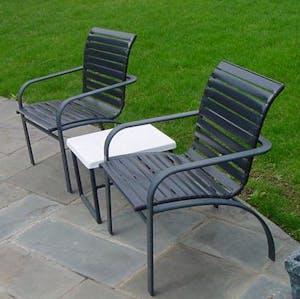 3. Metal
As well as the light cleaning we have already discussed, you should regularly check metal for signs of rust. Where you see rust it needs to be treated quickly to prevent it spreading. You can do this by sanding it down, treating it with a rust eating solution and then repainting.
Also with metal, it's essential that you keep the joints lubricated so that they don't rust and break through the extra stress this creates.
4. Fabric
A lot of outdoor furniture will hold fabric cushioning to enhance comfort. Leaving fabric items outside will encourage damp, which can lead to mould and mildew growth. Also ultraviolet light can weaken and bleach the fabric.
5. Plastic
Plastic furniture should be lightly cleaned as we have already discussed. As plastic is slightly more durable, if there are signs of staining on it, you can use a more abrasive cleaner to remove it. Plastic furniture should be covered up or stored away as often as possible, as colors will fade when left in direct sunlight for long periods of time.
Seasonal Care Of Patio Furniture
Finally the summer is over and you have to acknowledge that the time has come to pack away, or protect, your patio furniture for the winter.
If you want to increase the longevity of your patio furniture it's crucial that you do pack it away each winter, even if you live in a climate where harsh and cold weather does not prevail during the winter months.
Make sure the location where you store fabric items, such as cushions and the umbrella of a patio table, are dry and away from the sun. If you have the original boxes or packaging, use that. If you do not have packaging, then a good alternative is to use plastic bags, or plastic wrap. This will keep the moisture out.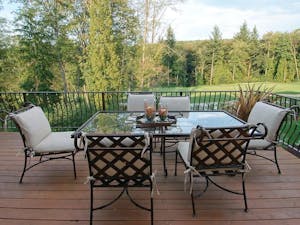 For heavy items that cannot be removed, such as heavy wooden tables and benches, make sure they are properly covered and secured for the winter months. Invest in a good quality tarpaulin. Make sure the tarpaulin can be weighted down at the bottom so that in strong winds it does not blow away, or if it is attached to the furniture that the wind does not flip it over and drag it across the garden.
For any furniture you have to leave outside, in the event of snow make sure that you remove it from the furniture as soon as possible. As well as the potential for damage from the snow as it melts, there is also the huge weight that snow carries. Imagine a couple of people lying on top of your table for several days, or weeks!
And finally, make sure you do any repair work before you store your furniture. A tiny piece of rust for example, will rapidly grow and six months later it may have ruined your piece of patio furniture.
By following these simple tips, you can ensure that the furniture on your patio lasts for many years and is something you are proud of, not something you are forced to sit on.