Winter has arrived and it's time to pack up the patio till warm weather returns. Winterizing your outdoor furniture and patio properly will ensure your pieces will be just as beautiful come spring time. Though it may seem like a burden of a task, it's one of the most important responsibilities of patio owners. It's quite a simple process, and this guide will help you tackle this annual chore.
The Importance of Winterizing Your Outdoor Furniture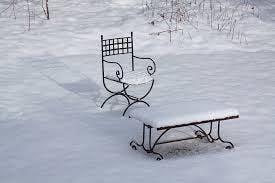 High-quality patio furniture is an important investment. The high price tag on well-made pieces reflects the fact that they are meant to last for decades to come, as long as they are properly cared for. It's financially responsible to invest time and effort into your pieces so that you don't have to shell out extra cash to replace ruined furniture.
Replacing furniture is also a strain on the environment. The U.S. contributes several tons of furniture waste to landfills every year, and it's necessary that we do our part to reduce that number. Taking care of your outdoor furniture during every season is the best way to lengthen its life. If you do wish to get rid of your furniture, please consider donating or selling it in order to keep it out of a landfill.
How to Winterize Your Patio
In addition to taking care of your furniture, you should also be giving your patio attention as well. Take the following steps to properly winterize your patio.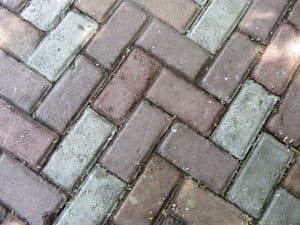 Clean—Enlist the help of a power washer in order to get between the cracks in your patio and flush out all dirt and debris so it does not become embedded over the winter. Find a proper cleaning solution depending on the material of your patio that will thoroughly clean as well as kill mold, mildew, and weeds.
Repairs—Perform a thorough inspection of your patio in order to spot any weak spots or cracks. It's necessary to have these spots repaired so the problem does not worsen over the winter. It's much cheaper, easier, and smarter to repair at the first sign of trouble rather than later.
Pool—If you do have a pool, be sure to thoroughly clean it and use a weatherproof cover. Make sure you vacuum the bottom, skim any debris from the surface, and use winterizing chemicals that balance the water.
First Steps of Winterizing Your Outdoor Furniture
Winterizing your outdoor furniture is quite simple. The following steps will prepare your furniture for the cold weather and keep it safely stored until spring.
Clean
Wooden—Clean wooden furniture with mild detergent, warm water, and a gentle washcloth. If you have stains, use a mildly abrasive cloth in order to target those areas. Apply furniture oil to natural wood in order to seal out dirt and prevent splits.
Wicker—Clean wicker furniture with mild soap, warm water, and a gentle washcloth. Let the furniture dry before applying lemon oil or paste wax for added protection.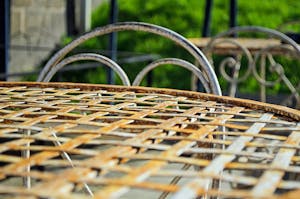 Metal—Remove any rust and build up first with a wire brush and sandpaper, then touch up any areas of chipped paint. Wash aluminum furniture with mild soap and warm water and add a protective coat of car wax.
Fabric—If your slings have stains, use a mild detergent and warm water to coax them out. Stains should be cleaned as soon as they happen to prevent them from becoming ingrained. Gently brush dirt and debris off of pillows and cushions before applying a mildew treatment that will protect them during storage.
Repair

Now that your furniture is clean, perform an inspection of your pieces to spot any weakened welds, bolts, and rivets as well as faded paint jobs, ripped fabric, or heavy rust. These should all be addressed by a professional. An experienced repair and restoration company will provide the best possible results and prevent any further damages.
How to Store Your Outdoor Furniture
After cleaning, repairing, and restoring your pieces, you need to take the following steps to store them.
Prepare
First, disassemble and/or collapse your furniture according to their directions. This will prevent any uneven distribution of weight and allow them to be stored easily. Then, you should cover pieces with plastic wrap in order to seal out moisture, dirt, debris, insects, and dust. If you have designated covers, put them on correctly and seal them tight.
Properly Store
Storing your pieces involves more than just shoving them into a closet. Find a temperature controlled, dry place out of sunlight with ample space. Then be sure to store your furniture flat on the ground if possible or hung carefully on the wall. Make sure the weight is distributed evenly to avoid extra pressure on welds and bolts. Do not stack pieces on top of each other or lean them at an angle.
Alternative Storage
Certain materials like synthetic wicker, aluminum, and wood can be stored outdoors. If you do so, be sure to use weatherproof covers and secure the pieces down so that they can't blow away in the wind.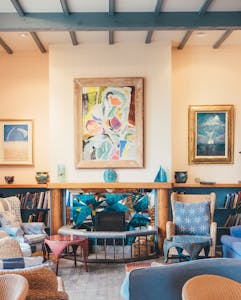 If you'd like, you can use some pieces as indoor furniture after cleaning, repairing, and restoring them. During the winter, outdoor furniture pieces can be used as extra dinner tables, additional seating, supplementary storage ottomans, or just a bit of extra decoration.
Repair and Restore Before Winterizing Your Outdoor Furniture
The Southern Company is a highly experienced furniture repair and restoration company that will assist you in winterizing your outdoor furniture. If your patio furniture requires repair or restoration, be sure to contact us so we can help return your pieces to showroom status. We work on top quality brands such as Brown Jordan, Knoll, Winston, Tropitone, and more. Our work is 100% guaranteed, so you can certainly rest assured knowing that your pieces are in great hands. Don't hesitate, call us today for a free consultation!