New high end patio furniture is very expensive – why spend the money when you can have your current furniture refinished and restored for a fraction of the cost. We specialize in sling chair replacement and repair for brands such as Brown Jordan, Tropitone, Winston, Woodard, and more.
Wear and Aging of Patio Sling Furniture
The first sign of wear usually appears on the sling fabric and occurs about 8 to 10 years after your initial purchase. The next area to show signs of age is typically the finish on the frame. For high quality furniture, however, the frame can remain structurally sound for many years. That's why we recommend refinishing your patio furniture as opposed to replacing it.
New Slings for Your Patio Chairs

When a patio chair is brought to The Southern Company for restoration, a full inspection is performed. A reputable furniture restoration company always inspects the furniture for issues that could cause problems in the future. Our technicians, who have years of patio chair sling chair replacement and repair, look for weak swivel mechanisms, seized bolts, or cracks to the structure of the frame. The seating, sling, and all plastic components are removed before the frame is repaired and refinished.
New slings are manufactured in house using any one of our 125 available fabrics. This provides the customer with an excellent opportunity to update the look of their furniture. There are many different types of fabrics, including options such as Leisuretex® PVC Olefin, Textilene® Sunsure®, Phifertex® and Phifertex Plus®. There are many designs and styles to choose from as well, including jacquard, stripes, wicker, weave, and solid colors. The fabric is precision cut and carefully sewn by our staff to the utmost accuracy to guarantee a perfect fit.
To ensure the durability of the sling, a special Gore® Tenara® Sewing Thread (the most durable on the market today) is used and applied to the fabric with double-stitching and double-hemming. The Gore® Tenara® thread is impervious to environmental factors such as sun, salt, acid rain, and snow, as well as common cleaning chemicals including bleach. In addition, Gore® Tenara® thread is impervious to dry rot and it is not susceptible to mold.
Sling Chair Replacement & Frame Restoration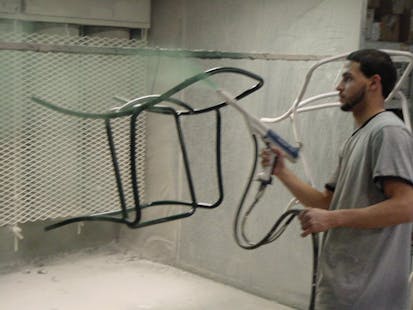 Restoring the chair frame involves sand-blasting it with a special aluminum oxide grit to remove the existing finish without damaging the aluminum frame. This process also removes rust, corrosion, and other contaminants that may be on the frame. Any damage to the frame found during the inspection is repaired with welding and other means. This includes issues such as deterioration, broken welds, seized bolts, and loosened or wobbly swivels. We specialize in welding aluminum, steel, and iron, and our technicians perform these repairs before the powder coating process takes place. The restoration provides a clean, blank palette to work from.
For the frame finish, we offer more than 25 different colors to choose from so that you can perfectly coordinate the frame color and sling fabric. A powder coat finish is then applied to the repaired frame. The powder coat used (which is a combination of resins and additives) is charged electrostatically so that it adheres securely to the frame when it is applied. After the powder coat process is complete, it is cured by placing the aluminum frame in a specially designed 400°F oven.
Powder coating is used because the final finish lasts three to four times longer than a wet coat and is far more durable. In fact, it is so resistant to chipping that taking a hammer to the frame won't damage the finish (although not recommended!). Your new finish is guaranteed to last for many years to come.
Installing the Sling to the Chair Frame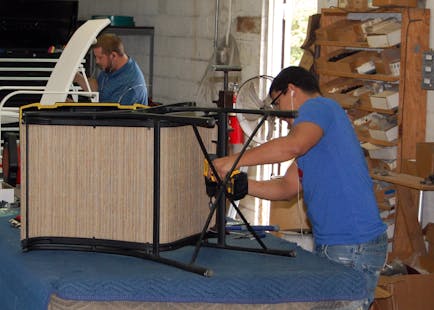 Once the chair sling has been tailor-made for your chair, and the powder coat finish is cured, it is installed on the frame. For the slings to be durable, comfortable, and attractive, they must have a very tight fit. The process of properly attaching the inner frame to the outer frame to achieve the correct tautness takes not only strength but experience, attention to detail, and skill for your sling chair replacement.
Benefits of Sling Chair Restoration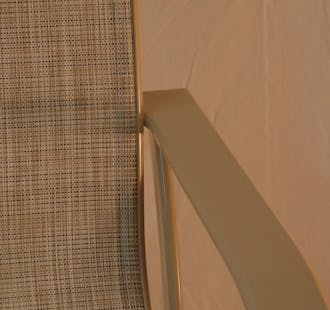 If you invest in quality patio furniture, it will remain structurally sound for years. When the sling finish begins to show signs of wear or age, remember that you don't have to replace it – you can have it restored with updated fabric styles and a durable finish. Restoration is also an environmentally friendly option for your patio chair sling repair.
Sling Chair Replacement by The Southern Company
If your once gorgeous patio furniture is showing signs of wear and aging, remember that you don't have to replace it when you can restore it at a fraction of the cost. Contact The Southern Company and let us breathe new life into your sling chairs. You can choose from 125 different quality fabrics for the sling and over 25 different colors for a durable new finish on the frame. To make it even more convenient, we'll pick up your furniture and return it to you looking showroom new — and it will last you for many more years to come.

You probably know through experience that even the highest quality patio furniture will eventually begin to show its age. That doesn't mean, however, that your investment in outdoor furniture needs to be a loss. Through sling chair replacement and refinishing, you can have your favorite lawn furniture restored to almost brand new condition and reap the benefits of decades more useful life.