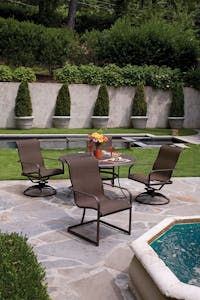 Are you in the market for replacement slings for outdoor patio furniture? Even the best quality outdoor furniture will begin to show signs of wear and aging over time, and this can be especially noticeable with sling chairs. However, just because your slings are showing wear, there's no need to throw the baby out with the bath water! Why replace your patio furniture when all you need to do is replace the slings?
High-quality furniture from manufacturers such as Brown Jordan and Winston is made to last for many years, and replacing the slings will give it an even longer life. In this article, we are going to discuss sling replacement and why you should look to professionals to perform it.
When to Replace Your Patio Chair Slings
There are several signs to look for that indicate it's time to consider replacement slings for outdoor patio furniture. You may notice that the edges of the slings look a bit ragged, or perhaps the fabric has lost its vibrant color. They may even be losing integrity in places. While the finish on most quality patio furniture is made to last 10 to 12 years, the fabric may wear out sooner.
In fact, the slings usually last about half as long as the finish on your patio furniture. Exposure to rain, wind, dust, and sun will cause even high-end patio furniture brands like Woodard and Tropitone to require replacement slings.
Inspecting Your Outdoor Furniture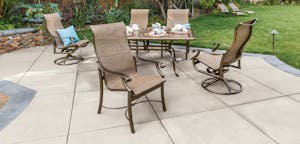 The sling replacement process involves a detailed inspection of your patio furniture by our experienced technicians. Every inch is carefully examined for signs of weak spots, aesthetic damage, loose rivets, damaged welds, and other problematic issues.
Focus is placed on the furniture as a whole, not just the sling – including the frame and the hardware. Customers are contacted regarding any issues that are discovered and with permission all repairs are completed.
Preparing the New Patio Chair Sling
The next step in our sling replacement process is removal of the original sling, hardware, and seating. Once the sling has been carefully removed, our technicians precisely measure the fabric for the replacement sling. You can choose from over 125 different fabrics in multiple colors and prints that are designed to be impervious to both the outdoor elements and gentle cleaning agents they may encounter.
Sewing Replacement Slings for Outdoor Patio Furniture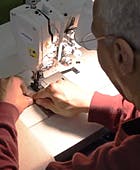 Sewing the replacement slings is the next step. We only use Gore-Tenara thread, which is weather proof and never fades. It resists dry rot, sun, salt, acid rain, snow, bleach, and common cleaning chemicals.
Gore-Tenara thread can handle both the weather and regular wear and tear. To make sure that the replacement sling lasts as long as possible, it is carefully double stitched and double hemmed.
Installing the Replacement Sling in the Frame
Next, the replacement sling is installed on the furniture. For the sling to be comfortable, attractive, and durable, it needs to have a tight fit. This involves carefully attaching the inner frame to the outer frame, which requires the skill and attention to detail that only experienced technicians can properly provide.
Why Use Professionals for Sling Replacement?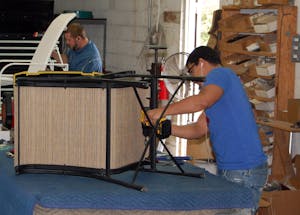 There are several reasons why replacement slings for outdoor patio furniture are best installed by professionals such as the technicians at The Southern Company. Your first consideration is a financial one. It isn't wise to risk your investment in the best quality patio furniture on a DIY project that could ruin the appearance of your furniture — and possibly even permanently damage it.
Next, we perform a careful examination of your furniture frames to identify any potential problems. Some of these problems, such as loose rivets or bolts or bent frames, can cause further damage to the furniture if not addressed. It takes skilled technicians to not only recognize these problems, but fix them correctly. A quality repair job will add years to the life of your furniture, while a shoddy repair job can take years of life away from it. Rivets, welds, and structural weaknesses are best identified and repaired by experts.
Finally, The Southern Company's technicians are true experts at performing sling replacements, from creating the mesh sling to installing it. Nothing takes the place of proven experience. In fact, many of our customers have commented that our replacement slings for outdoor patio furniture were even more comfortable than the original slings. Our years of experience show in the quality of our work and the comfort of the finished product.
Contact The Southern Company
If your high-end patio chair slings are showing signs of aging or wear, don't replace the furniture and don't replace the slings yourself. Contact The Southern Company and let our professionals handle the job for you. We can breathe new life and beauty into your outdoor patio furniture, and will repair and refinish your frames at the same time. We make refurbishing your old patio furniture a snap by picking it up and delivering it to you when the restoration process is complete.
Let The Southern Company add years of life to your outdoor patio furniture and keep it looking stylishly updated through our quality restoration process. Call us today!