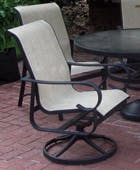 Is your patio furniture starting to show signs of wear and tear? Are you noticing that the fabric on your mesh sling chairs is looking faded and worn, and maybe the chair frame is chipped? You may start to think it would be easier and possibly even cheaper to buy new furniture than to repair your existing sling chair fabric and frame.
When it comes to premium outdoor furniture, it is designed for decades of use. Brands like Brown Jordan, Telescope, Tropitone, Woodard, and Winston were built to last — and they come with the price tags to match. However, the sling chair fabric attached to those durable frames only has so long a life. Mesh sling fabric is not completely impervious to sun, weather, salt, chlorine, and daily use that finally gives way to wear and tear. After eight to ten years (depending on how much use your furniture gets and what kind of weather it's exposed to), your fabric will likely start to show signs of age.
This is not necessarily a bad thing! Trends come and go, and you may find yourself tired of the color or pattern of your sling chair fabric after so many years. Changing the fabric of your patio chairs to a fresh color choice or new pattern opens up many new possibilities for the look and feel of your deck, yard, or other outdoor space.
Choosing New Sling Chair Fabric
The Southern Company carries over 100 replacement fabrics that can be used on any of the premium patio furniture brands. Having this range of quality fabrics available for reslinging means you get a virtually new patio set once we've done our job.
Consider the feel that you'd like to create with your furniture this time around. Maybe you chose a neutral fabric when you bought your furniture (or last had your slings replaced), and now you'd like to try something flashier. Do you need your new fabrics to fit in with existing design elements, or are you ready for a complete makeover? Is your patio furniture used mainly by adults, or are children and grandchildren regularly in the mix? All of these factors will have an impact on the fabric you ultimately choose.
Once a few designs have been picked out, take some time to actually imagine your furniture refinished in the new fabric. Will you still be loving that royal blue four years from now? Is the striped fabric elegant enough for your space? Is the neutral gray-brown shade tasteful — or just boring? Ask for feedback from others before you commit.
Why We Use GORE TENARA Thread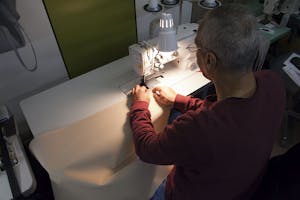 The durability of our finished products depends not only on the quality of the fabrics but also on the strength of thread we use to sew the fabric. That's why GORE TENARA thread is the only thread we use when replacing slings on your premium patio furniture. GORE TENARA thread is guaranteed to be resistant to sunlight, chemicals, salt water, extreme weather, and acid rain. It will not rot or mold. It is completely color fast and impervious to any cleaning solutions you may use — even bleach! — to clean your furniture.
Our Patio Chair Repair and Reslinging Process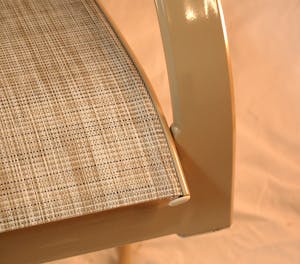 Premium outdoor furniture from brands such as Woodard and Tropitone deserves the very best treatment when it's time for restoration — and that's exactly what we provide.
Sling replacement at The Southern Company begins with an inspection of the overall condition of your patio furniture, including the frame. We eliminate any cracks, seized bolts, or weak swivel mechanisms that may have occurred over the last decade of use. The frame is also powder-coated in the paint color of your choice, which makes the chairs look brand new again.
Our craftsmen then precision cut your chosen fabric and double stitch it for a result that lasts years longer than it's cheaper competitors. When we install the slings, we create a tight fit to the chair's frame so that the furniture provides maximum support for you and your guests.
The Best Patio Furniture Repair Company

Now is the perfect time to start planning your sling chair fabric replacement. The Southern Company will handle all of your patio furniture repair needs. Call us to schedule pickup at your convenience, and we will deliver the furniture back to you once the restoration is finished.
Furniture brands such as Brown Jordan, Tropitone, Woodard, and Winston make their products to last. If you take care of them properly, you will have them for decades. Every piece of furniture that we work on is 100% guaranteed, so in the unlikely event that you aren't satisfied with the finished product, we'll make it right. Contact us today so we can get to work on making your old patio set even better than new!