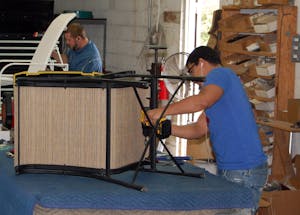 Now that the slings on your premium patio furniture are starting to show signs of wear, you've decided that it's time to look into patio chair replacement slings. Then you have an idea: Maybe I should buy a replacement kit and attempt to replace the slings myself. What could go wrong?
Unfortunately, there is plenty that can go wrong, including installing slings that aren't high quality. You may also end up with slings that aren't properly attached to the chairs and are loose and uncomfortable. There's a better way to get those replacement slings – let The Southern Company show you why.
Signs that Your Patio Chair Slings Need Replacement
Premium patio furniture is built to last, and we believe that it is worth every penny. However, after many years of use, patio chair slings will inevitably wear out. Rain, UV sunlight, salt, and chlorine and other chemicals will eventually damage the fabric, regardless of how particular you are about maintenance.
We find that slings usually need to be replaced every eight to ten years or so. At this point, you may see signs of age, such as fraying, discoloration, or even minor tears from accidents. The slings may also begin to sag after the many years of relaxation and support they've provided.
How We Install Patio Chair Replacement Slings
Once you've decided that it's time to invest in patio chair replacement slings, we will pick up your outdoor furniture from your location and bring it to our workshop. Every piece of furniture that we handle receives a thorough inspection of the frame and hardware to determine if there are any weak spots, loose rivets, damaged welds, or any other structural issues.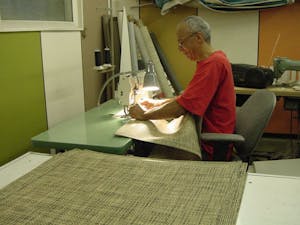 After the inspection, we remove the existing sling and hardware. Then we begin working with your choice of our 125 replacement sling fabrics that are as functional as they are beautiful. These fabrics have been designed with various properties, such as mildew and weather resistance, so that you will get the maximum life from them.
We precision cut your chosen fabric according to the original sling, and then our expert tailors go to work. They use only GORE-Tenara thread, which is extremely durable and can stand up to the elements, cleaning products, and the constant use that your furniture sustains in the mild and warm-weather months. Your new slings will be carefully double-stitched and double-hemmed so that they will last as long as possible. Our technicians will then install the sling in the frame, creating a tight fit between the inner frame and the outer frame and ensuring that your new slings are taut enough for maximum comfort and support.
Replacement Slings and So Much More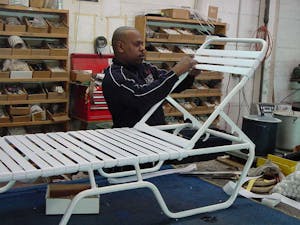 Patio chair replacement slings are a specialty of ours — but it's not the only thing we can do for your premium patio furniture. When it comes to refinishing your frames, our work is meticulously carried out. We make any necessary repairs, then remove the old paint via sandblasting and apply powder coating in the color of your choice.
If you have any vinyl strapped patio chairs in addition to your sling chairs, The Southern Company can refurbish them as well. We offer 25 different colors of vinyl straps, but we also have the capability to computer match your existing strap colors, just as your mechanic would do with your car's paint.
And if you happen to be lucky enough to have acquired some vintage Molla furniture pieces, The Southern Company specializes in restoring cast iron pieces as well.
Our variety of services allows you to give your furniture a total makeover that will satisfy your changing tastes or let you keep up with trends, giving your outdoor space a fresh new look. We have specialized equipment and facilities, such as workrooms that are temperature controlled at 95 degrees, specialty sandblasters, premium materials, computer-matched strap colors, and professional-grade hardware. Our artisans and technicians have decades worth of experience in refinishing outdoor furniture — you expect perfection, and we deliver!
Let Our Patio Furniture Repair Company Install Your Patio Chair Replacement Slings!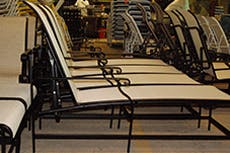 Premium outdoor furniture brands such as Tropitone, Brown Jordan, Winston, and Woodard should be given high level, professional care when it's time to replace their slings. Because these brands are high end and built to last, it's not a in your best interest to turn repairing them into a DIY project. Unfortunately, you could wind up damaging them in the process, which defeats the purpose of having invested in superior patio furniture brands in the first place.
We make the process easy for you by arranging to pick up your furniture from many locations across the mid-Atlantic states, including Maryland, Connecticut, Delaware, Virginia, Washington DC, Pennsylvania, New York, and New Jersey. We'll rehab your furniture professionally, and then we'll bring it back to you in better condition than when you first bought it. Do yourself a favor and save your weekend for recreation or family time and leave the hard work to us! Call The Southern Company today for more information.