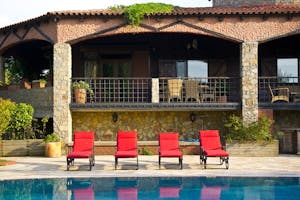 At this time of year, most of us are busy preparing for the frenzy of the holidays and doing our best to stay warm and out of the frigid temperatures outside. Patio chair repair is typically not at the top of your list of things to think about! However, this is actually a fantastic time to have your outdoor furniture repaired and refurbished.
So, what can you do in the way or refinishing your patio furniture? Here are some options for sprucing up your set that will make your transition into spring and summer both easy and beautiful.
Patio Chair Webbing Replacement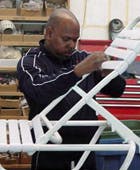 Vinyl strapping is often one of the first materials to show wear on your patio furniture. If the webbing on your furniture has begun to sag or looks faded and discolored, The Southern Company can replace it. Maybe your beautiful Brown Jordan Roma Swivel Rocker or your Tropitone Kahana Chaise Lounge has lost its original pristine look. We can help.
The process begins with removal of the original vinyl straps from the frame, which is then carefully inspected. If any problem areas are found, repairs are completed in shop. The straps are replaced with new vinyl straps, and you can choose from over 25 different colors and three different widths to customize your look.
The webbing is woven in the same pattern by one of our highly skilled artisans in a room with an elevated temperature. The warm temp makes the straps pliable and ensures that they are tightened properly on the frame and won't sag when used in hot weather. No matter what brand you own, you will be amazed at the difference webbing replacement will make in both the appearance and comfort of your furniture.
Sling Replacement for Your Patio Chairs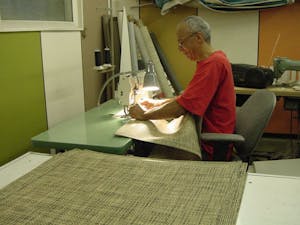 Patio chair slings last about half as long as the paint on the frame, even on the highest quality patio furniture. That's why patio chair repair for your slings is important when your furniture is beginning to show its age. It might be that it's lost some of its elasticity, or perhaps it's become discolored from use and exposure to the weather. When you have a gorgeous piece like a high back dining chair from the Winton Mayfair Sling collection or an ottoman from the Telescope Belle Isle Sling collection, you can protect your investment simply by replacing the sling.
We approach sling replacement with an inspection of your piece or pieces as above. The old sling is then removed, and a new sling is cut out of the fabric of your choice – we have over 125 different colors and patterns to choose from. We use only the most durable fabrics for sling replacements. Then our skilled craftsmen sew the sling using weather-, chemical-, and age-resistant GORE TENERA thread, making sure that double-hems are used for added ruggedness. Once this process is complete, the slings are carefully fitted on your existing furniture frame under precise tension. Your furniture is then returned to you in like-new – if not better than new – condition.
Patio Furniture Frame Refinishing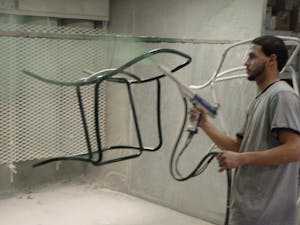 Once you've decided to replace the webbing, slings, or cushions on your premium patio furniture, it also makes sense to consider investing in a brand-new finish for the frames. Imagine if you were able to customize and restore to new condition the bench from the Winston Marseille Manor collection, or an aluminum dining table from the Brown Jordan Swim collection that is starting to show signs of age or perhaps no longer matches your outdoor color scheme. Well, you can! There is no need to replace the furniture when the frame can be refinished for a fraction of the cost.
The frame refinishing process begins with a careful inspection of the frame and any needed repairs, like seized bolts or broken welds. Next, the frame is sandblasted so that the new finish can adhere to a clean, blank canvas which results in a final finish that is very smooth. A powder coat finish is applied electrostatically and then cured in a 400°F oven. The powder coating used is on average 3 to 4 times more durable than an equivalent wet coat, and the result is a gorgeous, unbelievably durable finish.
Wrought Iron Patio Furniture Repair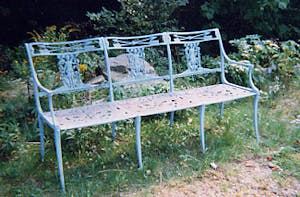 Wrought iron outdoor furniture, such as the stunning vintage Molla collections, can also be restored to new life. The process includes careful sandblasting to remove every last speck of the old paint. Next, a powder primer is electrostatically applied, followed by the final powder coat. The furniture is then cured in a 400°F oven, resulting in a beautiful, durable finish that makes your wrought iron patio furniture look brand new again.
Patio Chair Repair for Commercial Furniture
Country clubs, resorts, hotels, and condominiums have patio furniture that needs attention, too. The sun, weather, and cleaning chemicals eventually take their toll on even the finest quality outdoor furniture. Issues like sagging webbing, faded vinyl straps, dull paint finishes, or other types of blemishes can be eliminated by our highly experienced repair team.
All of the services discussed above are available for commercial patio furniture as well: webbing and vinyl strap replacement, frame refinishing, sling replacement, and wrought iron furniture repair and refinishing.
Don't Throw it Away – Let Our Patio Chair Repair Company Fix It!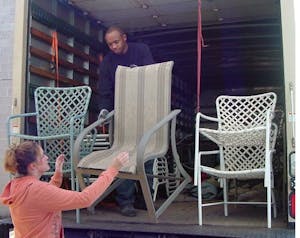 Repair, don't replace your beautiful, high quality patio furniture. The Southern Company can add years or even decades to your furniture's usefulness through refinishing. Whether the legs have gotten a little bit wobbly, or the sling isn't providing the support it used to, or you'd just like to update your look, now is the best time for your patio chair repair.
Contact The Southern Company today and let us breathe new life into your premium patio furniture. Our skilled technicians will make your furniture look and feel just like new for a fraction of what it would cost you to replace it.