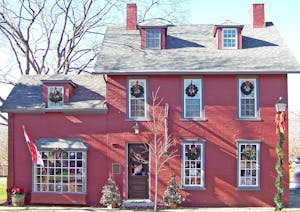 While your patio furniture is spending time in storage this holiday season, you can create simple and elegant outdoor Christmas decorations on your front porch sure to inspire delight. As winter is upon your doorstep, you might as well invite it to stay awhile with some festive and heart-warming holiday decorations!
The holidays bring joy, hustle and bustle, and the requisite family and friend-filled gatherings. From lights to garland to Christmas trees, creating an inviting holiday scene on the front porch or stoop of your home will spur all those who set eyes on it to feel the bliss of the holiday season.
Create a Design for Your Outdoor Christmas Decorations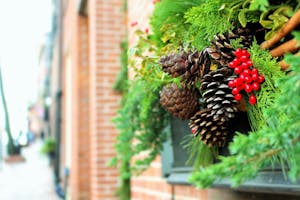 The first step to coming up with a design for your front porch decorations is to make a plan. You can prepare by gathering materials and decorations you definitely want to include.
Assess the elements of your porch and decide on a focal point and where you'd like to add decor accents. Does your porch have a corner that would be just perfect for an outdoor Christmas tree? Do you have a swing where you could place a sign with a welcoming holiday message? Is your front door just calling out to be framed?
In this planning stage, you might want to search the Internet for inspiration or involve your family members in the process. Once you decide on your design and gather your outside Christmas decorations and other materials, it's time to get started.
Spread the Holiday Spirit with Lights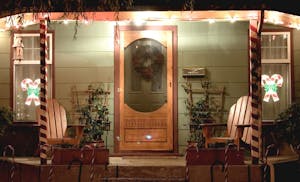 An enchanting light display is sure to bring a smile to everyone's face and reminds us of the joy of the holiday season. Dazzle your friends and neighbors by lighting up the walkway to your front porch with pathway lights or stakes. Add a cozy accent to your windows with authentic flickering LED candles.
Of course, string lights are always a favorite, and you can easily frame your door, windows, or the overhanging roof of your porch with classic white lights. In recent years, icicle lights have been a popular favorite to hang along the length of the porch. You can always add a splash of color as well, perhaps by spiraling red or green lights down a pillar or framing your front door.
How and where you hang your lights is really a matter of personal choice. If you'd like to be more energy conscious this year, LED lights are a great option because they can save you money on electricity and are not a fire hazard. If you are using lights that you have had for a while, be sure to check them for any damage before hanging. The last thing you need during the busy holidays is to waste time hanging lights that don't work!
Wreaths and Greenery Add a Traditional Touch to Your Outdoor Christmas Decorations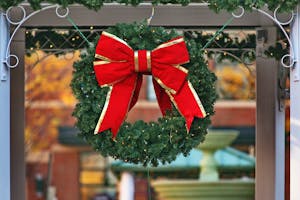 Wreaths can be especially elegant, and with so many options to choose from, you can easily personalize them. A wreath of simple greens and pine cones makes for a refined look. The greens or pine cones could be covered with a snow-like paint coating, or a sprig of berries might add a lovely accent.
If your overall outdoor Christmas decorations design is simple, you can make your front door pop by choosing a wreath made of colorful ornaments. For a more natural approach and a delicious aroma, some choose to purchase (or make!) a wreath made of herbs — for example rosemary, bayleaf, or sprigs of mint, eucalyptus, oregano, or thyme. Typically wreaths are used only as Christmas door decorations, but you don't have to limit yourself. Wreaths on windows are always a lovely touch.
Evergreen garland is also a tasteful addition to your design. Greens add a feeling of natural beauty and warmth, as well as a classic holiday smell. You can outline your front door with evergreen garland and add a simple accent using red bows or a few carefully chosen ornaments. Of course you can entwine lights and garland for a combined eye-popping effect. There are so many options, from using natural cuttings to high-quality artificial garland.
Potted poinsettias are a natural and colorful addition to any outdoor holiday decor, but live plants cannot be outside in our typical northeast winter climate. In colder climates, artificial plants are a better choice for your outdoor Christmas decorations.
Oh, Christmas Tree!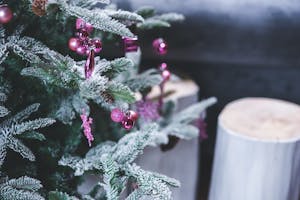 Why limit your home to only one Christmas tree? A beautifully decorated tree can create a gorgeous holiday scene right on your front porch. A potted tree is a great option, as it can be used year after year. Or, use a cut tree that will fit on your porch.
Just as you would indoors, decorate your outdoor Christmas tree with lights (outdoor lights of course) so that it can be easily seen and admired by passersby. You can tie bright red bows on your tree boughs or hang ornaments that can handle the wear and tear of winter weather. Recruit your family members to help you wrap large boxes with colorful wrapping paper to place under your outdoor tree.
Have Fun Decorating Your Porch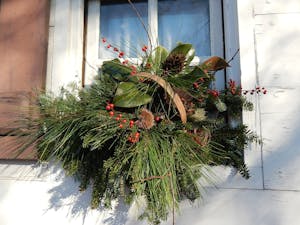 There are countless ways to bring holiday cheer to your outdoor spaces. Perhaps you can pull that old sled out of your garage, tie a red bow on it, and place it on your porch. Or choose a few brightly colored flannel blankets and fold them over the back of a bench or swing. A hand-made snowman or Santa figure can be sweet and whimsical.
Now is the perfect time to get started on your outdoor Christmas decorations, and you and your loved ones can enjoy them in the weeks to come. Happy Holidays!