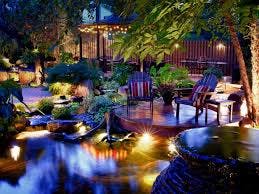 A very important aspect of creating a beautiful and inviting outdoor space is having the right lighting.
From the patio, to the paths, to the borders of the garden, the focus is often on furniture, shapes and plants, without much thought being given to how lighting can enhance the area once the sun goes down.
Many of you will have experienced this situation: You have put much effort into creating a welcoming area to entertain outside your home. You are hosting a special evening and have poured your heart into everything from the food to the decorations to the landscaping, only to find that when you switch on the lights at dusk the mood is somewhat dampened.
Flexible lighting is important so that any type of entertaining you do will be covered. To give you an example, first consider a busy night with lots of families including children in attendance. Good, consistent light is essential. Then consider inviting your best friends or another couple over for a quiet meal. This will require softer lighting like at your favorite restaurant when sometimes adding a few candles simply won't do.
Ideas for Creating Great Lighting for Your Outdoor Space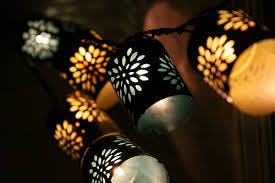 When it comes to making sure you invest in lighting that is truly flexible, you need to begin with a clear idea of what you want to achieve.
A good way to start is to consider how your outdoor entertaining space will be approached.
Good lighting along the walkway or path provides multiple benefits. It will make it easier for your guests to navigate, provide safety to those walking on it, and will create a welcoming entrance. The key to doing all this is to build flexibility into your path lighting.
Don't think in terms of a single lighting style . Consider lining the path with controllable lamps for example. If these are flexible enough to be turned upwards or downwards, then you can control the intensity of the light.
Other types of walkway lights you can introduce include lantern lights, brick lights, string lights and spotlights. Each of these can produce a different style of lighting and appeal to different tastes. By thinking carefully, you can even use different combinations of these to produce the ideal mood for the occasion.
What Outdoor Lighting Techniques Can I Use?
When it comes to lighting up your outdoor entertainment space, a few hours of research plus talking to an expert in a specialty lighting store will help you make the right buying decision for the flexible lighting you desire.
A key consideration is where will the lights be positioned. Something that is not considered very often is how the lights will work in relation to where people are sitting. It may look great, but if half of your guests are squinting for most of the evening then the ambiance you were going for will be lost.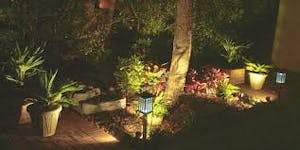 To counter this you should consider low voltage lights placed at ground level, or lights positioned high that are pointed downwards.
When it comes to downlighting there are two options. Pure downlighting lamps push all of their light towards the ground, creating a subdued and dramatic effect. There is also spread lighting. This can create an effect halfway between downlighting and standard lighting.
Silhouette lighting is another technique you can use. You may have seen this lighting effect at hotels and formal occasions such as weddings. Lighting is used behind objects to create a silhouette. This subdues the light and helps to create wonderful visuals.
In terms of your own garden, silhouette lighting is a great technique to focus dramatic attention on one area of the garden while turning away eyes from areas you are not so proud of!
If you have mature trees in your garden, then another technique that can create dramatic effects is attaching lighting high up in the trees. By aiming the lights downwards through the foliage you create a soft, moonlit effect.
Enjoy Your Outdoor Space Day and Night
Just remember that there is no point in creating a beautiful outdoor space if you can only entertain in daylight. Too many people screw a large spotlight onto the wall of the house, turn it on and then blind everyone for the entire evening. That may be a quick and economical solution to patio lighting, but certainly isn't inviting!
Try using magazines, the internet, examples of friends and neighbors and store showrooms to get an idea of what lighting options are available and what fits your style and budget. With just a little research and investment, you can ensure that you always create beautiful lighting and memorable occasions for friends and family while entertaining in your outdoor space.