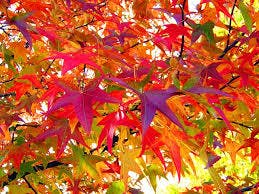 With fall in full swing, your patio furniture might not be the first thing on your mind. But even while the light is fading and you're putting pumpkins on the front porch, there may be a fun project to do that you haven't considered: planning next year's patio look.
Color is one of your best tools for creating an outdoor look that makes everyone want to spend time in your backyard. And when chairs made by Brown Jordan, Tropitone, and more give you so many color options and combinations to play with, you will need to start now if you want time to decide on next spring's perfect look!
How many times have you bought a new set of sheets to create a whole new vibe in your bedroom, or changed the entire look and feel of a room just by painting the walls? The Southern Company makes creating refreshed outdoor space just as easy, and you don't have to wait until your furniture straps are completely worn out to make a change. You spend so much of your summer outside – why not make it reflect your personality and style just like you do inside?
Define Your Look
Now that you're ready to create a new look for next summer's outdoor fun, it's time to assess your space and the look you're trying to create. Color choices for a rooftop terrace in Philly or a Jersey Shore home are probably going to differ from those for an elegant Connecticut retreat, but the good news is that the top brands offer so many options that your only limit is your imagination.
Another thing to consider is the look you already have. Freshening up your outdoor look means taking stock of your entire backyard and deciding whether you want to be bold with your color choices or keep it neutral and elegant.
Think about your space. It might be fun to coordinate a bright pop of color on your chair straps with some large, bright pots of dahlias or gerbera daisies on your deck. Or if you have a large and established garden, you might want to update your frame and vinyl strap colors and choose a highlight color from your flowering plants. You may also want to coordinate the straps to play up a trim or other highlight color on the outside of your house, such as a door – or, better yet, paint your door to match the strap color you choose!
Pops of Color for Your Existing Vinyl Furniture
Your patio furniture could be the life of the party when you update your Brown Jordan, Tropitone, or other vinyl-strap patio furniture. There is a color choice for every taste, and when you combine that with the extensive frame options, your ways to make a statement are almost endless.
If you own furniture from the Brown Jordan Tamiami Vinyl Lace Collection, you already know it is a high-quality set offering trendy styles and bold color choices allowing you to create the most festive atmosphere possible on your deck or terrace, or beside your pool. The Tamiami was first sold in 1961, so it can look classic, modern, or retro depending on your color choices and the pieces in your collection.
The Tamiami Collection allows you to choose identical or contrasting frame and vinyl strap colors to create just the look you're going for. While your furniture looks incredibly sleek in black, the Tamiami is just screaming for a jolt of color. A White Lite frame with Hot Pink straps would be all the color you'd need to add a lift to the look of your deck. Another interesting color statement is to redo your frames with color and complement with a neutral strap, creating a look that's vibrant without being gaudy.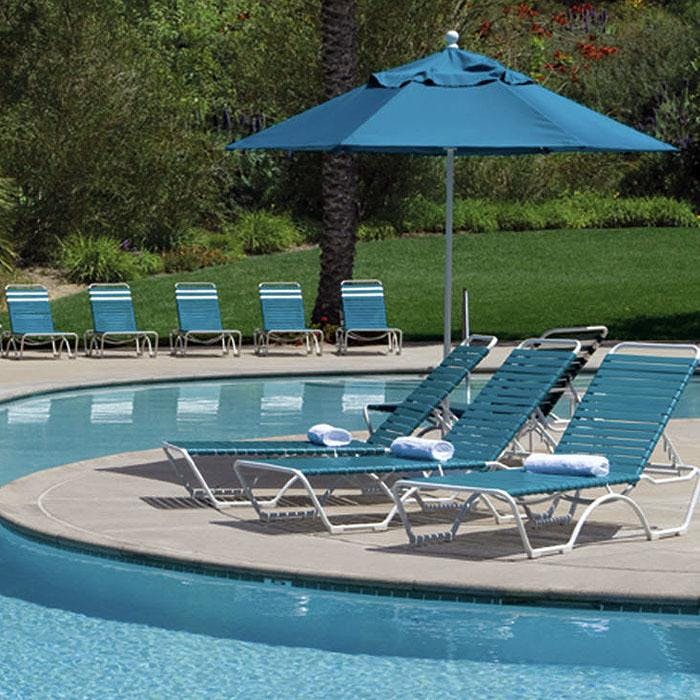 Tropitone also offers an incredible array of color options for those who want a perpetual color sensation in their backyards. If your current furniture belongs to the Kahana Collection, the Sorrento Collection, or the Tropi-Kai Strap Collection, your winter homework is to decide on which of the beautiful and elegant strap colors you're going to go for next year. Can't you imagine making your Tropi-Kai chaise lounges look like brand new in Royal Blue, Teal, Jade, or Buttercup? Any of these shades would make a modern, cool, and elegant statement. Or what about sprucing up your Kahana Cross Hatch chairs with colors such as Titanium or Shell for a sleek and understated look? Add a new umbrella in a matching color or pattern and you are ready to relax.
Keeping It Classic
If you have furniture from the Brown Jordan Roma Strap Collection or Tropitone La Scala Collection, you probably chose them because they lend themselves to a more classic and sedate look, with color options to match.
Brown Jordan's Roma Strap Collection has a classic elegance that will last a lifetime, but it also affords you the opportunity to update when you're ready for a change. Depending on your style preferences, play around with strap–frame combinations such as White Lite and Night or Coffee and Night for a classic combination that will refresh the entire look of your deck.
La Scala has an especially elegant look for those who want to make a more muted statement. If you've been living with La Scala's black frames and straps for some time, why not make a move to Graphite frames with Titanium straps or Obsidian frames with Parchment straps to strike just the right note for sophisticated lounging.
Getting It Right
You spend a lot on quality patio furniture, so it's only natural that you want it to last a lifetime. The Southern Company is staffed by artisan workers who know exactly how to extend the lifetime of your patio furniture while affording you the opportunity to update your look. We love advising customers on color choices that will really pop and help you get the most out of your spring and summer parties and relaxation time. We have extensive experience with restrapping brands such as Brown Jordon, Winston, Tropitone, Woodard, and more. Make your color choices now, and imagine how happy you will be when your "new" furniture is ready as soon as spring is in the air. We're standing by and ready to help with the smallest question or the most extensive patio furniture restoration project you may have!
(Photos included in this article are from www.brownjordan.com and www.tropitone.com)