Now that spring is almost here and the weather is already starting to warm up, most of us can't wait to pack up our sweaters and heavy coats and start enjoying the sun and mild temperatures. And with this change from winter to spring comes designing your backyard oasis.
If you've been following along with some of our previous blog entries, we know you took the time last fall to carefully store your furniture over the winter to protect it from the elements. Now that you're ready to wake it up from hibernation and get back into the warm-weather groove, you'll want to start thinking about the best ways to make your terrace or yard as inviting as possible.
Here are The Southern Company's top tips for creating a backyard oasis for this spring and summer that friends and family won't want to leave!
Tip #1: Pick Your Spot
When it's time to get your furniture set up for a season of relaxing and partying, don't feel stuck with the same spacing and layout that you've used in previous seasons.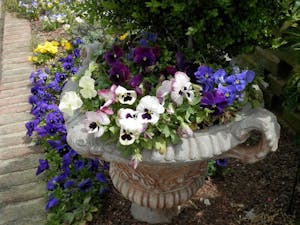 Think about how good it feels when you change things up with the arrangement of your indoor furniture, and try to bring some of that same creativity to arranging your outdoor space. Even if you have a deck or patio that fits your outdoor furniture perfectly, it still might help to rethink your space. Try adding an over-sized pot for plants or a new ottoman. You might want to consider adding some rocking chairs or chaise lounges to round out your seating options.
If you really want to make a statement, a new Tropitone Cabana would add the ultimate in luxury to your pool area and has the benefit of keeping you and your family cool and protected from the sun.
If you have a terrace, why not add two chairs and a small table to give yourself and your family a secluded spot for reading or enjoying coffee. Winston Furniture actually has a line of what they call "Balcony Stools" that are perfectly suited to lounging in small spaces.
Tip #2: Choose the Right Umbrella for Your Backyard Oasis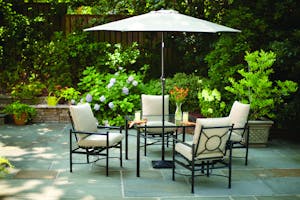 Summers are absolutely sweltering in our area. Think about how many times in the heat of July or August you choose to stay inside in the air conditioning because you can't bear to spend more than 5 minutes baking in the sun.
A shaded area is not only cooler; shade can also prevent food from wilting in the sun and allow you to use your tablet outside or even read a book without going blind from the reflection from the white pages.
The premium outdoor furniture brands are now making jumbo-sized umbrellas that can potentially shade your entire deck or eating space. Tropitone, for instance, carries a wide array of different umbrella shapes and styles, and they even make an umbrella that tilts at the push of a button, so you don't have to change positions when the sun does.
Tip #3: Keep Insects at Bay Naturally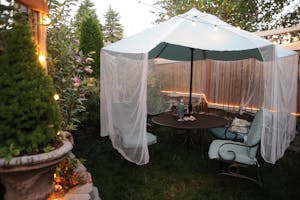 Imagine an evening summer gathering in your beautiful, backyard oasis that doesn't include some uninvited guests: mosquitoes. It's difficult, isn't it? Unfortunately, the summer heat and humidity in our area create the perfect conditions for these dreaded summer pests. But before you douse yourself in toxic, smelly bug spray, try some of our suggestions for enjoying a bug-free evening:
Install an outdoor fan: Adding a large fan can do double duty of keeping air circulating as well as keeping mosquitoes and flies away. It is almost impossible for insects to land on you, your guests, or your food when there is a breeze blowing. A large freestanding or wall-mounted fan will do the trick.
Buy an umbrella net: There are many affordable options on the market for netting that can be attached to your existing umbrella to keep mosquitoes out of your dining and relaxation area. Problem solved.
Hang a bug zapper: A simple electric bug zapper hung at a distance is a good way to draw bugs away from your porch or patio.
Give tiki torches a try: Tiki torches filled with citronella oil are an old standby that really work for some people. The torches also create a dramatic feeling once the sun goes down.
Tip #5: Pillows and Accents
Adding throw pillows to your outdoor furniture can create an instant feel of style without a huge investment of time or money. Brands like Brown Jordan, Tropitone, and Winston have literally hundreds of fabrics for you to choose from.
How about adding privacy curtains to a small front porch? For aging furniture that is ready for a refresh, new slings can create a totally different mood without the expense of investing in new furniture. You will be pleasantly surprised when you discover the large selection of fabrics that the premium brands offer and the versatility with which they can be used to add color and highlights to your outdoor space.
Tip #6: Create Ambiance with a Fire Pit in Your Backyard Oasis
There are few patio furniture pieces that can create the coziness of a fire pit, and your favorite outdoor furniture brands know this better than anyone.
Brown Jordan's fire pits are exceptionally sleek and minimalistic, and can be fueled with plumbed natural gas, propane, or their eco-friendly bioethanol fuel system. Winston carries a copper-colored fire pit that allow you to enjoy the rustic feel of a real fire. Tropitone's style of fire pits is large and dramatic, and allows you to choose from a rainbow of colored fire pebbles to personalize your fire pit look.
Last Tip: Call The Southern Company!
Whether your furniture needs minor repairs or a complete overhaul, the experts at The Southern Company can make it happen affordably and quickly. Call us today so that we can get your patio furniture looking perfect in time to enjoy the best months of the year!