Outdoor furniture is built for the abuse it takes all spring and summer, but it does need some TLC to keep it looking its best and increase its longevity. An important part of cleaning outdoor furniture is removing dirt, dust, and stains that accumulate, along with keeping metal free of rust and oxidation. Wicker collects dust and dirt in the weave, slings accumulate oils and sunscreen, and glass tabletops trap debris in the grooves and show water stains. Fortunately, there are some cleaning techniques that when applied regularly will restore the beauty of your furniture and keep it in commission for years to come.
Cleaning Iron and Aluminum Furniture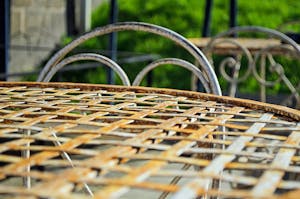 One of the problems with aluminum furniture is its tendency to show scuff marks. You can removed these scuffs quite easily using a non-abrasive cleaner such as Soft Scrub. Keep in mind that you should never use alkaline cleaners like ammonia or TSP (trisodium phosphate) with metal furniture (such as iron and aluminum). These cleaners will cause oxidation, which is already a major problem merely through outdoor exposure. If your furniture is showing signs of oxidation, you can remove it in one of two ways: with a solution of equal parts white vinegar and water, or with a metal polishing paste.
Iron furniture, on the other hand, is subject to rust. If your furniture has become rusty, you can start off by sanding off the damaged paint and rust. Once that is done, wipe off the metal with a cloth dampened with naphtha or mineral spirits. Before repainting your iron furniture, use a rust-resistant primer; when it's ready to paint, make sure to use one of the many rust-resistant paints that are available.
If you don't feel up to dealing with rust removal and painting yourself, you can turn to a professional. An outdoor furniture restoration specialist will remove the existing paint and rust with thorough sandblasting, then powder-coat your furniture for a brand-new finish that will last much longer than a simple paint job will. Your aluminum and iron furniture can then be kept looking new by regular cleaning followed by a coat or two of regular automotive wax.
Cleaning Outdoor Plastic Furniture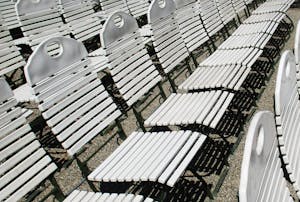 Never use harsh or abrasive cleaners on plastic: chlorine and bleach may get rid of stains, but they can eat away at your furniture in the process. Abrasive cleaners are problematic as well, because they will scratch away the plastic, leaving unsightly marks and lead to more problems. If your furniture has lost its shine, try spraying it with WD-40 and wiping it dry with a clean, soft cloth.
Instead of using harsh cleaners, opt for a mild cleanser for your furniture. If you have colored plastic, you can use a mixture of 1 quart warm water with ¼ cup of vinegar. For white or very light-colored plastic furniture, try 1 gallon of warm water with 3 tablespoons of automatic dishwasher detergent. The dishwater detergent contains a very mild bleach which enables it to do a good job of removing stains.
Shaving cream can also work well to clean plastic: spray it on; let it set for a few minutes; scrub lightly with an old, soft toothbrush; then wipe off. If stains remain, you have two options: with a wet sponge, use white distilled vinegar or baking soda. After cleaning, you can apply a coat of automotive wax for added protection.
Cleaning Glass Tabletops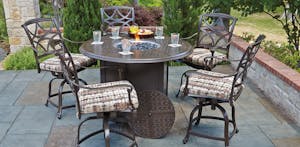 When cleaning debris that is stuck to the glass, don't use a scrub brush unless it is specifically designed to not mark furniture, otherwise you risk scratching the glass. You should use only use glass-safe cleaners and a non-abrasive material for scrubbing and wiping glass furniture. Suggested cleaners include home cleaning solutions or plain dish detergent. Follow that by spraying white vinegar or glass cleaner and polishing with a microfiber cloth, newspaper, or paper towel. Don't forget to clean the underside of your glass table at least once a month to prevent unsightly buildup that can ruin the appearance.
It is important to cover your glass tabletop when it is not in use. This helps to protect the surface from chips and scratches and prevents the buildup of grime that is almost impossible to remove. If you notice there are small chips and scratches in the glass, you can use a basic glass-repair kit (such as those found at auto supply shops).
Cleaning Wicker and Wood Furniture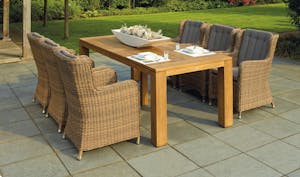 Keep in mind that wicker needs to be hosed down every few weeks to prevent the build-up of dust, especially in crevices and other hard-to-clean places. Wood, on the other hand, needs to be wiped down regularly – but it still needs care to prevent the buildup of dirt, grime, and other potentially harmful stains. Never use a power washer on your wooden and wicker patio furniture, no matter how tempting it may be!
Never clean wood and wicker with harsh or aggressive chemicals. When cleaning wood, it is best to use a very mild oil-based soap (e.g., Murphy's Oil Soap) mixed with some warm water. Another approach is to mix about ¼ cup of ammonia and 2 tablespoons of white vinegar in a quart of warm water. This can be used on wicker as well, but it needs to be diluted. You may need to use a toothbrush to get into the weave of wicker. You can also clean weather-beaten wood with dry dishwashing detergent rubbed on the surface with a soft brush, followed by conditioning with vegetable oil.
The Right Tools & A Little Elbow Grease
The best approach to keeping your patio furniture looking good is regular cleaning with an appropriate cleanser — this will prevent the build-up of difficult to remove grime and stains and make it easier to keep your furniture looking new. Keep in mind that no matter what your patio furniture is made from, you should avoid harsh chemical cleansers. You should also avoid rough scrub brushes except in the case of rusty iron furniture. And if the finish on your metal furniture seems too far gone, then consider having it refinished by a professional.
The Southern Company
If you want to breathe new life into your outdoor furniture and cleaning it just doesn't restore it to its peak shine and beauty, then contact The Southern Company. We specialize in the high-quality repair and restoration of patio furniture, which includes refinishing metal furniture, replacing slings, restrapping, and making new cushions. Contact us today to get the most out of your patio furniture for the upcoming season!