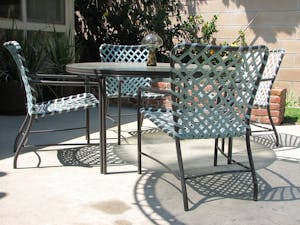 Brown Jordan was founded in Pasadena, California by Robert Brown and Hubert Jordan. Since its beginning in 1945, Brown Jordan furniture has remained well known for its beautiful, innovative, inspired designs for outdoor furniture. Their furniture is so exceptionally well made that it can easily last for many, many years – even be passed down to the next generation — with a little help along the way from The Southern Company's Brown Jordan repair services.
Signs of Wear on Your Brown Jordan Furniture
Suppose you own a Vinyl Lace Kantan Lounge Chair from Brown Jordan. This striking outdoor chair has an aluminum frame and vinyl lace webbing with many different choices for both the vinyl and the finish. However, inevitably this chair will begin to show signs of wear over time (usually 8 to 10 years after your initial purchase). The frame may loosen, for example, or the webbing begin to sag.
Similar issues would arise with Brown Jordan's Avalon Sand Chair. The first sign of wear would likely be sagging of the vinyl mesh, with possible discoloration of the mesh because of exposure to the sun and other environmental factors. When that happens, the chair can be restored and updated with a new, fresh look.
Outdoor Furniture Inspection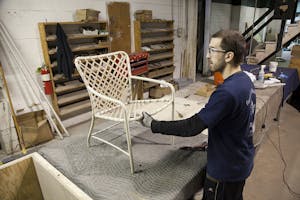 When you bring your patio furniture to The Southern Company, the first step in our process is a full inspection of the frame and seating. We not only look at the problems you bring to our attention, but carefully evaluate the furniture for additional issues that could cause problems in the future. Our technicians look for signs of wear such as seized bolts, weak swivel mechanisms, loose rivets, broken welds, cracks in the structure, and other potential problems that may or may not be obvious to you.
For example, consider the Vinyl Lace Kantan Lounge Chair mentioned above. Technicians would pay careful attention to the welds and check the structural integrity for wobbling or looseness. For the Avalon Sand Chair, the frame would be inspected much like that of the Kantan Lounge Chair, and the mesh would also be examined for sagging and discoloration. Once the inspection process is complete, we notify you of all the recommended Brown Jordan repair work before we begin so that there are no surprises.
Brown Jordan Repair & Furniture Restoration
The next step in the Brown Jordan repair and restoration process is the removal of the sling or webbing (also called vinyl straps). The frame is then sand-blasted with an aluminum oxide grit that cleanly removes the finish (as well as any rust or corrosion) without any damage to the frame itself. Your selected finish is then applied using an electrostatically charged powder coat followed by curing in a dedicated 400°F oven.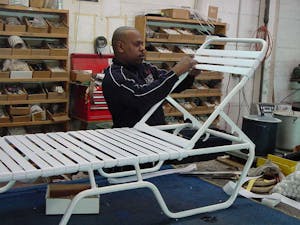 The next stage in the Brown Jordan repair process is the replacement of the vinyl straps or sling. It takes a highly skilled artisan to perform the vinyl strap replacement correctly. When replacing slings, the exact pattern must be cut out of the selected fabric and sewn using durable GORE Tenara Thread. Installation cannot take place until these steps are completed.
Vinyl strap installation involves careful attention to placement and tension. Adding the new vinyl straps should be performed in what is called a "hot room," a room having an elevated temperature of at least 95°F to ensure that your straps will not suddenly loosen and begin to sag once they are exposed to warm summer temperatures. For sling installation, the custom sling is installed on the frame as tightly as possible to keep it comfortable and supportive for years.
Choose The Southern Company for Your Brown Jordan Repair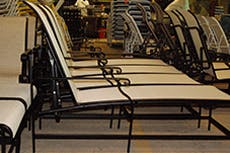 At The Southern Company, we perform outdoor furniture restoration on premium brands like Brown Jordan, Tropitone, and Winston on a daily basis. A combination of experience, commitment to quality, and a love for our work make us your number one choice for outdoor furniture restoration.
We offer repair services for any frame/structural damage that we find during the inspection of your furniture. Not only do we have many years of experience in performing such repairs, but we also employ artisan technicians who specialize in welding steel, iron, and aluminum.
You can choose from 25 different frame finishes, allowing you to coordinate the frame to your new choice for the webbing, lacing, sling, or cushions. The powder coat that we use for the finish is exceptionally durable and will last three to four times longer than a standard wet-coat finish. We offer a choice of more than 125 different fabrics for your slings and cushions. We only offer fabrics that are impervious to both outdoor elements and cleaning agents.
As previously mentioned, we only use GORE Tenara thread for mesh sling replacements. This thread is both weatherproof and fade-proof while resisting the damaging effects of sun, salt, acid rain, bleach, snow, and dry rot. We also double stitch and double hem to make the sling as durable as possible.
If you have Brown Jordan furniture that is showing signs of wear, or perhaps you would just like an updated look, contact us today. We will pick up your furniture, inspect it, and restore it using your choice of finish and fabrics, extending its life for years of enjoyment for you and your family.