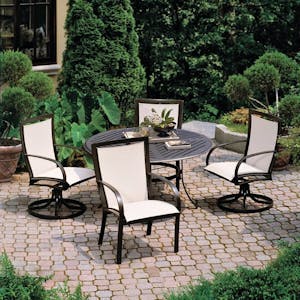 Mesh sling patio chairs and chaises make an elegant addition to any patio, deck or garden. Sling furniture is comfortable, attractive, and easy to move and clean. A quality set of sling patio furniture is quite durable, with the metal frame lasting for over two decades.
While the mesh sling is also quite durable, the sling may become brittle and tear or even stretch out after years of use and exposure to the sun. At the same time, the frame may remain in good shape. Instead of discarding your sling furniture and throwing away the money you invested in it, you can replace the damaged slings.
The Southern Company, a leader in patio furniture repair, now offers an easy and convenient way to repair your damaged sling patio furniture – Do-It-Yourself Mesh Sling Replacement Kits.

How to Order a Mesh Sling Replacement Kit
You do not have to be a home repair expert to replace your patio furniture slings. All you need is our kit, some spare time, and a few tools.
First, we will need the measurements of your furniture. It's important that you measure your furniture according to our guidelines so that we make the slings the proper size. You must measure the actual chair, chaise or ottoman.
***Please note: Removing the old slings from your furniture and measuring them will not provide accurate measurements as slings stretch over time!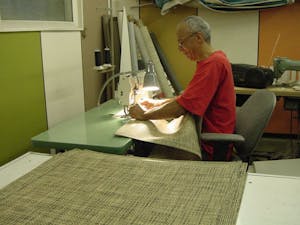 Next, choose your new sling fabric. We offer a wide variety of fabrics – from solid colors to florals to modern patterns. We will cut the fabric according to your specifications.
Complete this form and follow the instructions for the sling measurements.
Each of our replacement slings are sewn with a double hem on four sides using Gore Tenara thread. Gore Tenara is a premium thread made of durable fibers. Exposure to the sun, rain, snow, salt and cleaning chemicals will not cause it to degrade.
Your kit will also include 2 plastic sling rods or spines that you will insert into the left and right sides of the replacement slings. We will ship you the sling, the rods/spines, and easy to follow directions for installing the fabric onto the frame.
Installing Your Replacement Sling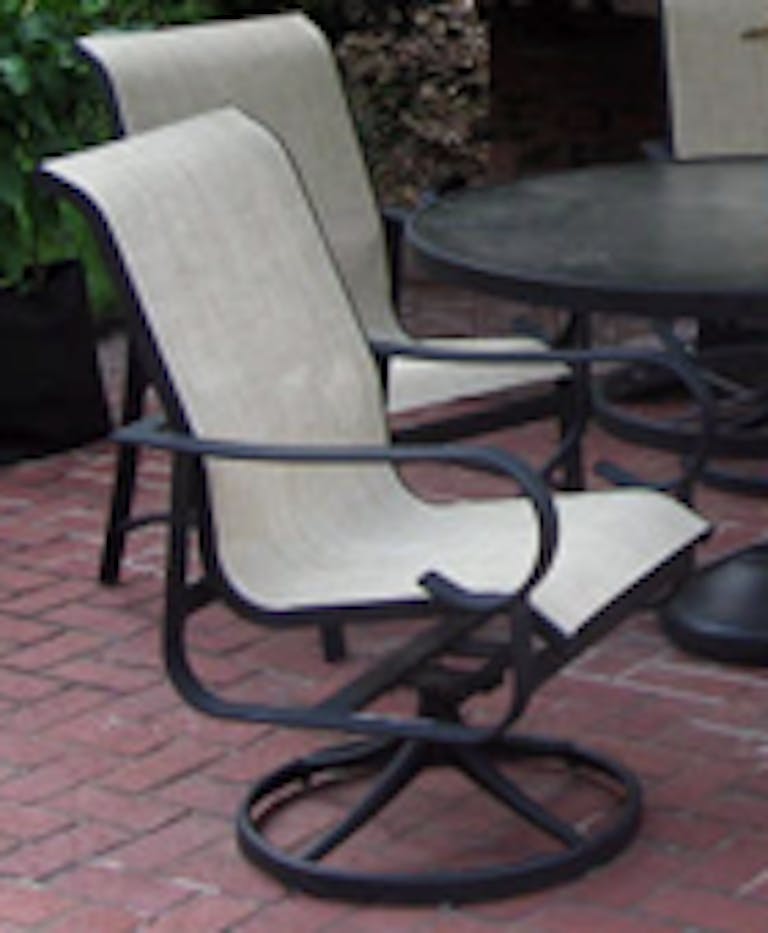 Included in your sling replacement kit are detailed, easy-to-follow instructions. The instructions will also list a few tools that you will need to help with the installation.
The first step is to remove the old, damaged sling. This is simple to do by using scissors or a box cutter to slice through the middle of the sling and then pull the sling from the left and right sides of the frame through the sling rails.
The key to properly installing a replacement sling is to make sure you pull it taut to ensure that the sling lasts well into the future.
If you have any questions along the way, do not hesitate to call. We are here to help you.
Before you know it, you will find yourself enjoying your "just like new" sling furniture. Show it off to your family and friends. You may even be able to fool them into believing that you bought a brand new set of patio furniture!