The Knoll furniture company is a premium indoor and outdoor furniture brand that produces some of the most cutting-edge patio furniture designs in the industry. The demand for their 1966 Collection, which was designed over half a century ago, continues today due to its enduring style and architectural beauty. The Southern Company has been working on Knoll furniture repair for years and can restore your set to its original grandeur — or help you come up with a new look that will make your outdoor living space the envy of your neighbors.
The Storied History of Knoll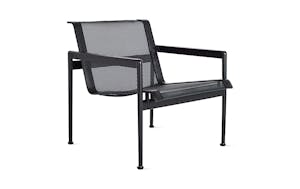 The Knoll furniture company was founded in 1938 by Hans Knoll, a German-American who emigrated to New York City and followed in his father's footsteps to become a furniture manufacturer. Florence Schust, an outspoken and feisty architect and furniture designer trained by Mies van der Rohe, married Knoll in 1946, becoming a full partner in the business with her new husband. When Hans was killed in a car accident in 1955, Florence took over the company and worked there until her retirement in 1965. Florence Knoll is known for having designed the Connecticut General Life Insurance Company Headquarters building as well as for designing the interiors of New York City's CBS Building.
The Knoll company continues producing furniture to this day, staying true to Florence's love of geometrical, sleek, modern design. Her architectural training finds its way into Knoll's furniture collections by capturing the lines and structure of clean, modern architecture applied on a small scale to tables, sofas, chairs, and other pieces for home, office, and poolside use.
The Iconic 1966 Collection
Perhaps none of the Knoll offerings captures the vibe of the 1960s like the 1966 Collection, a line of outdoor furniture conceived by award-winning designer Richard Schultz. Florence Knoll approached Schultz in 1963 after moving to Florida, where she discovered what the salty air and sun could do to outdoor furniture and implored Schultz to find a solution.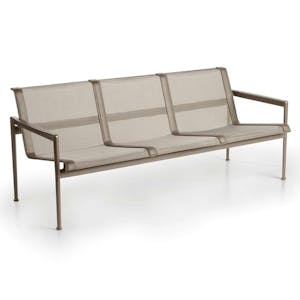 Marking a complete departure from the designs that were popular at the time, Shultz's designs were minimalist, with clean, modern lines. He believes that the attention to detail that he put into the designs, which would be right at home in the most exclusive LA hotels and neighborhoods, is why they are still so popular to this day. The 1966 Collection is so acclaimed that it is part of the Museum of Modern Art's Permanent Collection. So if you have a set in your backyard, you are sitting on a piece of history!
Popular pieces in the 1966 Collection include the Lounge Chair, the Three Seat Lounge, the Contour Chaise, and the Serving Cart. The collection has been updated to include the most durable, up-to-date materials while completely retaining the original look. The slings are made of a woven, vinyl-coated polyester mesh, while the straps are solid-colored vinyl; both are highly durable. The aluminum frame is finished in weather-resistant polyester powder coat. All supports and connectors are fabricated from stainless steel, and chairs have optional pads and pillows. Powder coat color choices have been expanded; the original colors were white, red-orange, blue, and brown, and the company has since added onyx, lime green, and plum.
The Knoll Furniture Repair Process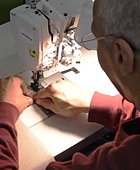 Despite their durability, your Knoll slings, straps, and powder coated frames will eventually begin to show signs of wear. At The Southern Company, our rule of thumb is that slings should last about eight to ten years, depending on your climate and the amount of use that your outdoor furniture gets on an annual basis. Once you've noticed that the slings have begun to sag, fade, or show wear, call us to begin your Knoll furniture repair.
When rehabbing their furniture, many Knoll customers opt to stick close to the distinct look of the furniture they bought years or even decades earlier. In the 1966 Collection, the vivid colors of the powder coat are highlighted while the neutral colors of the slings and straps take an understated, background role. In the original design, the slings are made of a mesh material and are white on all chairs besides the onyx color, which has both onyx slings and straps. However, The Southern Company carries the entire line of Knoll sling colors — white, grey tone, aluminum, bronze, chestnut, and onyx — so you can get creative in your color selections when we refurbish them for you.
Fixing the Knoll Frame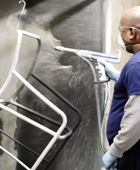 When your furniture arrives in our workshop, we begin by inspecting the frames and hardware, which may be subject to rust, weak spots, damaged welds, or other wear or weather damage. Because we've performed Knoll furniture repair for decades, our technicians are experienced with the specialty stainless steel supports and connectors used by the brand.
Once we've learned what work is needed on the frames, we use a gentle process to sandblast the old paint, cleaning the aluminum and removing any corrosion in the process. We then reapply the powder coat in your chosen color using a special 400-degree oven to seal it and make it as impervious to the elements as possible.
Knoll Sling Repair
While the frames are being refinished, we get to work replacing the old slings. We can create the same iconic architectural look that you loved when you bought your Knoll pieces or you can change the colors.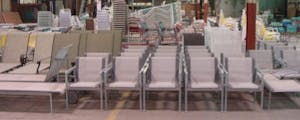 Once your fabrics are chosen and they've been precision-cut to match the original sling, our craftsmen use Gore Tenara sewing thread to create the most durable sling possible — which is probably more durable than the original. That's because Gore Tenara thread is waterproof, fade-proof, and resistant to damage from sun, salt, bleach, acid rain, and dry rot.
All new slings are double-stitched and double hemmed so that you get maximum life out of them. They are then expertly fitted to the frame, restoring the beauty and functionality that drew you to the style in the first place.
The Southern Company Makes Knoll Furniture Repair Easy!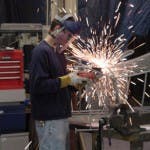 There is simply no better way to give your patio furniture a facelift than to trust it to the artisan technicians at The Southern Company. We spare no expense in returning your premium patio furniture to you in as-good or better condition than when you first purchased it.
In addition to Knoll furniture repair, The Southern Company handles refurbishment of all of the premium furniture brands, including Brown Jordan, Tropitone, Winston, Woodard, and Molla. We carry 125 replacement sling fabrics, 25 different colored vinyl straps, and a full range of powder coat colors so that you can achieve exactly the look you're dreaming of.
To make the process as painless as possible, The Southern Company will pick up your furniture from most locations across the mid-Atlantic region and deliver it back to your doorstep looking perfect. Now is the best time to contact us discuss your needs so that we can get your premium pieces back to you well in time for the spring thaw. Call The Southern Company today!