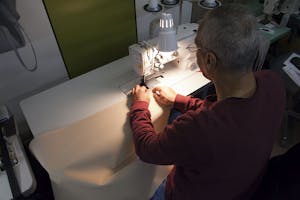 Few brands of outdoor furniture can match the casual elegance of Agio. Known for timeless beauty and maximum comfort, Agio quality delivers year after year, whether on the terrace, deck, patio, or at poolside. However, even the best quality furniture and materials need attention after years of exposure to the elements. When it's time to replace your Agio slings, make sure your first call is to The Southern Company. Agio sling replacement is a specialty of ours, and we can have your set looking brand new and back to you in no time.
Agio Patio Furniture Equals Lasting Beauty and Quality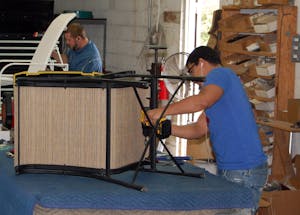 When you buy a set of Agio patio furniture, you should expect to have it for life. Rust-resistant aluminum and iron frames, easy care fabrics, and durable wickers help you create a comfortable outdoor setting that requires minimal upkeep and fuss. An array of elevated-height dining sets, smooth-motion rockers, slat-top dining tables, sleek ottomans, and lightweight swivel chairs make your outdoor setup as comfortable as your indoor one. A diverse choice of fire pits and even fire columns rounds out the effortless functionality of an Agio furniture group.
One of the benefits of purchasing premium outdoor furniture is that the underlying construction is solid enough to last a lifetime — as long as the frames and slings are maintained professionally every decade or so. When your Agio slings begin to fray, look worn, or become damaged by chlorine and the elements, your furniture can be restored to like-new condition.
As a manufacturer, Agio favors a muted, neutral color palette. One of the advantages of working with The Southern Company when it's time to refurbish your Agio furniture is our vast selection of sling fabric choices. We carry more than 125 different fabric options for Agio sling replacement, from solids to stripes, jacquards, wicker weaves, and more. Whether you want the exact look as the day you bought your set or an eye-catching, bright new summer hue or pattern, The Southern Company can create a custom look for a fraction of the price of investing in a new patio set. And it's certainly a greener choice than needlessly throwing your furniture in the landfill!
Agio Outdoor Furniture Sling Collections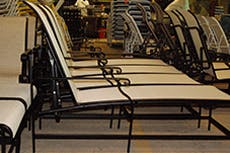 Agio outdoor furniture collections range from plush, cozy couches that are perfect for curling up with a book to comfortable and supportive sling chairs for relaxing outdoor dinners and brunches.
You have many choices in sling chairs in the current Agio lineup. The Andover Collection is a versatile set that features neutral slings and the option of matching swivel chairs. The aluminum frames feature intricate lines and the table tops boast a woven design. Andover will fit in everywhere, with the largest table seating up to 8.
The Manhattan Collection is another sling-based collection that offers both traditional and gathering-height tables, while the Willowbrook Collection provides seating and dining options for virtually every outdoor space you might want to furnish. Café and full-sized tables, a 3-piece semi-round sectional sofa, a chaise lounge and double rocker, a fire pit with matching scrollwork, and many other pieces make this group a popular and versatile new choice.
Frame Refinishing on Agio Patio Chairs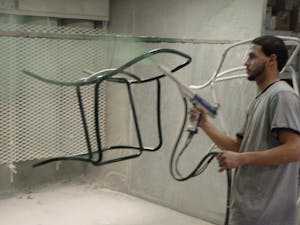 When we receive your Agio furniture in our workshop, we remove the old slings and do a careful inspection of the frames. While Agio frames are powder coated and rust resistant, scratches in the frames can collect water and rust over time. We locate any weak spots, damaged welds, and any other areas needing repair and fix them before refinishing the frames.
Once our inspection is complete, the frames are gently sandblasted to remove the old powder coating as well as any corrosion that might have occurred. Your new powder coat color is electrostatically applied and cured in a special 400-degree oven, which creates a finish that is up to 4 times more durable than the original.
Agio Sling Replacement
Now it's time for your Agio sling replacement. We know that you will fall in love with one (or more!) of our vast selection of sling fabrics. We'd be happy to help you choose if you're not sure which would best complement your furniture, style, and setting.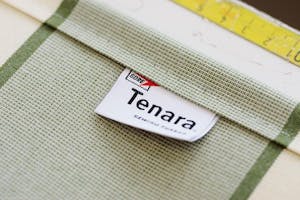 Our technicians precision cut your new fabric to exactly match the original sling. The new slings are double stitched and double hemmed using Gore Tenara sewing thread, which is designed for outdoor application and is the most durable thread on the market. Gore Tenara thread will not break down due to exposure to sun, acid rain, snow, salt, or chemicals including bleach, ensuring that your new slings will hold up to frequent use for many years to come. Our expert craftsmen install your new slings using the perfect tension to create a supportive and comfortable seat that will be calling your name all spring and summer long!
Patio Furniture Repair Company Prepares Your Agio Furniture for Spring!

Premium outdoor furniture deserves the very best, and Agio sling replacement should only be done by a professional in order to get the maximum life out of your investment. When you begin to see signs of wear on your Agio slings, give The Southern Company a cal l— we'd be happy to share our ideas and give you feedback on yours. We have been rehabbing premium outdoor furniture for 30+ years, and it is our passion.
In addition to Agio sling replacement, we refurbish and repair all of the top patio furniture brands, including Brown Jordan, Knoll, Winston, Tropitone, and Molla. We stock 25 colors of vinyl straps, more than 125 replacement sling fabrics, and a wide array of powder coat colors to create exactly the look you want to complement your outdoor space. Whether you stick close to your furniture's original colors or try something bold and new, we'll make your patio furniture look its best.
To make the process as easy as possible, we collect your furniture at your doorstep anywhere from Connecticut to Northern Virginia and bring it to our workshop in Willow Grove, PA. Once it's been refinished, we'll return it to you in perfect condition, and your satisfaction is 100 percent guaranteed.
Beat the spring rush and call The Southern Company today to enjoy your "new" patio furniture all season long!