The Agio outdoor furniture brand is associated with some of the most durable and exquisite patio furniture on the market. Whether you've invested in some of their trendsetting entertaining options or opted for a more classical dining set, you want your outdoor furniture to look stunning for as long as possible. By following these Agio patio furniture maintenance and care tips, your outdoor furniture will last for many years to come.
Agio Maintenance for Chair Frames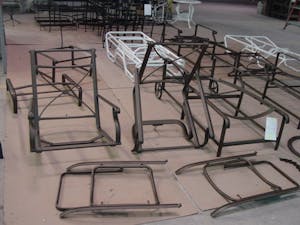 To keep the frames on your Agio patio furniture looking good, it's important to clean them regularly to avoid build-up of dirt and grime. Over time, dirt will become more and more difficult to remove and can end up damaging the finish. All that is needed for cleaning is mild soap and warm water — never use abrasive materials or chemical cleansers.
Before storing your furniture for the season, clean the frames and then allow them to dry completely. Keep in mind that one of the best ways to maintain Agio frames is to protect them from the elements when not in use. It is preferable to store your furniture in a basement or shed over the winter, but outdoor patio furniture covers should be used whenever furniture is left outside.
Maintenance for Agio Patio Chair Straps
Agio patio furniture maintenance for chair straps includes cleaning them with mild soap and warm water. In smog and pollution-heavy areas, you might need to use a cleaner recommended by Agio to keep the straps in pristine condition. Strong or abrasive chemicals may damage the straps so do not use them.
Once your straps are clean, it is recommended that you apply a vinyl protectant once or twice per season. Vinyl protection serves three purposes: it helps strengthen the straps, enhances their appearance, and prolongs their life.
Agio Patio Furniture Maintenance for Slings and Cushions
Agio slings and cushions have already been treated to resist stains, but that doesn't mean they won't need to be spot cleaned periodically. For minor spills, simply wipe up the spill and clean the area with a damp cloth and mild soap. Over time, however, a commercial cleaner may be needed to keep the fabric looking its best. If using something besides soap, be careful to follow the instructions provided.
Sling chairs and cushions, like other types of outdoor furniture, should be stored out of the elements when they aren't being used to preserve their appearance and extend their life. If they can't be stored in a garage or shed, protect them with a furniture covering. If your Agio patio furniture is in a location where trees and birds are abundant, professionals highly recommend that you cover the slings and cushions any time they're not in use.
Maintenance & Care for All-Weather Wicker
Agio's line of all-weather wicker products is made of either PVC (polyvinyl chloride) or PE (polyethylene), which are very durable yet attractive synthetic polymer materials. To maintain its appearance, all-weather wicker furniture should be cleaned frequently with mild soap and warm water. Although it might seem like a good idea, don't use a vinyl protectant — it can stain the cushions!
Protective Furniture Covers for Your Agio Patio Furniture
Agio patio furniture maintenance includes using furniture covers, which are an excellent solution for keeping your patio furniture protected when not in use and maintaining its stunning appearance. Furniture covers offer protection from aging caused by sun exposure and the ugly discoloration that can be caused by birds and trees. The covers also help prevent wildlife and insects from making a home in your prized furniture.
Remember to clean and completely dry your patio furniture before placing a cover over it. Agio offers tight-fitting furniture covers that are fade, tear, and water-resistant.
Warranty Information
Agio patio furniture comes with either a one-year limited warranty or a seven-year limited warranty. Be sure to protect your furniture from the elements in order to keep the warranty in good standing.
Frame Warranty
Agio's steel frame construction is warranted against defects in workmanship and material for seven years from the date of purchase. The warranty does not, however, cover damage to frame welds or the frame themselves if that damage resulted from exposure to water, exposure to below-freezing temperature, or improper assembly. Again, make sure your furniture is clean and completely dry before it is stored, and don't leave it exposed to freezing temperatures.
Finishes

When it comes to paint finishes on your patio furniture, Agio provides a warranty against peeling, blistering, or cracking as long as the furniture hasn't been scratched or abraded. This applies for a one year period after purchase. What is not covered is fading, chips, or scratches that occur just from normal wear and tear or because the furniture was left exposed to the elements.
Warranty for Fabrics
Fabrics and cushions are covered by Agio's warranty against separation at the seams for a one year period after the purchase date. If the fabric or cushions on your furniture begins to fade or become discolored as a result of any of the following, then it is not covered by warranty:
Spills
Fluids
Water damage
Oils
Chemicals
Exposure to the elements
Straps & Wicker Warranty
Furniture with straps or wicker weave are covered by a one-year warranty against separation and tearing. Just like the warranty for fabrics, fading or discoloration that is caused by spills, fluids, water damage, oils, chemicals, or exposure to the elements is not covered.
Patio Furniture Repair Company Specializing in Agio Furniture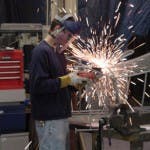 There may come a time when Agio patio furniture maintenance is just not enough for your aging furniture. Whether your Agio furniture is beginning to look old, or you are just ready to update the look without investing in a brand new set of furniture, contact The Southern Company.
Our skilled technicians and artisans will pick up your furniture, inspect it, perform repairs, and then restore it to brand-new condition. We can refinish your frames, replace slings, and replace vinyl straps, depending on your furniture's condition and the new look you have in mind. The Southern Company can even restore your wrought iron patio furniture. Call us today, and let us breathe new life into your favorite outdoor furniture set!