Many patio furniture pieces are timeless, but trends in outdoor furniture decor vary from year to year. Achieving the latest look for your patio can be as simple as rearranging your existing pieces, adding a couple of new ones, and changing paint colors.
Do you want to completely transform your patio this summer? Here are some of the top picks for the hottest trends of 2016. And the good news is that the top brands — such as Brown Jordan, Tropitone, and Winston — all have pieces to help you get there.
Mixed Materials Outdoor Furniture
Mixing materials is a great way to create a backyard setting that is totally unique. Why not make a bold statement by combining an iron table with wooden seating, or a wicker day bed with an aluminum umbrella stand?
The mixed materials trend works particularly well for outdoor furniture sets, and wicker is a popular material choice this year. The variety of contemporary wicker designs is vast, and wicker chairs and sofas with geometric designs have the most modern style. Brown Jordan offers elegant modular lounge pieces in their Il Viale collection that are made from weather-resistant Resinweave, which gives you the look of wicker but in a material that will last in the outdoors. In the past, your color choices for wicker were limited to various shades of brown, but the newest trend is to choose something bright to add a splash of color to your outdoor oasis.
An aluminum coffee table with two wicker chairs and a small wicker sofa is a trendy combination for a garden patio set. Aluminum is lightweight and malleable, which makes it an excellent material for the curving designs of contemporary patio furniture. Some aluminum furniture designs are so unusual that they look like pieces of modern sculpture.
Patio dining sets are another favorite for mixing materials. Wood and metal are the popular materials, so why not use them both? An oval dining table made of iron and glass pairs beautifully with teak patio chairs to create a stunning mixed-materials outdoor dining set. Durable and easy to maintain, teak furniture blends naturally in an outdoor environment. Adding teak is a great way to give your outdoor dining set a fresh, new feel.
Indoor Outdoor Flow from Your Home to Your Patio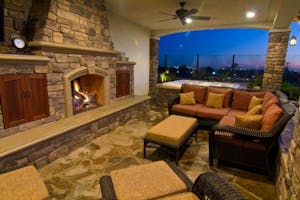 The concept of a seamless transition from indoors to outdoors is a major trend in 2016, but the idea originated decades ago when the mid-century modern style became popular. In order for your indoor and outdoor furniture to flow, you have to blur the distinction between your indoor space and outdoor space. One trick for achieving this look is to choose outdoor furniture that looks like indoor furniture.
With beautiful, colorful fabrics available to withstand the elements, you can create an outdoor living space that looks like it belongs inside. Upholstered loveseats, chairs, and pillows made with fabrics like those from Tropitone are sure to make quite a visual impact, and also stand up to the sun, wind and rain.
For patio dining sets, the ultimate highback dining chair from the Winston Belvedere Sling collection has the look of an indoor dining chair so is a great choice for a patio. Winston offers outdoor dining tables in a variety of shapes and sizes, many of which resemble tables used in our kitchens and dining rooms.
The good news is that you don't have to buy new patio furniture to achieve this hot trend. Professional patio furniture refinishing and sling replacement is a great way to transform your outdoor furniture and keep up with the latest trends.
Conversational Seating
Conversational seating is another popular trend, and it involves a style focusing on outdoor relaxation. Curved furniture arrangements are the hallmark of conversational seating, and they offer your guests more intimacy than traditional angled furniture configurations. The purpose of conversational seating is to create a setting that facilitates interaction among your guests.
Another name for conversational seating is chat group furniture, which can consist of pieces from a single collection or a combination of pieces for an eclectic look. The look typically includes a large or small sectional, with a curved or crescent shape. Once limited in style and sizing, curved sofas are now available in a wide variety of frame materials.
Chat group furniture is becoming so popular that it is rivaling the outdoor dining set in popularity. Fans of conversational seating favor the sense of relaxation and comfort that it conveys, and designers say that it indicates a shift in the focus of outdoor design.
The Corsica Cushion Collection from Tropitone offers several pieces that work well for the conversational seating trend. The collection offers a crescent love seat and a crescent sofa; combine one or both of them with a few lounge chairs to create an intimate, informal seating arrangement for your friends. Adding a Tropitone coffee table from any of one of their many collections makes a great centerpiece and adds an element of coziness to the arrangement.
Expert Furniture Repair and Restoration
Keeping up with the current trends doesn't mean you have to replace your outdoor furniture collection. The professionals at The Southern Company have decades of experience in restoring high-end patio furniture, and they can help you give your patio a completely new look!

Restoring your existing patio furniture is the most affordable option for updating your outdoor space and adding years of use to your outdoor furniture collection. Your timeless pieces from Brown Jordan, Tropitone, Winston and more will look and feel completely new when The Southern Company replaces your faded chair slings and refinishes your outdoor furniture frames. The Southern Company can repaint your favorite pieces to completely transform the look of your old patio furniture. Call The Southern Company today to make your vision of a modern outdoor oasis become a reality!