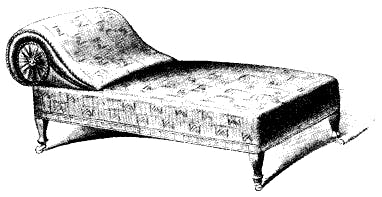 Once the furniture of choice for the royal and rich of ancient civilizations, the chaise lounge has evolved to become one of the most popular choices for comfortable seating in outdoor settings across America.
Not only are outdoor chaise lounges decorative, but they are also practical and comfortable. Whether you want to read a book, soak up some sun, or enjoy a nap, a chaise lounge is your destination for relaxation outdoors.
Furniture for the Ages: The Origins of the Chaise Lounge
Chaise lounges were important furniture fixtures in ancient Egypt, and archeologists have discovered them intact in tombs that date back to 3100 BC. Centuries ago, the chaise lounge was the preferred place to relax during the heat of the day, and it was a symbol of wealth and luxury. The earliest lounge chairs consisted of cord, woven palm fronds, and rawhide, with built-in stone or wooden headrests.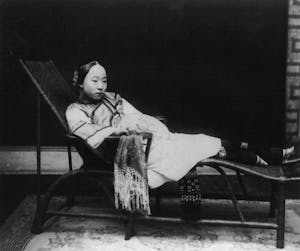 Centuries later, the ancient Greeks used chaise lounges instead of regular chairs while eating, and the furniture was elevated higher than the level of the dining table. Each chaise lounge would seat two people, and each person would lie on his stomach and chest while eating. The ancient Romans adopted the use of chaise lounges from the Greeks, and their chaise lounges featured legs carved from wood or cast in bronze.
In the Far East, the Chinese began to use chaise lounges as early as 1368, and they are still popular there today. The Chinese were the first to use the chaise lounge in an outdoor setting, and many gardens featured the furniture as a favorite place to relax.
The Modernization of the Chaise Lounge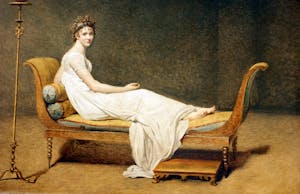 The modern chaise lounge originated in France during the sixteenth century and resembled the furniture we use today. The design was an elongated chair with a backrest and four legs, and the materials were usually curved wood, rattan, or wooden caning. Evolving in design through the Rococo Period and Victorian Era, chaise lounges were elegant and expensive, and they became fixtures in the homes of aristocracy and royalty.
The chaise lounge made its debut in America during the 1830's, and during the Industrial Revolution, manufacturing became easier. The price of chaise lounges dropped, and they became affordable enough for middle class families to enjoy. By the turn of the twentieth century, outdoor living was growing in popularity, and the chaise lounge became a common outdoor fixture.
Variations of a Classic: Popular Outdoor Chaise Lounges Today
After centuries of popularity, the outdoor chaise lounge is still considered the ultimate combination of comfort and style, and it remains a favorite furniture fixture across American patios year after year. The most common design today features two low arms; a high, contoured back; and a long, slightly slanted seat. However, this basic style is available in a countless number of variations.
If your primary interest is relaxation, you should choose a chaise lounge chair that has a multi-position back and offers a full range of movement from lying down to sitting fully upright. The La Scala Padded Sling Chaise Lounge from Tropitone features an adjustable chair back and is a popular choice for comfort, style, and durability.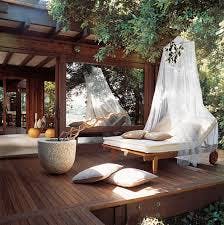 For ease of storage, some models of outdoor chaise lounges come equipped with wheels, while others are designed to be stackable. The Belvedere Cushion collection from Winston includes an adjustable chaise lounge with skate wheels, and Winston's Catania Padded Sling collection offers stackable chaise lounges, including units without arms.
Most outdoor chaise lounges are intended for use by one person, but some are created with a double-sized frame that is wide enough to accommodate two people sitting side by side. The outdoor double chaise lounge is similar in size to a daybed, and the adjustable models have two separate head sections that move independently of one another.
Outdoor Chaise Lounges Are Available in a Variety of Materials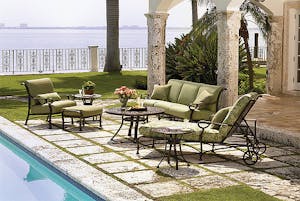 The material that composes the frame of an outdoor chaise lounge is what determines its durability. Wrought iron and cast iron chaise lounges are both weather and wind resistant, and buying iron that is treated and coated will help protect your furniture against rust. The Cantebury Adjustable Chaise Lounge from Woodard is constructed from sturdy iron and features stylishly curved details on the arms, wheels, and chair back.
An aluminum chaise lounge frame is lightweight, durable, and completely rust resistant. Brown Jordan offers aluminum chaise lounges in a variety of comfortable and stylish designs. Perhaps their most contemporary design is the Wave Collection padded adjustable chaise lounge, which is noteworthy for its dynamic form and breathable, ergonomic sling.
Wood is another popular material for outdoor chaise lounges, and weather-resistant types of wood such as teak, eucalyptus, and red cedar offer the most longevity. A perennial favorite, wicker is more lightweight than wood, and the woven appearance of wicker offers a depth of texture that is cozy and inviting.
Repairing and Refurbishing Your Outdoor Chaise Lounge

Years of weather exposure can leave your patio furniture looking dull and faded, but the experts at The Southern Company offer professional refinishing and refurbishing services that will add years to the life of your high end patio furniture. If the frame of your outdoor lounge is rusted and weak, The Southern Company can weld and refinish it. The finished product will have like-new structural integrity and a rugged, durable coating.
If your mesh slings are worn and frayed, The Southern Company can reverse the signs of aging by completely replacing your slings. You can choose from more than 125 fabrics in a variety of colors and patterns, and The Southern Company's double stitching and double hemming techniques will ensure that your new slings are secure for years to come. You can also replace any worn or faded vinyl straps on your chaise lounge with a fabulous selection of colors to choose from.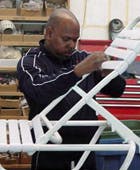 When you invest in the outdoor patio collections of Brown Jordan, Tropitone, Winston, and Woodard, you expect to enjoy your furniture for a lifetime. Restoring your worn and weathered furniture is a more affordable option than replacing it, and the experts at The Southern Company offer a variety of services to give your furniture the look and feel of a completely new patio set. Call The Southern Company today to find out how we can help you extend the life of your outdoor furniture.