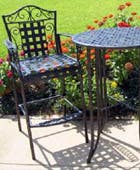 Harsh winters and prolonged sun exposure can leave your wrought iron patio furniture looking lackluster. Pitting and rusting are the most common signs that your patio furniture is in serious need of some help! A fresh coat of paint is a great way to update the look of your old furniture, and it's a less expensive option than buying a new patio set.
For ambitious DIYers, refinishing wrought iron furniture may seem like a viable option, but it's difficult to achieve the results that you expect and may not be the smartest choice when you've already invested a pretty penny for premium patio furniture. Using the services of professionals such as those at The Southern Company is the best way to ensure that your furniture will be restored properly and will give you the lasting enjoyment you expect.
The Advantages of Wrought Iron Furniture
Purchasing wrought iron patio furniture is a long-term investment that makes a statement on your deck, patio, porch, or backyard. It is extremely heavy and durable, and the weight of the individual pieces means never having to worry about the wind scattering them about.
The density of wrought iron allows it to be formed into slender bars and stunning curve patterns. With wrought iron, you can have furniture that features intricate designs and elegant patterns that lighter materials, such as aluminum, cannot offer.
Most premium brands of wrought iron patio furniture will last many generations – and having it refurbished by a professional is money well spent.
Hiring a Professional Patio Furniture Refinisher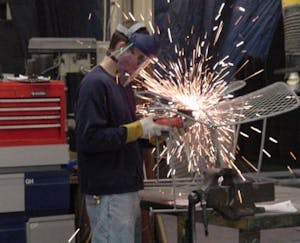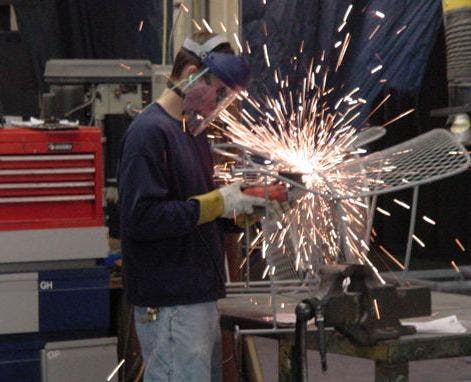 Have you ever used a wire brush or a sander to remove paint from a wrought iron surface? The process is exhausting, and removing all of the old paint is nearly impossible. When you leave behind old paint or fail to completely remove all of the residue after scraping and sanding, your hopes for a flawless finish are doomed. No amount of painting skills will save you from the uneven bumps and bubbles you get when you paint over a surface that is not completely clean.
The professionals at The Southern Company have the benefit of using modern sandblasting equipment that can strip off every last speck of old paint, an important foundation for achieving a beautiful finish.
What about your workspace? Do you plan on refinishing your weathered wrought iron furniture outside? Even the most prepared individual is vulnerable to wind, unfavorable temperatures, changing weather conditions, and paint drips. On the other hand, The Southern Company has a spacious warehouse with workrooms that have controlled temperatures which are necessary for optimal paint application.
How long do you expect your new finish to look brand new? The Southern Company offers finishes that are three to four times more durable than even an experienced do-it-yourselfer can expect to achieve. Our professionals apply primer, a top coat, and two levels of premium paint to produce a finish that looks as good as the day you bought it. In addition, we utilize a baking and curing process to create a more durable finish than you can ever hope to achieve when refinishing furniture at home.
Premium Brands of Wrought Iron Patio Furniture
The craftsmen at The Southern Company are experts at refinishing all brands of wrought iron patio furniture. Here's a rundown of what you can expect from each in terms of their wrought iron offerings: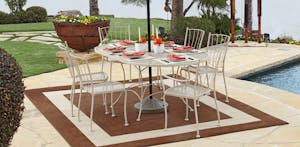 Woodard Furniture is an exceptional choice, and the company has been in business for more than 140 years. If you are looking for exceptional durability, you should consider their manufacturing process. They handcraft all their wrought iron furniture from solid iron stock to create exceptionally strong pieces. They also use handcrafting to create the details that make their collections unique. Their styles range from traditional to contemporary, and they also offer universal pieces that fit with either look. If your tastes lean toward contemporary, take a look at their Aurora collection to find the perfect dining table for your outdoor space. Or if you want to recreate the look of a classic French terrace, you should consider their Bistro/Parisienne collection, which offers European style in a variety of size options.
Brown Jordan is another company that's been around for decades. This brand focuses on precise design and execution, and consistently produces collections that give you the feel of luxury and relaxation at the same time. In keeping with their standards of excellence, Brown Jordan has created a stunning line of wrought iron furniture called the Florentine collection. With a look that dates back to the Roman Empire, the Florentine collection offers curving designs and an iconic look.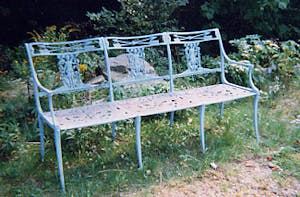 Originating in England in the 1800's, Molla is a brand that focuses on durability of construction. They manufactured their pieces to stand up to the elements, so you can expect to keep your Molla wrought iron furniture in the family for generations. If you favor the neo-classic style, Molla is the perfect choice for you. The patterns and details they produced in wrought iron are second to none, and you can expect to be stunned by the variety of looks they created. Geometric-patterned chair backs and design elements that incorporate crosses are common to their lines. Though no longer manufactured, you may have been lucky enough to buy a treasured piece of Molla furniture at a yard sale, or better yet received one as a family heirloom.
The Southern Company expertly refurbishes all of the above brands of wrought iron furniture as well as many others. If you have a brand other than those listed, please call us to find out if we can work with your set.
The Best Patio Furniture Repair Company
When you need to refinish your weathered wrought iron furniture to improve the look and feel of your outdoor oasis, The Southern Company is your destination for quality. Most of our clients are surprised to find that we return their wrought iron patio furniture to them looking better than the day they bought it! We offer convenient pickup and delivery services. Call The Southern Company to make your visions of a beautifully furnished patio come to life!