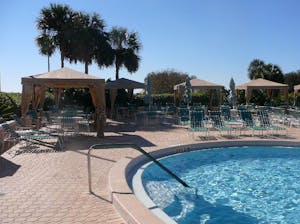 Stop right there! Don't toss that old patio furniture into the trash! Over time, patio furniture, like most other products, will see wear and tear. But just because your country club's patio furniture is beginning to show signs of age, doesn't mean it's time for you to pitch them into the garbage and buy all new furniture. You have options!
Patio furniture sling replacement is an ideal and affordable option for country clubs when it comes to giving their patio furniture a fresh look. Almost all high-end outdoor sling furniture will easily double its serviceable life by a makeover with new slings. The Southern Company does it every day with manufacturers such as Winston, Brown Jordan, Tropitone, Woodard, Molla, Agio, Mallin, and many more. The average lifespan for a sling is eight to 10 years; however, the frames and original powdercoating have a longer lifespan. So, by utilizing patio furniture sling replacement, country clubs can rejuvenate the look of their pool or patio area, at a fraction of the cost of replacing all of their patio furniture.
Replacing high-end pool and patio furniture is extremely expensive. These furniture pieces were built to last for generations and were made with a higher quality than many of the patio furniture pieces of today. It can be difficult, if not impossible, to find patio furniture with a comparable quality. It doesn't matter where you look or how much you're willing to pay; the quality just doesn't match.
Finding room in the budget to replace an entire allotment of patio furniture is no easy task for country clubs. With the option of refurbishing, country clubs have greater flexibility in their budgets. They can use the money they save from patio furniture sling replacement on other areas of improvement for their clubs.
Aside from saving country clubs money, patio furniture sling replacement is a green choice. Choosing to repair rather than buy new is a means of recycling materials. Going green can also be great for a country club's reputation, showing guests that they are dedicated to the environment.
So, when it comes time to review the budget for your country club and spending for furniture is cut yet another year, consider patio furniture repair instead. Patio furniture sling replacement will refresh your country club's patio or pool areas and keep you within budget at the same time. The members will be thrilled!