There are so many options on the market when it comes to outdoor furniture, and one of the most popular options is sling patio furniture. Not only is sling outdoor furniture aesthetically pleasing and fashionable, but it has seven key benefits that no homeowner should overlook when planning their outdoor space.
Water Passes Through the Fabric
One of the benefits of sling patio furniture lies in the fact that the fabric used for the sling is water permeable. That means no long-standing puddles of water on your patio furniture, which can leave behind a slimy biofilm and discoloration. It also means that you do not need to worry about encountering soggy outdoor furniture, either — and that cannot be said for furniture that requires cushions, which simply cannot be made so they are water permeable. This also means your outdoor furniture will dry far more quickly without any additional effort from you to wipe it down.
Resistant to Tearing and Holes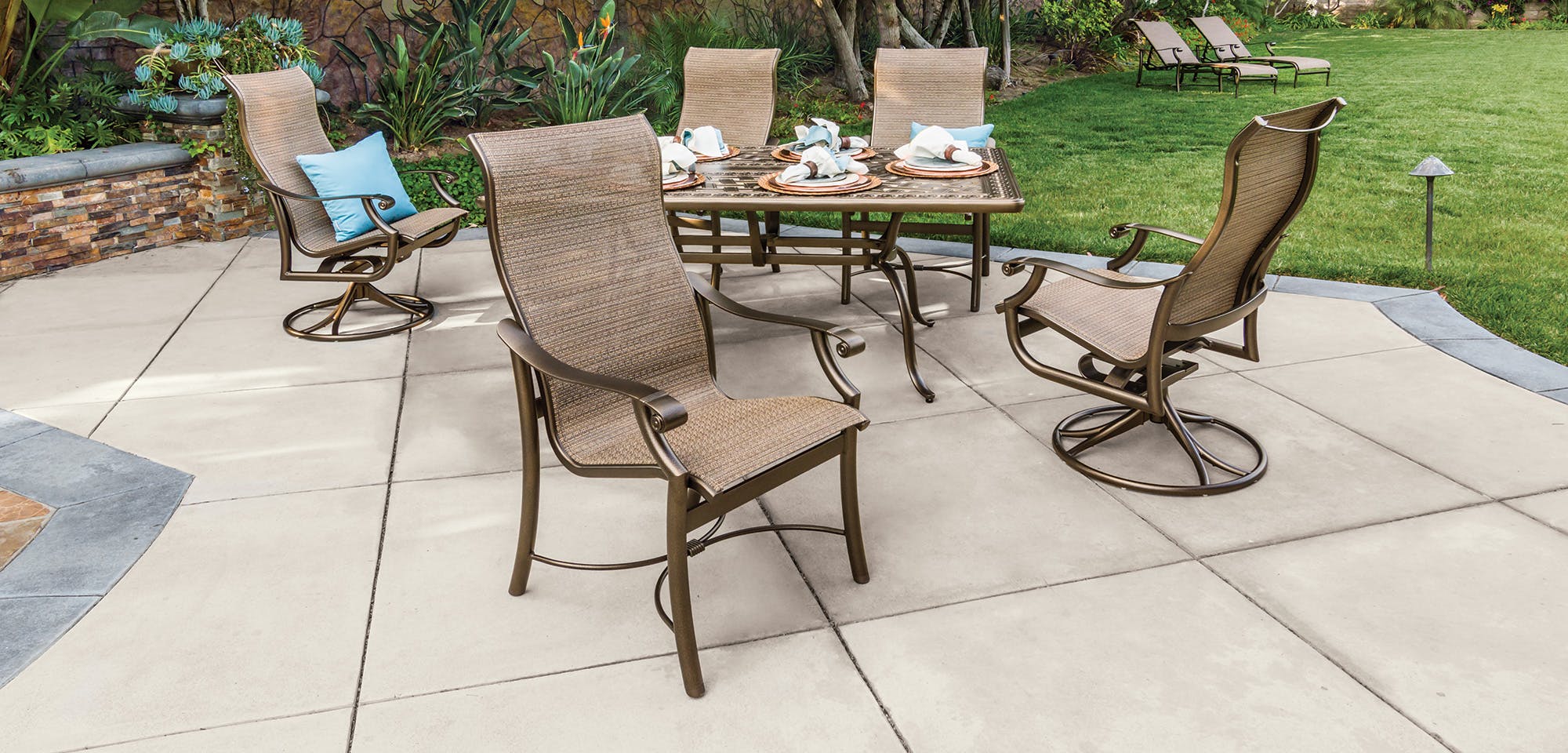 There's nothing worse than ruining an expensive fabric-coated cushion or other furnishing when you or a guest happens to accidentally catch it on a piece of jewelry or a set of keys. However, with sling patio furniture you will not need to worry about casual tears because the outdoor fabric used for slings is highly resistant to developing holes or tearing, making it an extremely durable choice for your outdoor decor. Not only is it tough when it comes to occasional abuse, but it will have a very long life under normal use too.
No Need for Cushions
With sling patio furniture, you no longer need to fumble with cushions. Because the sling provides the necessary support and cushioning by its very design, cushions are superfluous. No more trying to dry the cushions off after a rainstorm, struggling to get them together for storage, or tracking them down in your backyard after a major windstorm. It also means that you do not need to worry about the normal wear and tear that outdoor furniture cushions experience, including tears, holes, and unsightly stains.
Easy to Move and Store
Sling furniture typically is made with a durable, lightweight aluminum frame. With an aluminum base, your sling outdoor furniture will be extremely easy to move, whether you are rearranging it for an upcoming gathering or storing it away for the cold winter months. On the other hand, it is not so lightweight that you will have to worry about it blowing over during an aggressive thunderstorm. It also provides excellent stability for your guests so they can sit both comfortably and confidently.
Durable and Weather Resistant
Another benefit of outdoor sling furniture ties in with high quality aluminum frames that are a key characteristic of sling furniture design: they are both durable and weather resistant. The aluminum frames are resistant to dents and bending, which means that they retain their shape indefinitely. Because the frames are normally powder coated, the finish is extremely resistant to scratches and gouges that would ruin its appearance. In addition, the powder coating makes the frames resistant to changes in appearance even in the most aggressive weather conditions (UV rays, abrasive sand, the formation of mildew). The frames alone will last for many, many years.
The frames are not the only aspect of sling furniture that is durable and weather resistant. High-quality slings are made of durable materials that will resist aging, discoloration, strains, tears, and wear — and will be sewn together with threads that are equally resistant to even the most aggressive outdoor environments. The slings will easily last for years if not a decade or more.
Easy to Maintain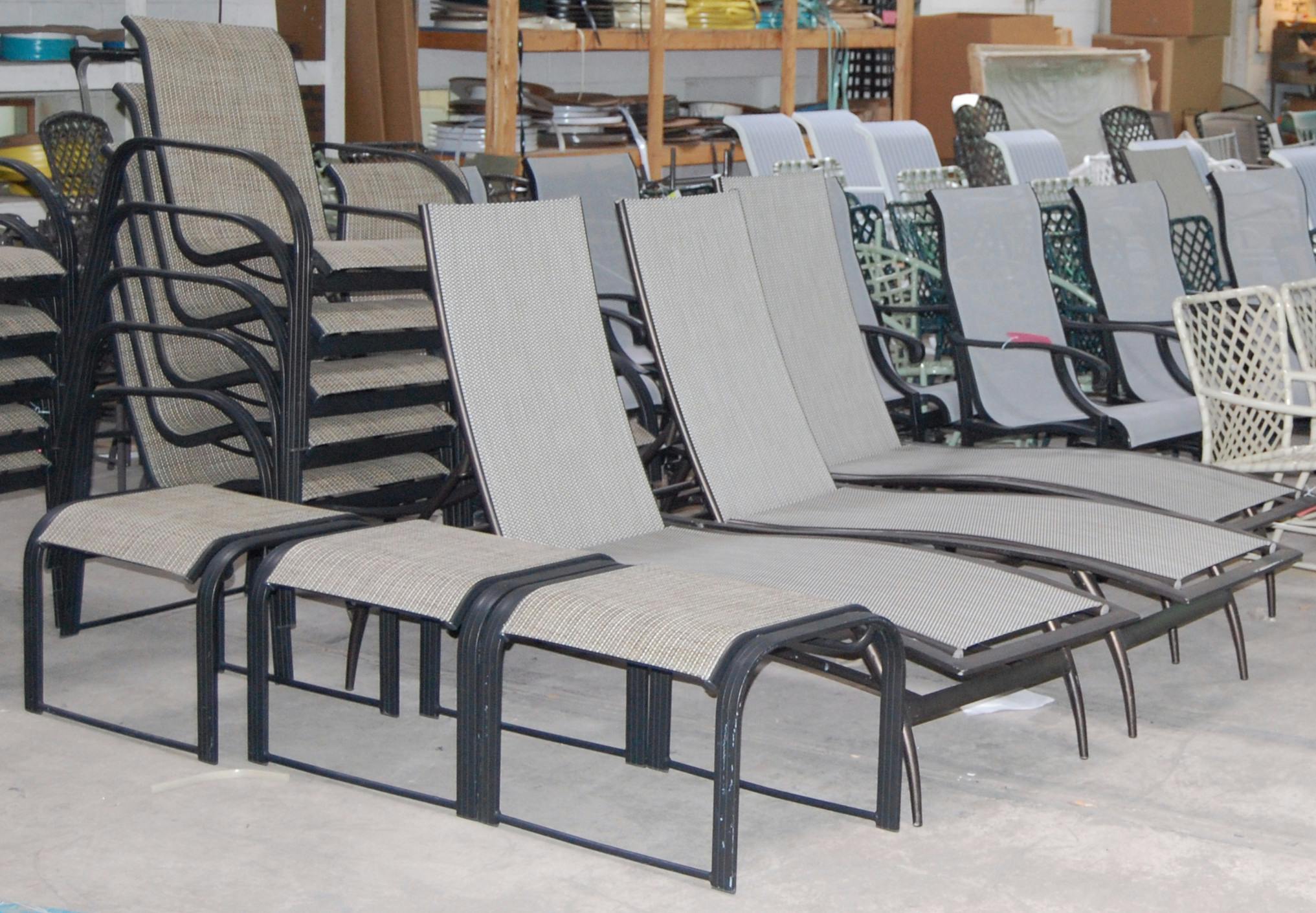 Sling furniture is extremely easy to maintain. Both the slings and the frames can be cleaned with mild soap and water. The powder-coated finish can be maintained by using car wax on it after it has been thoroughly cleaned. Because the slings are water permeable and dry quickly, there is no concern about issues such as mold, mildew, biofilms, or the stains they cause.
Colorful
Both the finishes and the fabrics used to construct sling furniture are available in a wide array of colorful options, which means you can embrace a bolder look for your outdoor entertaining or play it safe with more neutral colors for your patio space. It is extremely easy to obtain a custom, coordinated, chic look for your outdoor space when using sling patio furniture.
Conclusion
Sling patio furniture comes with some incredible benefits. Water passes through the fabric that makes up the sling, and that fabric is highly resistant to wear and tear. Additionally, there is no need for cushions and the care that they involve. The furniture is lightweight enough to rearrange easily, but stable enough for the heaviest of guests — both the sling and the frame are extremely durable. And, finally, the fabrics and powder coated finishes are weather-resistant and available in a wide array of color options.
The Southern Company
If you currently own sling furniture that you have been thinking about replacing, why not have the slings and finish redone instead? With so many benefits to sling patio furniture, and given the durability of the aluminum frames, it would be a shame to waste money on a new set. At The Southern Company, we will pick up your sling patio furniture, inspect and repair it, and then replace the sling with your choice of fabric and redo the finish with your choice of color. This will add years of useful life to your existing outdoor furniture and allow you to achieve a fresh, new look without the hefty price tag. Contact us today!