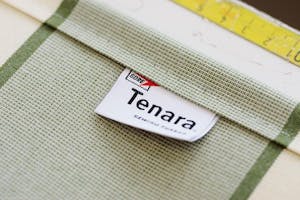 It's a lovely day and you have friends coming round. The grass is cut, borders brimming with beautiful plants and the barbecue is clean and ready.
But what about your garden furniture? Sure, the chairs can be wiped over. But what are you going to do about the fact the thread holding the mesh slings is in poor condition and looks like it will break when people sit down?
Investing in superior craftsmanship and Gore® Tenara® Sewing Thread for your sling fabric will ensure your furniture is not beaten by the elements.
Why Use Gore® Tenara® Sewing Thread?
Most normal threads will fray and discolor. This natural weakening over the years will eventually leave you with beautiful garden furniture frames but not so good looking slings for people to sit on.
There is one thread that will always work hard without deteriorating.
Gore® Tenara® thread is guaranteed fully resistant to UV sunlight, acid rain, industrial strength cleaning products, snow and salt. It will not rot or mold and its color will not fade over time.
The two most powerful of these, Ultraviolet radiation and water-borne bacteria and fungus will cause other threads to deteriorate rapidly. But Gore® Tenara® thread is hydrophobic, which means it actively repels moisture. When deprived of moisture, mold and mildew cannot grow within the thread. Polyester and cotton threads both retain water, which makes them a wonderful place for micro-organisms to thrive.
Quite simply, it will not weaken or degrade and will deal with pretty much any outdoor conditions mother nature can throw at it.
Gore® Tenara® Sewing Thread Has Been Tested In The World's Most Extreme Conditions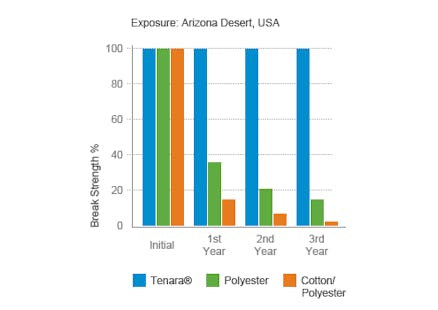 The unique PTFE (polytetrafluoroethylene) fiber construction of Gore® Tenara® thread extends the life of fabric seams indefinitely.
Extensive development tests were carried out in the Arizona desert and found that in such extreme conditions, it still took more that five years for signs of deterioration to appear, and even these were not fatal to the strength of the thread.
During the same experiment it was found that cotton and polyester threads lost more than 80% of their strength and displayed major loss in color.
The Best In The World is Powered by Gore® Tenara® Sewing Thread
Its hard-wearing properties make Gore® Tenara® thread essential for use by sailors worldwide. The best boating covers and equipment use this thread to give them incredible durability in extreme conditions.
Even if it is left outside all year round it will not rot. Gore is so confident in their wonder thread that they actually guarantee that it will outlast the fabric it has been used to stitch.
This makes it an ideal material for stitching sails. It has been said that using Gore® Tenara® thread in sails has been the biggest improvement in cruising sails since the invention of Dacron fabrics, a high modulus fiber that was designed specifically for sails.
If This Wonder Thread Can Protect Astronauts, It Will Cope With Life On Earth
Gore® Tenara® thread is also the same fiber that NASA uses in their spacesuits. If it's strong enough to keep astronauts safe as they hurtle through space, then it will keep your patio sling chairs in mint condition for years.
Isn't it a great talking point to tell your guests that the stitching holding their chair sling in place is capable of being blasted through space?
It is this level of quality that makes Gore® Tenara® thread the stitching of choice for people and companies who need reliability without exception.
Gore® Tenara® Sewing Thread for Your Patio Sling Chairs
If you are investing in high end outdoor furniture, it makes sense to purchase brands that use durable, lasting materials. A fresh and clean look is inviting, as you need it to be when you are entertaining people you love.
Products stitched with Gore® Tenara® thread will not let you down. That is why we use it for all our sling repair and custom made work. Because of its design, Gore® Tenara® thread is slippery and therefore needs to be stitched professionally, which is why we have invested in top-quality machinery and expert craftsmen.
Here at the Southern Company, every chair or chaise sling we work on is cut with precision. It is then double-stitched and double-hemmed. This process, in combination with using Gore® Tenara® thread, means that we are always confident in the durability and quality of our work for our valued customers.