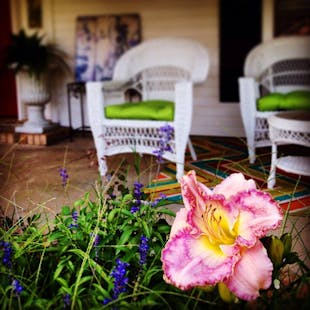 Did you know you can add value to your home simply by increasing the curb appeal? Whether you are planning to put your home on the market or stay for years, the condition and design of outdoor living spaces are becoming more and more important to both home buyers and home owners.
You can take advantage of this trend by making your outdoor areas beautiful extensions of your home. While attractive landscaping makes an impression on potential buyers, furniture and accents can make an even stronger statement by creating the feeling that the yard and/or patio is part of the living space.
Outdoor Living Spaces – Dining and Entertaining
Adding a sturdy yet attractive table and chairs set is a fantastic first step in making your deck or patio functional for both relaxing and entertaining. Timeless brands like Brown Jordan and Winston as well as more contemporary brands such as Tropitone and Woodard provide key characteristics of quality, comfort, and beauty.
Collections such as the Tropitone Kahana Strap Chairs with matching table or the Brown Jordan Coast Cushion Armchair and Sofa with loose cushions and a colorful umbrella can turn your backyard into a wonderful "staycation" getaway area. In a location with more limited space, you could go with a Winston 36" square bar table and matching chairs, or for a larger dining area, try a Brown Jordan 54" round cast umbrella table.
If you already own outdoor furniture, then you can restore it to better than new using The Southern Company. We provide quality high-end patio furniture refinishing. Whether it's made of aluminum, vinyl straps, cast iron, or a fabric sling, your outdoor furniture can be refinished and updated to make your entertaining area the envy of the neighborhood.
Outdoor Kitchens and Fire Pits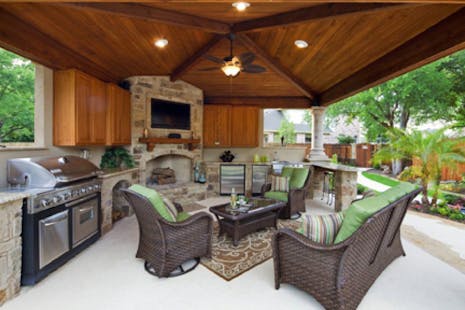 Another trend popular for sprucing up your yard involves outdoor kitchens and fire pits, both of which make a fantastic addition to any outdoor living space.
Outdoor kitchens can consist simply of a grill and a table, or you can go all the way by installing a complete cooking area along with appliances. Keep in mind that an outdoor kitchen is equally about utility as it is about appearance. Make sure to thoroughly evaluate and precisely measure available space before selecting your units and appliances. Companies like Brown Jordan offer options for cabinetry, doors, colors, and finishes to make your outdoor kitchen a masterpiece. A fine example of this is their ASA-D2 modular outdoor kitchen cabinet, an innovative freestanding solution that looks great and works well in a variety of spaces.
Another popular option is a fire table, which is like a fire pit but looks more like a dramatic and sophisticated coffee or dining table. Woodard makes fire tables in a variety of bases, shapes, and tops. Try Woodard's Square Counter Height Fire Table for sophisticated entertaining, or the Derby Accented Universal Round Fire Table for a more rustic feel. What makes these fire tables special is that they can serve as dining tables and are available in a set with matching chairs.
Don't forget to consider a fire pit, which is another option for creating outdoor drama. Brown Jordan offers many types of fire pits and fireplaces with coordinating furniture, such as the Arroyo bioethanol or gas fire pit.
Seasonal Colors in Your Outdoor Living Spaces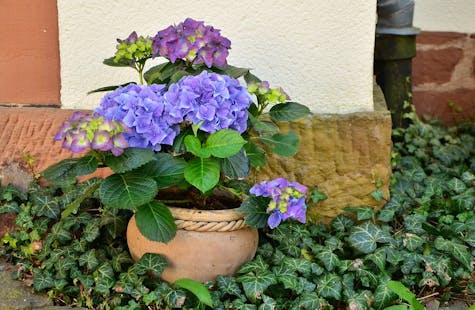 One of the easiest and most inexpensive ways to make your outdoor living spaces more appealing is to use seasonal colors. This includes everything from your choice of flowers to the materials used on your pillows and other outdoor fabrics. New cushions and coverings are a must when revamping your outside and refinishing your patio furniture.
A pleasing choice of color can turn a typical deck or patio into a tempting area to lean back and relax in – which is exactly the effect you want to have. The Southern Company has literally hundreds of fabrics, colors, and designs to choose from, allowing you to personalize your patio furniture while keeping them in tune with the season — and even your mood.
The Front Porch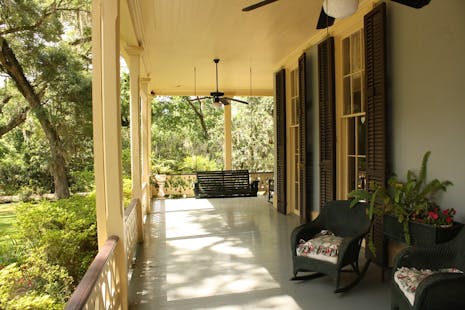 The front porch is probably going to be the first thing a visitor sees when they approach your home, and this gives you a chance to create a fantastic first impression. You can begin by updating your door with a fresh coat of paint and maybe a new color. Have some healthy, vibrant potted plants welcoming company at the front door in beautiful planters. For example, like a Brown Jordan Boat Planter.
Next include a welcoming bench such as the Marseille Manor Collection Bench from Winston, and add some colorful cushions or throw pillows that coordinate with your front door. A small but sturdy table for a mug of morning coffee and a book can add that finishing touch to make your front porch area welcoming and relaxing.
Adding Value to Your Home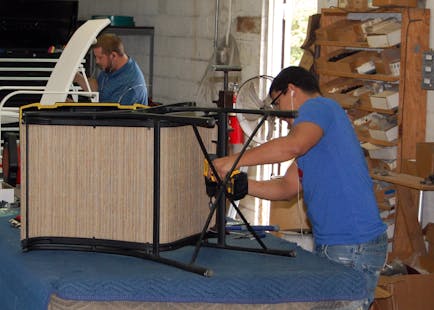 If you want to add the most curb appeal and value to your home, you simply cannot afford to treat the outdoor living spaces as afterthoughts. Here at The Southern Company, we can help by repairing and refinishing your high-end patio furniture so that it looks brand new again. Whether it's refinishing your Brown Jordan outdoor furniture, re-covering your cushions to make them more seasonal and bright, or adding a fire table and chairs from Woodard, you can make the outdoors just as comfortable and appealing as the indoors.