Not all patio furniture is created equal, but high-end outdoor furniture pieces are built to last for decades. Brands like Molla, Telescope, and Carter Grandle feature premium furniture that adds luxury, comfort, and timelessness to your outdoor living space. Although many of the pieces can no longer be purchased new, refurbishing your existing patio furniture—or, if you're lucky, your flea market finds—makes it possible for you to enjoy these classics for a lifetime. And the professionals at the The Southern Company are experts in outdoor furniture repair.
Molla Outdoor Furniture Repair
Nothing says vintage like Molla patio furniture. The company got its start in England in the late 1800's and eventually grew to open an office in New York City. Producing metal furniture for the East Coast, Molla was innovative in both design and construction.
Solving the problem of outdoor furniture that oxidized from exposure to ocean air, Molla introduced cast aluminum and magnesium metal furniture. Molla built furniture that was resistant to pitting and rusting, and their furniture became popular in Cape Cod, Newport, and the Hamptons in the mid 1900's.

While the focus of Molla's construction was durability, their design elements featured the intricacies of the neo-classical style. One of the most notable Molla patterns was the seahorse and shell, which adorned their popular aluminum garden set. Consisting of a garden bench, chairs, and a tea cart, the garden set was a prominent feature of many resort patio gardens.
Molla furniture is no longer in production, so if you are fortunate enough to own one of their classic pieces, restoration is the key to preserving its beauty. The Southern Company is a leader in outdoor furniture repair, and can refinish the frame by sandblasting the metal and applying a powdercoat finish. You can choose from over 25 paint colors to give your traditional Molla furniture a completely new look!
Telescope Casual Patio Furniture
Telescope started as a family business in 1903, and the company first specialized in manufacturing cots and campstools. Named for the telescoping legs featured in their initial product lines, Telescope eventually expanded production to offer a full range of outdoor furniture pieces.
All Telescope furniture is made in the U.S., and their collections now include wicker, aluminum, cast aluminum, and resin pieces. Casual comfort is the common theme of Telescope designs. Telescope patio furniture sets include arm chairs, loveseats, ottomans, and sofas; they have the look of indoor furnishings with the durability needed for outdoor settings.
If any of your Telescope patio furniture is in need of repair, having a professional outdoor furniture repair company refinish your pieces is your best solution. The Southern Company has over 25 years of experience repairing and refinishing patio furniture. We will fix the frame if necessary through welding and sandblast it before powdercoating it in the color of your choice. Slings and vinyl straps will also be replaced – your outdoor furniture will look brand new!
Speaking of brand new, one of Telescope's new collections for 2016 is the Bazza Marine Grade Polymer Aluminum Sling collection, which is specially constructed from materials that can withstand saltwater environments. Conversational seating is one of 2016's hottest patio trends, and the Bazza fire table set with chat chairs is a perfect example of the popular look. The set features a rectangular fire table and 4 stackable chairs that are available with either padded slings or quick-drying slings. The elegant and easygoing design offers versatility, too; the fire table comes with a matching aluminum cover so it can be converted into a coffee table.
Also new from Telescope in 2016 is the Belle Isle Sling collection, which features curved design elements for stylish outdoor dining or poolside reclining. The Belle Isle dining set is a must-have for entertaining outside. It seats four people and is constructed for easy maintenance. Its round dining table is made of synthetic stone for a rich look that requires little upkeep. The table also has an umbrella hole, so your guests can dine comfortably in the daytime or evening.
Outdoor Furniture Repair for Carter Grandle
From 1988 until it closed in 2006, Carter Grandle was synonymous with quality workmanship. The company produced aluminum casual furniture and accessories with stylish and classic designs, and they were well known for the durable construction of their furniture frames.
Carter Grandle furniture can still be found for sale online, and patio-enthusiasts across the U.S. continue to enjoy their chaise lounges, swivel rockers, adjustable chairs, and umbrella tables. The timeless designs of their Legacy, Weston, and Continental collections were built to last and will never go out of style.

Over time, many owners of Carter Grandle furniture pieces find that their straps and slings are in need of replacement. Although replacement straps and slings are available for sale online, installing them at home can be challenging, and the end results are often disappointing. Professional restoration of Carter Grandle furniture by The Southern Company is the best way to ensure that your outdoor furniture repairs last for years and look like new.
The Southern Company customizes replacement straps and slings so that they perfectly fit Carter Grandle furniture pieces, and we service all styles of Carter Grandle furniture. In addition, The Southern Company offers 25 different colors of vinyl, as well as 125 replacement sling fabrics and colors. You can match the original look of your straps and slings, or you can choose a completely new color and fabric to match the latest trends in patio decor!
The Southern Company Specializes in Outdoor Furniture Repair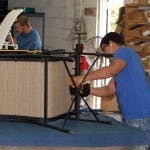 Even the best patio furniture will look dull and worn after years of exposure to the elements. Premium outdoor furniture is an investment, and you don't have to replace it just because it's looking old and faded. Expert outdoor furniture repair by The Southern Company will give your patio furniture new life.
The experienced professionals at The Southern Company use state-of-the-art processes and high-end materials to extend the life of your quality outdoor furniture and make it look brand new. They offer convenient weekly pickup and delivery services from Connecticut to Northern Virginia, and everywhere in between. Call The Southern Company for a free estimate and learn how you can save money by restoring instead of replacing your favorite patio furniture!