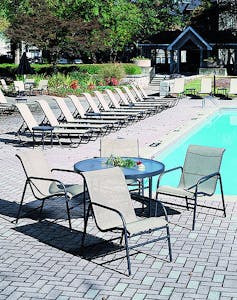 Do you dream of creating a paradise for you and your family right in your own backyard? An outdoor patio furniture set is one of the best investments you can make to ensure a summer full of laughter, relaxation, and easy-breezy fun.
No doubt, the surplus of brands out there is overwhelming. At The Southern Company we've had the privilege of working alongside the elite of the casual-furniture manufacturing industry to make sure that you're able to enjoy your outdoor oasis season after season.
The Best of the Best in Outdoor Patio Furniture
Brown Jordan, Winston, Tropitone, Woodard: these names are synonymous with luxury and sophistication, durability and comfort. No backyard paradise is complete without showcasing at least one of their innovative designs.
Anything these high end manufacturers produce is sure to make a statement, and, with periodic maintenance on behalf of the professionals at The Southern Company, you'll be delighting in your patio's comfort and beauty for years to come.
Timeless, Elegant Brown Jordan Outdoor Patio Furniture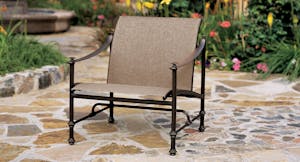 Brown Jordan was founded in 1945 by Robert Brown and Hubert Jordan in Pasadena, California.
Brown Jordan is a great example of meticulous craftsmanship and polished luxury that withstands the test of time. Their patio and garden collections are renowned for incorporating both traditional elegance and state-of-the-art comfort, winning 17 Design Excellence awards, which is more than any other elite manufacturer in the casual furniture industry.
Brown Jordan was the first company to design furniture solely for the purpose of outdoor use, specializing in wrought-iron tables and chairs. Their portfolio has since expanded to include extruded, wrought and cast aluminum, woven resin, stainless steel, and teak.
Brown Jordan's sought-after aluminum collections are hand forged and undergo exacting finishing treatments, and incorporate the cutting edge of weather-resistant technology into their constructions.
Whether you're drinking mojitos on the Bar Chairs of the Campaign Sling Collection, or just laying down on the smoothly pivoting Adjustable Chaise, the stylish comfort of Brown Jordan furniture will wipe away any stress after a hard day's work.
Versatile Winston Outdoor Patio Furniture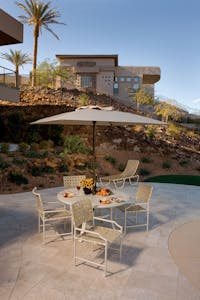 Winston is revered by patio enthusiasts as the quintessential purveyor of outdoor lounge furniture designs that are stylish, functional, versatile and above all, relaxing.
An industry pioneer, Winston was the first to incorporate mildew-resistant fabrications and the fabric sling into its collections. It won the outdoor furniture association's Manufacturer Leadership award 5 times and continues to be hailed as "the Performance Company" by its peers.
Winston offers 29 collections and an array of styles, earth-toned fabrics, and finish options to suit every customer's needs and wants. Check out the cozy refinement of the Crescent Love Seat, with its simple lines and sumptuous modernism, or the richly hued Mediterranean splendor of the Volterra Collection. Whatever your preference, Winston offers the finest in cast-aluminum craftsmanship, superior engineering, and fashion-forward refinement.
Contemporary Outdoor Patio Furniture by Tropitone
Tropitone offers residential and commercial outdoor furniture for all your poolside, garden, patio, deck, and balcony needs. Its designs are classically ornate yet contemporary.
If you're interested in owning a patio collection that rivals that of the Ritz-Carlton and Bellagio hotels, look no further. Tropitone is the go-to manufacturer for these and other luxury hotels and resorts all over the world.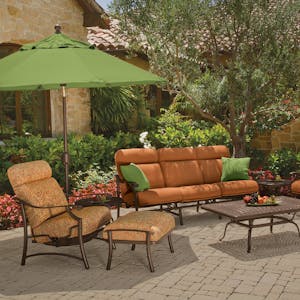 With production outposts in both Florida and California, Tropitone has a reputation for providing the quickest turnaround times for custom orders. Since its inception, Tropitone continues to have its finger on the pulse of design, uniting trend and tradition. Its latest achievement is the URComfort collection, in which the furniture syncs with your body size, weight and movements, revolutionizing the paradigm of customized comfort.
If you're in the market for a patio collection that's as cozy as it is stylish, look no further than the Montreux Swivel Rocker or the Lakeside Action Lounger, among other URComfort pieces.
Exceptional Outdoor Patio Furniture by Woodard
Woodard has always been the benchmark for both superior hand-forged craftsmanship and high-tech engineering. Founded in the 1930s, it's one of the oldest furniture manufacturers today, specializing in traditional wrought-iron, cast, and aluminum furniture. Its latest offering is a durable and elegant wicker collection known as Woodard features both classic yet contemporary elements in its design, its artisans having mastered the skill of fusing intricate detailing with simple and flowing lines. Woodard is the exclusive manufacturer of the furniture designs of TV host and designer Joe Ruggiero. If you want something on trend to fulfill your outdoor patio vision, definitely check out the Salona Line by Joe Ruggiero.
The Southern Company Will Restore and Refurbish Your Outdoor Patio Furniture
Whether you dream of hosting elegant dinner parties or family-friendly brunches, look no further than the outdoor patio collections of Brown Jordan, Winston, Tropitone, and Woodard to make your dream a reality. Soon enough, paradise will be the centerpiece of your own backyard. You and your family will be soaking up the delights of summer every day; no need for a "real" vacation when the resort is parked right outside your door. You will surely opt for a "staycation" for years to come.
Of course you'll want an investment purchase like this to last a lifetime. Whether you need sling replacement, vinyl restrapping and relacing, frame refinishing, or any of the other services we offer, The Southern Company is committed to making sure your outdoor patio furniture retains the same sleek and luxuriant beauty it did the first day you brought it home.