During these bitter winter months, many of us are longing for the return of spring and summer gatherings on the patio consisting of lounging, laughter, and lemonade. If you're looking forward to decking out your outdoor oasis with beautiful dining sets, chairs, and other pieces, you should know that not all furniture is alike. There are several factors you should take into consideration in order to find the best outdoor furniture for your patio space that will withstand weather as well as frequent use. Use this guide to aid you in your search for well-made, long-lasting pieces.
The Importance of High-Quality Patio Furniture
Before discussing different types of outdoor furniture, you should understand why it's so important to invest in expertly crafted pieces made with durable materials.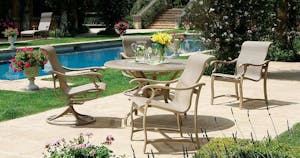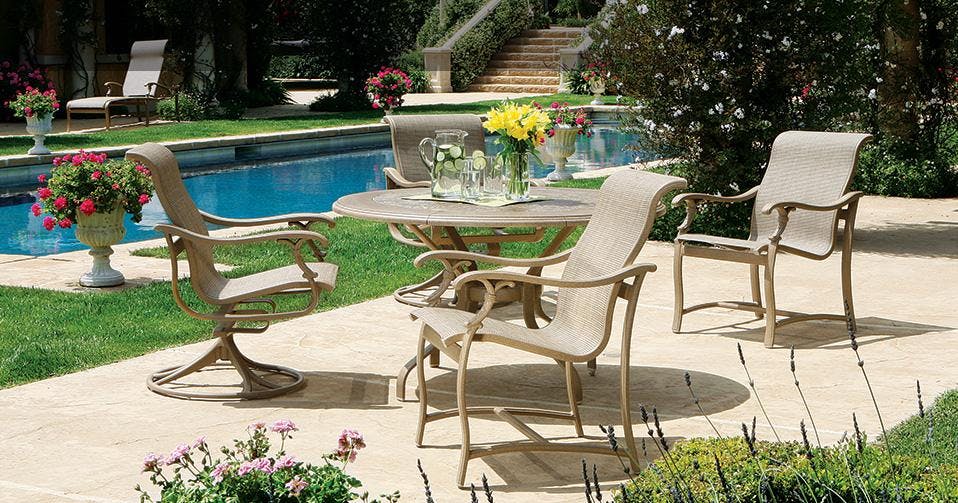 Outdoor furniture goes through different wear and tear than indoor furniture. Patio furniture needs to hold up to harsh weather, lots of sunlight, chemicals, water, dirt, and other deteriorating factors. These pieces need to be made in order to withstand such strong elements or else they'll be useless in a year or two.
Replacing outdoor furniture is expensive and terrible for the environment. When you discard old furniture, you put a strain on both your wallet and the landfills that have piles of furniture accumulating in them every day. If your pieces were built to last, you would be saving money in the long run by avoiding frequent payments for replacements and protecting the environment from unnecessary waste.
The Best Outdoor Furniture Materials
There are a variety of materials that make great, durable furniture that can fit with any style or desired aesthetic. These materials are used by brands such as Brown Jordan, Winston, Tropitone, and other top-notch manufacturers. Depending on your climate, these materials all have a variety of benefits to suit your needs.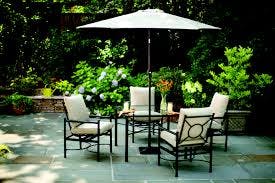 Aluminum—Aluminum is a lightweight material that's quite easy move around and store come wintertime. Though this material is great for low-maintenance cleaning and resisting harsh sunlight, it will have difficulty in heavy winds due to how light it is. We recommend strongly securing your aluminum pieces when wind speeds are high.
Cast Aluminum—Cast aluminum is heavier than standard aluminum but holds up a bit better and is very rust-proof. A well-formulated powder coating will make this material even longer-lasting. Both standard and cast aluminum tend to be paired with soft cushions covered with durable canvas and thread to make them comfortable yet sturdy. These pieces have an elegant and timeless feel that adds a touch of classic beauty to any outdoor space. Cast aluminum will work well in most climates, including windy ones.

Wrought Iron—Wrought iron is even heavier than cast aluminum making it great for combating windy days. It requires a bit more care and maintenance and benefits greatly from a powder coating, similar to aluminum. These pieces are not totally rust-proof or heat-proof and need to be carefully examined and cared for in order to minimize rust and fading. Wrought iron will do great in windy and sunny climates and might struggle with copious moisture and extreme temperatures.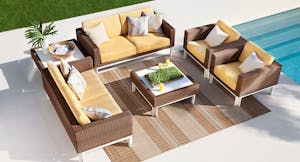 Wicker—Wicker is a unique material that looks rustic and cozy, adding an inviting feel to your outdoor space. Synthetic wicker with a wax or resin coating will hold up well to high levels of moisture. If the weave is UV-resistant, it will be able to withstand extreme sunlight as well. These pieces are very light and will need to be secured during high winds, but they have a relatively low level of care and easy cleaning routine of water and gentle detergent. Keep its coating adequate in order to extend its life.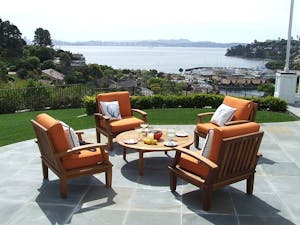 Wood—There are a variety of woods that work well for patio furniture such as teak, eucalyptus, pine, and cedar. These pieces are strong, gorgeous, and pair with nearly any patio style. If the wood is sealed, it will withstand more elements than all the aforementioned materials including moisture, sunlight, wind, and heat. The key to maintaining these pieces is using proper oils and varnishes to amp up their weather-resistance. Untreated wood will not do well with rain or sunlight, so store it accordingly to avoid damage.
Important Questions to Ask When Searching for the Best Outdoor Furniture
When browsing for patio furniture, ask yourself these questions and answer them honestly.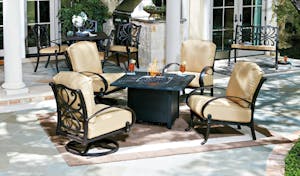 What do I use my outdoor space for? Dining, entertaining, lounging? Depending on what you use your space for, you should purchase furniture that will benefit you the most and allow you to enjoy these activities.
How much time and effort can I commit to these pieces? Each piece of outdoor furniture requires different levels of maintenance and you should only choose ones that you can competently care for.
What is my style? Take time to browse a variety of pieces made from these materials and decide which fit with the image, feel, and design you prefer for your outdoor oasis. The best outdoor furniture is the kind that makes you happy and that will last for decades to come.
The Best Outdoor Furniture Repair and Restoration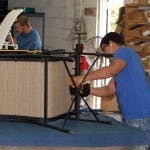 Even the best outdoor furniture needs repairs sometimes, and having those repairs done by a professional is the smartest option. At the Southern Company, we provide a 100% guarantee on all our repairs so you can rest assured knowing your furniture is in good hands. Our craftsmen have extensive experience working with top-notch brands such as Brown Jordan, Knoll, and Agio. Don't hesitate—contact us today and we'll get your outdoor furniture looking showroom ready in no time.