Do you have mesh sling patio chairs that are beginning to show some wear and tear? Perhaps your once beloved and comfy outdoor chair has started to look a bit ragged? If you purchased your high-end patio furniture about a decade ago, you are probably starting to see a good bit of wear on the fabric of your mesh sling chairs. It may be time for a patio chair sling repair.
Maybe the fabric is faded or dull, or is beginning to lose its integrity in places. Though premium outdoor furniture lines are built to last and the frames of the chairs often maintain their finish for 10 to 20 years and longer, the fabric can begin to show signs of age much sooner.
Whether you need just the sling repaired or the entire chair needs refinishing, The Southern Company has the expertise to refurbish your aging outdoor furniture so that it looks brand new again.
Why Repair Your Mesh Sling Patio Chairs?

Rather than toss your original investment into the trash, consider restoring your chairs to their original beauty. It will cost less money to refurbish your existing set than it will to buy en entire new one. It is our passion to complete your patio chair sling repair so that your luxury patio furniture brands – such as Brown Jordan, Winston, Tropitone, Woodard and more – are back to their original luster.
We have been in this business for almost 30 years, and we take great pride in our work making your faded furniture feel brand new again, saving it from an early grave in a landfill. We offer over 125 beautiful, high-quality fabrics to choose from for your mesh sling patio chairs, and over 25 colors of paint for the frames. If you are environmentally conscious like we are, you understand that it makes perfect sense to refinish your furniture rather than purchase new pieces.
Keeping in mind that new, high-quality furniture can make an enormous dent in your budget, refinishing is also the economical choice. It also may be difficult to find new furniture that matches the quality and style of your original pieces. Why purchase new furniture when you can refinish what you already own? You can even change the fabric style and/or the frame paint color to give it a refreshing, new look. When your furniture is returned to you, you will do a double-take as it will appear as beautiful and new as it was on day one.
How Does the Patio Chair Sling Repair Process Work?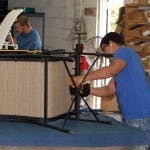 First, we thoroughly examine every inch of your furniture checking for damage to the frame and hardware. Sometimes there are weak spots hiding underneath the sling fabric. We will replace any hardware that shows signs of structural or aesthetic damage, including bolts, rivets, or welds.
Next, we remove the old sling, seatings, and plastic components. After that, we cut and stitch our custom sling, which are made from material that is practically impervious to outdoor elements and cleaning agents. We use Gore-Tenara thread, which never fades, is weather proof, and is completely unaffected by sunlight. Our stitching process involves double stitching and double hemming for the toughest, hardest-wearing result. Our conscientious customers are often looking for longevity with their reinvented furniture, and our custom process is certain to deliver.
Now that the new sling is prepared, we install it so it fits perfectly on the original frame. Our customers often comment that their new sling is even more comfortable than the old one. Our precision-cutting process ensures that you and your guests won't want to get up from your new chairs!
What If My Frames Need Refinishing?
Perhaps the frames of your beloved chairs are beginning to lose their sheen and the paint is chipping. If the frames of your chairs are showing their age, we will refinish them as well.
The frame refinishing process involves sandblasting the original paint layer to remove the old paint while protecting the frame itself from harm. The frame is then powder coated to create a virtually abrasion-proof surface. Once the paint is applied, the furniture is placed in a 400-degree oven to cure. The result is paint that will not crack, chip, or peel, and will maintain its beauty for years to come.
Let The Southern Company Perform Your Patio Chair Sling Repair
Any piece of furniture that we refinish is 100% guaranteed. You won't have to bother lugging an entire set of patio furniture to us — we will pick up your pieces, work on them in our state-of-the-art facility, and deliver them back to you looking fresh and fabulous. The Southern Company strives to make the whole process as easy and pleasant for our customers as possible. We serve the entire Mid-Atlantic Region.
If you are ready to have the best patio furniture refinishing company handle your patio chair sling repair, call us today at (800) 622-1901. We will happily answer any questions that you may have and get you on your way to enjoying your new and improved outdoor furniture. Our expert craftsmen work with high-end furniture brands every day. Whether you have one chair that needs repair or an entire set of furniture, The Southern Company is the right company for the job. We look forward to hearing from you!