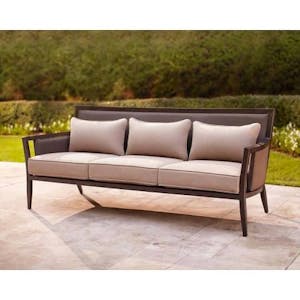 Although Brown Jordan Furniture is one of the highest quality outdoor furniture brands on the market, it is highly unlikely that your furniture has made it through years of warm weather months completely unscathed. After many seasons of relaxing outside, entertaining guests, and soaking up rays, your patio furniture has probably endured some substantial wear and tear. To keep it looking its best, it's a great idea to know the best methods for cleaning Brown Jordan Furniture.
If you have made an investment in Brown Jordan's sophisticated and elegant patio furniture, you will most certainly want to treat it with loving care in order to keep it looking as fabulous as it did the first time you used it. As the autumn weather approaches and you and your family head back indoors, now is the perfect time to consider how to preserve your patio furniture for years to come! Your well-loved furniture will stand the test of time — but only if you keep it properly maintained.
Protection and Storage of Brown Jordan Furniture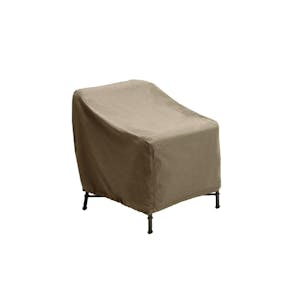 Brown Jordan furniture is meant to last for years and years, but patio furniture's daily exposure to outdoor elements makes it vulnerable nonetheless. One easy way to protect your furniture is to invest in a cover for each piece. These covers can be used year-round to extend the life of your furniture, shielding it from sun exposure and weather.
If you live in humid or salt-air climates, furniture covers will be particularly important to keep your furniture looking brand new. Furniture covers can be purchased separately and used daily when the set is not in use, as well as during winter storage to keep your pieces free of dust and dirt while stowed away. Brown Jordan recommends storing your patio furniture indoors if you live in an area with harsh winters.
Cleaning Brown Jordan Furniture – Vinyl, Mesh, and Metal
After the heavy use period of the spring and summer, you will want to make sure to thoroughly clean your patio furniture before storing it for the cooler months.
When cleaning Brown Jordan furniture surfaces that are vinyl or fabric, use a mixture of mild laundry soap or dish detergent and water. Apply the solution gently with a clean cloth and then rinse completely with water. This should take care of most dirt, stains and lingering spots, and you can clean your furniture in this manner as often as necessary. Never steam or dry clean fabric or mesh materials, and don't attempt to wash them in your washing machine.
Avoid using hot water to clean your furniture, and be sure to allow cushions to dry standing on end for even drying. The last thing you want to do is cause mold or mildew during the cleaning process! Never fully immerse your cushions in water or allow them to stay wet for an extended period of time. If you encounter more stubborn stains or mildews, purchase high-end furniture cleaner and follow the manufacturer's instructions.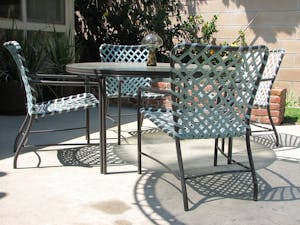 For maintaining and cleaning Brown Jordan furniture that is metal-framed, simply apply a light automobile wax with a clean, dry cloth. This will keep your metal furniture looking brand new over many years of use. You can apply this wax as often as you wish. This process will enhance the look of your furniture as well as increase its lifespan. If you live in a salt-air environment, this is particularly important.
Caring for Stone and Marble Tabletops
Brown Jordan offers a variety of beautiful stone and marble tabletops that can be easily cared for by applying a stone-enhancing sealer every six months. This sealer will keep your table looking great throughout the year. It is recommended that the sealer is applied at both the beginning and end of the season to maximize your furniture's appeal.
Any spills on the tabletop should be cleaned immediately with mild soapy water. In harsh winter climates, store Brown Jordan tables indoors when possible; if that is not possible, it is best to cover the table with a semi-fitted slipcover in order to protect the table from the elements. Just be sure to allow air-flow between the cover and the table to avoid collection of moisture and condensation.
Have Your High-End Patio Furniture Refurbished by The Southern Company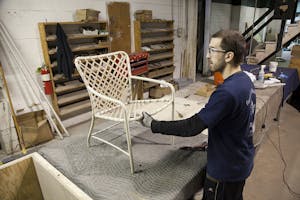 At The Southern Company, we pride ourselves in offering superior craftsmanship in our patio furniture refurbishing. Why spend more money purchasing brand new furniture when you can have the pieces that you love repaired and refreshed? Our high standard of care will ensure that your furniture will look better than ever.
Furniture companies like Brown Jordan, Woodard, and Tropitone are just a few of the brands that our experts work with every day. We offer sling replacement, re-strapping and re-lacing, frame refinishing, and more. Call today for a free quote!