High-quality pool and patio furniture can be quite expensive. It is a worthy investment, however, because the better the quality, the longer the lifespan — provided, of course, it's cared for properly.
That's where many people go wrong. They invest a significant amount of money in their patio furniture, and then leave it to the elements. Chairs, lounges, and tables stay outside all winter and all the while are never covered and rarely cleaned. After a few years of that kind of abuse, the expensive investment in outdoor living starts to look a bit weathered and worn. Regardless of what people paid for it, once patio furniture starts showing its age, many owners simply decide to get rid of it and purchase something else. And this becomes your chance to purchase high-quality, used patio furniture and refurbish it so it's like brand new.
Where to Find Used Patio Furniture
Craigslist is often filled with great patio furniture bargains. Flea markets and yard sales are another good place to look. And the good old-fashioned classified ads in local newspapers are still used by some people and are another likely place to find used patio furniture. The good news is that used patio furniture can typically be acquired for pennies on the dollar compared to its initial cost. It's a great way to pick up first-rate patio furnishings that might otherwise be unavailable for budgetary reasons.
How to Refurbish Used Patio Furniture
You might be thinking, Wonderful, I got a great price on high-quality patio furniture, but what's the point? It looks beat. So now what? The answer is that used patio furniture can be serviced to bring it back to "almost new" condition and still be well under the cost of buying it new. The Southern Company has over 30 years of experience refinishing old and used patio furniture. Here are some of the things you can do to those great buys that you made on Craigslist, the flea market, or at that yard sale.
Refurbishing Used Patio Furniture Frames and Slings One good way to tell if you've found a quality piece of used patio furniture is to inspect the construction of the frame. If the piece is wobbly, or visibly damaged, but the materials are of high quality, the frame can be refinished. And don't worry — even a damaged frame can be repaired. In fact, a sand-blasted and powder-coated frame actually comes out looking better than new. This is one of The Southern Company's specialties.You also want to check the slings on the used patio furniture you're buying. Choosing a professional patio furniture refurbishing company to replace the slings is an easy and cost-effective way to bring your salvaged furniture back up to par. Replacing the slings also gives you control over the look of your new, recycled set because you can choose from a wide variety of fabrics and paint colors to create your own look and style — at a fraction of the cost of what it would take to buy brand new, high-quality patio furniture.
Patio Furniture Restrapping and Relacing Whether it's high quality or not, most used pool or patio furniture that you find online or in the flea market will show visible wear and tear on the straps and laces. Hard use, the ravages of the weather, and even chemicals in the environment will all have a negative effect on these materials. As the piece ages, the straps are the first to go. Having the straps and laces replaced by a professional not only eliminates the deterioration, but it also gives you control over the look and style of the piece.
Used Wrought Iron Furniture A quick search on Craigslist will almost always yield a huge inventory of inexpensive, and possibly very worn, wrought iron furniture. This is a great way to buy some quality wrought iron furniture to then refurbish. Some people try to do this with a wire brush and spray paint. It can be done, but the end result is obviously home grown. On the other hand, having the wrought iron piece professionally sandblasted, painted, and then baked will make your wrought iron furniture look better than new.
Not All Patio Furniture Brands Are Created Equal
Of course, refinishing a K-Mart Special or something from the budget aisle at Walmart might not make the most sense. Many brands on the market are so cheaply made that it really is the best option to throw the patio furniture away once it starts showing its age or becomes unserviceable. When you are scouring the flea markets and garages sales, or surfing Craigslist, it helps to know what brands you should be looking for. Here's a short list of high-quality brands, some of which are no longer being made but represent excellent value nevertheless.
Brown Jordan — In business since 1945, finding a piece of used Brown Jordan patio furniture and then paying bargain-basement prices for it is always a good deal.
Molla — Timeless designs from the 50s and 60s, and sold in New York; if you can find it, buy it.
Telescope — Originally a camp furniture maker, their products are both unique and contemporary.
Tropitone — This is high-quality furniture that is used both residentially and commercially.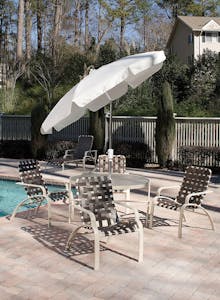 Winston — Since 1975 Winston has made and sold a very durable line of modern outdoor furnishings.
Woodard — Well-known for quality and durability, the Woodard brand itself has endured the test of time, having remained in business for more than 140 years. Old Woodard pieces can be considered classic patio furniture.
Carter Grandle — The industry was sad to see Carter Grandle close in 2006, but their first-rate furniture lives on and can still be fully restored.
Always Be on the Lookout for Superior Used Patio Furniture
The old adage that one person's junk is another person's treasure certainly applies to patio furniture. If you like to stop at garage sales, browse though flea markets, or scan Craigslist, keep your eyes peeled for used patio furniture bargains. Be particularly aware of the brands listed above. Let The Southern Company refinish the treasures you find and bring them back to their original beauty. Even if you don't need it for yourself, selling a high-quality piece of restored patio furniture is a great way to make a healthy profit.