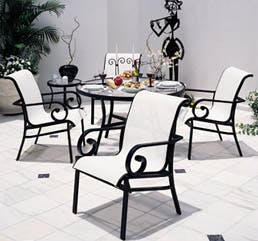 Go green! In today's day and age, being eco-friendly is becoming more and more important to many people, as well as businesses. Many are looking for different ways they can be green, such as recycling whenever possible, using more eco-friendly products, and looking for ways to re-use or recycle items instead of throwing them away and buying new. One such area that allows folks to be eco-friendly is choosing to refinish patio furniture.
How does choosing to refinish patio furniture allow you to be eco-friendly and do your part in conserving the environment? Let's take a look.
Reduces Resources for Production
Let's face facts: manufacturing furniture consumes a number of resources, including energy used to run the plant and machinery, as well as the raw products used in production. Plus, there are additional resources used to prepare the furniture for transportation and shipping. When you choose to refinish patio furniture, the use of these resources becomes unnecessary.
Saves Materials
One of the major reasons that businesses such as country clubs, swim clubs, and condo associations are choosing to refinish patio furniture is because it cuts down on the amount of materials that are used. Generally speaking, patio furniture is built from solid materials and the frames tend to last for a long time. However, slings and fabric can wear and tear over time, especially when they are exposed to outdoor elements. So, instead of worrying about using a ton of materials to produce brand-new furniture, only a small amount of materials are used to refinish patio furniture.
Cuts Costs
The fact of the matter is replacing all of your outdoor furniture with brand-new furniture can be pretty darn expensive. Good quality patio furniture doesn't come cheap. Choosing to refinish patio furniture allows you to get the look of brand-new furniture pieces, at a fraction of the cost. In a day and age where many companies are trying to be as money conscious as possible, having a cost-efficient alternative to replacing patio furniture allows businesses to spend money in other areas.
Keeping Work on U.S. Soil
Outsourcing work overseas consumes tons of energy and resources, as well as takes work away from those running a business in our own country. All patio furniture refinishing done by The Southern Company is completed in the U.S.A., so our customers can feel better about more eco-friendly operations.
At a time when conserving the environment's resources is of the utmost importance, you too can help by choosing to refinish patio furniture.