Are you using your patio furniture during the winter months? Perhaps you still sit outside around a fire with family and friends on some of the nicer days, but chances are for most of the winter your patio furniture goes unused. You may have it all packed away in storage until the spring comes around, or it may even stay outside and weather the elements. But what if there was another option which took advantage of this downtime? Winter is the perfect time to repair and refurbish your old or worn patio furniture. After all, you're not using it anyway.
Repair Broken, Old, or Worn Furniture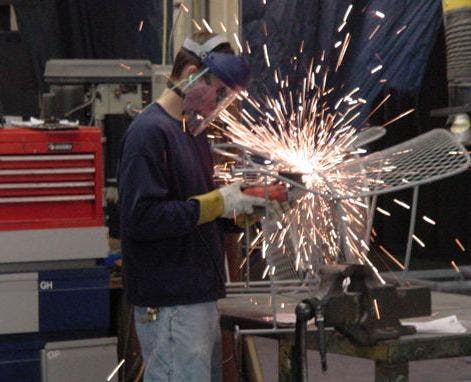 Did you know that repairing broken, old, or worn furniture costs less than replacing it altogether? Patio furniture is expensive, so why replace an entire set just because some of the pieces are no longer in peak condition? Fix them!
In most cases, broken furniture can be restored to its original, new condition thanks to The Southern Company's experienced professionals. Is the metal frame of your furniture broken or cracked? No problem — we can weld it back together, sand blast it, and add a fresh coating to keep it from getting damaged again. And breaks aren't the only thing we can fix. Squeaky or wobbly swivels, seized bolts, you name it, we can fix it.
And if your furniture is getting worn, but isn't quite broken yet, preventative maintenance is a good idea. Repairing furniture may be more cost efficient than replacing it, but preventing that damage from occurring in the first place will cost you even less. Rust is a major problem for some types of metal patio furniture, but getting the paint and coating touched up is an easy way to prevent rust from forming in the first place.
Give Your Furniture a Fresh Coat of Paint
A fresh coat of paint is one of the easiest ways to refurbish your old patio furniture. Iron-based furniture benefits from the protection paint grants against rust, but a fresh coat of paint can also help prevent cracking in furniture made from other materials. Think of the paint on your furniture as a protective outer shell.
But while the maintenance benefits a new coat of paint has for your furniture can't be understated, an equally important aspect of a new paint job is the visual aesthetic. Sometimes there's nothing physically wrong with your patio furniture, but you want to give it a new look. Perhaps you're redoing your outdoor space and your furniture no longer matches the aesthetic. Or maybe you simply want to change things up with a bold, new color. Whatever your reason, the color of your outdoor furniture is only limited by your imagination.
New Fabrics for the New Year
A new paint job isn't the only way to spice up the look of your patio furniture for the new year. For furniture that has it, replacing your old, worn, or damaged fabrics is another option. The Southern Company has over 100 outdoor fabrics to choose from, meaning there's sure to be something to fit whatever look you have in mind. And those fabrics aren't only used for upholstery, replacing slings is one of our specialties.
To completely revamp the look of your outdoor furniture, a new paint and fabric combo is the best way to go. Your guests won't have any idea that the furniture they see next spring is the same set they saw last fall.
Strap in for a New Look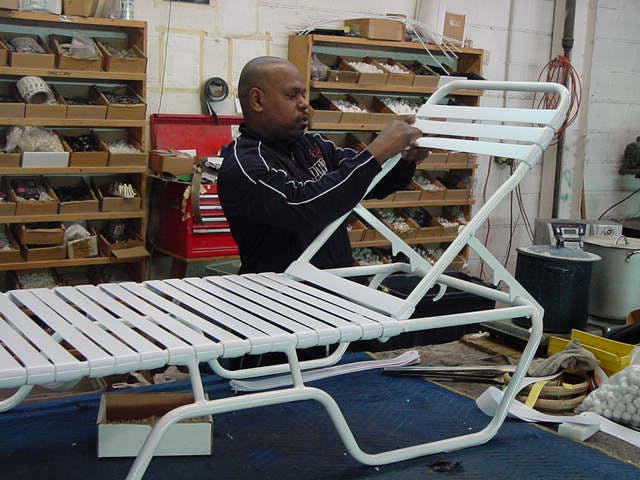 Just as new paint and fabrics are options, new vinyl straps are as well. The restrapping of patio furniture is hand done by an artisan in one of our "hot rooms" to ensure the highest of quality. Whether your furniture utilizes individual straps or a continuous weave, our experts have what it takes. Restrapping furniture by hand is a fading art form in most of the United States, but it's something we do every day.
Don't Wait Until the Weather's Nice
The best time to repair or refurbish your patio furniture is when you aren't using it, and chances are that means the winter. If you wait until spring or summer to have your patio furniture fixed, you're just wasting valuable nice weather. Take advantage of the off-season to fix up any worn furniture and you'll have more time to enjoy it during the in-season.
Conclusion
So what should you do during the winter season? Repair your broken furniture, repaint old furniture, and replace worn fabrics and vinyl straps. Refurbishing your existing patio furniture is one of the best ways to save money while upgrading your outdoor area aesthetic. Your furniture will last longer and you can apply some of the new trends in outdoor design to impress your guests. And remember, don't wait until the nice weather returns!
The Southern Company
Since 1984 The Southern Company has been dedicated to repairing, restoring, and refurbishing outdoor furniture for clients all across the Mid-Atlantic region. As the largest patio furniture reparation company in the United States, you can trust that our experts will have your furniture looking as good as new. Contact The Southern Company today for more information on the services we provide.