Now that the weather has finally warmed up and summer is fast approaching, it is time to think about sitting on the patio, catching some rays, and grilling with family and friends. However, the comfortable vinyl strap patio furniture that you purchased many years back may be starting to show its age. The professionals at The Southern Company are experts at Restrapping Patio Furniture.
After much use and years of sitting in the sun, the vinyl straps may be loose and the color may have faded, while the metal frame structurally remains in very good shape. The question is whether to replace the furniture or repair it.
Repair or Replace Your Patio Furniture?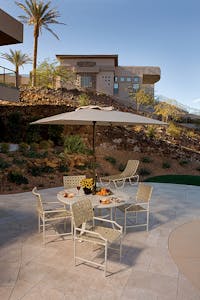 Vinyl patio furniture has been popular for decades largely due to its relatively low price. It is also popular because it is lightweight, making it easy to move around, and it is easy to clean. On top of that, it is readily available both at high-end stores as well as at grocery stores, drug stores, and discount retailers.
Even though some vinyl furniture is inexpensive, you could spend a few hundred dollars replacing an entire set of chairs. If for aesthetic reasons you want all of your furniture to match, not only will you need to replace chairs that need restrapping, but also tables and accessories. You will end up spending close to $1000 for a new set of lower end furniture to well over $1000 for a mid to higher end set.
On the other hand, restrapping patio furniture will cost just a fraction of the amount spent buying new patio furniture.
Restrapping Patio Furniture
When vinyl becomes worn, the straps will look older, discolored, and may start to sag. This is probably a good time to replace them. Many companies sell restrapping supplies or DIY kits so that you can fix your vinyl patio furniture yourself. This may be an attractive idea if you are the handy type who has successfully completed other repair projects around your home. A DIY alternative may also seem like a good idea if you are pressed for time or if you want to save money.
Restrapping patio furniture involves measuring and cutting the vinyl straps, drilling holes at the end of the cut vinyl strap, and attaching the vinyl straps to the chair using rivets. Seems pretty simple, right? Well, not exactly. There is more to the process of restrapping and refurbishing vinyl chairs than these few steps, especially if you want your furniture to last.
Leave It to Brown Jordan Vinyl Repair Experts
First of all, in order for the chair to be completely restored prior to restrapping, the frame will most likely need some rehab work as well. To properly restore it to mint condition, the frame should be sandblasted down to the metal, cleaned, and a powder coat applied in the color of your choice. Finally, the coating must be heat-cured. Not exactly an easy part of the project to do yourself!

After this process, the vinyl straps can be replaced. However, important to the restrapping process is making sure that the straps are applied with the proper tension. This is difficult to accomplish if you do it yourself. Because the vinyl straps will start to stretch and loosen after the chairs have been in the hot sun, it is critical that the straps are relaced to the chair at the proper temperature. Otherwise, after you restrap, chances are that the straps will loosen and sag after a few months of use and need to be repaired again.
Professional restrapping patio furniture services such as The Southern Company prevent this problem by repairing furniture in a hot room where the temperature is set to at least 95°. This allows the professional making the repairs to tighten the straps to the proper tension so that even when you are using them on the hottest days, the straps will not loosen.
Not only are the conditions in the hot room important to making the restrapping of your patio chairs last and look like new, but also having someone with a great eye for symmetry perform the work. Even though The Southern Company has trained many people over the years who have been fast and very good at restrapping vinyl chairs, they ultimately didn't have that artistic eye for making them look excellent – which, after all, is what makes the chairs so appealing and attractive to begin with. These employees were retrained in other positions.

Two experts at The Southern Company who have almost 45 years combined experience re-strapping vinyl patio chairs, also have that important eye for symmetry. They happen to be father Jose, with 29 years experience, and his son Dan, with 15 years experience. Together these two generations bring the quality, knowledge, and artistic edge needed to make your old vinyl chairs look and feel fabulous.
To get a better idea about the restrapping patio furniture process, take a look at this video:
Types of Vinyl Furniture
There are several manufacturers of vinyl patio furniture that offer different styles within a range of prices. Brown Jordan and Tropitone both offer many styles of unique vinyl patio furniture that is at the higher end of pricing. There are a variety of additional manufacturers of vinyl patio furniture with pricing that is in the mid to lower end that is widely available at local home furnishing stores, patio furniture stores, as well as discount retailers.
Vinyl Strap – Each chair features a simple metal frame that is finished with a coating that prevents rust. Several strips of vinyl are pulled taut and wrapped around the metal frame to provide comfortable seating. Simple vinyl strap chairs have rows of equally spaced vinyl straps, while others have straps that are affixed in a basket weave pattern. A leading manufacturer of vinyl weave patio furniture is Brown Jordan which makes the Roma line. The Roma line includes not only vinyl strap armchairs but also vinyl strap rockers, loveseats, loungers and ottomans. Plus, the line includes coordinating tables.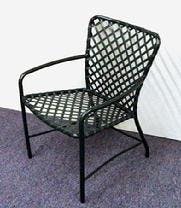 Vinyl Lace – Vinyl patio furniture that features a weave or lace pattern has been popular for over 50 years. However, instead of the weave pattern being made of several individual straps, it is typically made from one long piece of vinyl that is woven into a basket weave or lace pattern. While at one time white was the most popular finish, nowadays vinyl patio furniture is available in a variety of vibrant colors such as pink, blue, green and yellow. Brown Jordan offers the Tamiami line of lace strap patio furniture. Like its Roma line, the Tamiami line includes glass top tables to go along with its vinyl lace armchairs, rockers, love seats and loungers. Each vinyl chair in the Tamiami line is made to order.
Resin Wicker – While some wicker patio furniture is made out of plant-based fibers such as bamboo, rattan vine or cane, wicker patio furniture can also be made out of durable resin. The furniture is made out of a resin material that is tightly woven into wicker frames. Thick cushions are used to provide extra comfort.
A Revived Outdoor Space Awaits You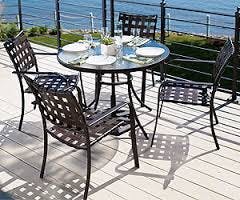 We are experts at restrapping patio furniture. In the end, if what you want is your vinyl patio chairs looking and feeling brand new this summer, then let The Southern Company do the work for you. Our professional and experienced staff will repair, restrap, and refinish your furniture so that it is looking as good or even better than the day you first brought it home. Relaxing and entertaining in your outdoor space will be exciting and fun again!