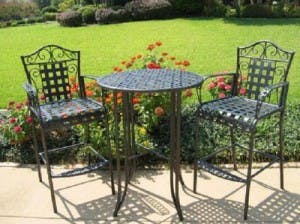 There's nothing better than the warmth of the summer sun shining down over you. If you're like most, you want to be able to enjoy the outdoors conveniently at your own home. However, while some people have a backyard, they may not have the amount of privacy they desire. Lucky for you, there are many great ways for you to create privacy on your porch or patio. Here's how you can create a haven with your available outdoor patio space.
Create a plant wall. Hang plants and grasses in plant frames – you'll gain texture, as well as color, and be able to enjoy the benefits of the plants.
Add a garden gate. By using a garden gate, you can make a wall in your outdoor space. This will add privacy and style.
Use boxwood. Boxwood serves as the ideal hedge for creating privacy walls in your outdoor space.
Install a pergola. Block your neighbors view – installing a pergola can prevent prying eyes.
Hang a curtain or a screen. If you have a patio that is connected to your neighbors, there's no reason not to hang up a curtain or screen. It can compliment your other patio items and gives you a sense of privacy, while still looking appropriate.
Expand your garden. Having an overabundance of plants never harmed anyone. Not only will these increase the overall outdoor ambiance, but can also create privacy if you get large plants.
Pop a tent. Outdoor tents have been around for ages and are a great way to get the privacy you want, as well as gain protection from the elements. Many designers now create very fashionable tents, so if you're thinking this could be extremely unsightly or pricey, it doesn't have to be.
Add trellis screens. Trellis screens are a great item that provides both screening and privacy from neighbors. By adding the height of the frame, you'll feel as if you're in a larger space than before.
Panel screens are perfection. Huge in size, these create significant privacy while adding an almost avant-garde look to your backyard space.
Consider bamboo. Bamboo plants are ideal for creating screening – just make sure to plant them in pots or some other type of container rather than the ground (bamboo is highly invasive).
All of these helpful tips come from the team at The Southern Company: experts in furniture repair. If you need to repair patio chairs, or if any of your other patio furniture requires a repair, give our experts a call today. You'll be impressed with how we can restore your furniture to look practically brand new.