The Durability of Powder Coating in Lawn Chair Repair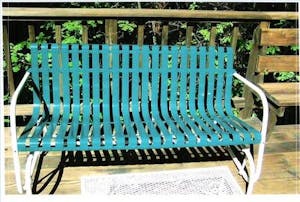 When your lawn furniture isn't looking its best and you need lawn chair repair, it's important to research the various paint techniques available. There are significant advantages to utilizing powder coating as opposed to other paint techniques for your lawn chair repair. Although lawn furniture is meant for the outdoors, Mother Nature affects everything it comes into contact with over time. By selecting a cheaper finish, you are exposing your furniture to wear from the elements at a faster rate. Powder coating has several advantages over other methods.
When a powder coated finish is applied in lawn chair repair, it provides your outdoor furniture with a finish that's resistant to corrosion, as well as scratches. This will last even longer than the initial finish and make maintenance much easier for years to come.
With powder coating, you're easily able to achieve a sleek and luminous finish, while other coatings can appear streaky, uneven, or clumpy. Unlike liquid paint, powder coating has truly no chance of seeping or giving furniture a potential undesirable and unattractive running effect. Additionally, unlike liquid paint, powder coating requires no solvent. Powder coating is an eco-friendly process when using the coating solution, as opposed to the harmful toxins used with regular paint. While paint needs one to two days just to simply cure, powder coated furniture can be used nearly immediately after the furniture is cooled. Because powder coating furniture lasts for much longer than other finishes, it is a cost-effective measure to take when performing lawn chair repair. Additionally, nearly any surface may be powder coated: wooden, glass, light weight aluminum, metal, or even stainless steel.
Powder coating is a great option for lawn chair furniture repair. It will give you the finish you're looking for, as well as last year for years. You'll end up saving money in the long run due to the durability. Regardless of the material of your lawn furniture, more than likely powder coating will be completely effective.
Keep in mind, that as great as powder coating is, it's not a do-it-yourself type job. It's best to hire a specialized company to assist with your powder coating needs. A company that has a solid reputation in powder coating will be able to guarantee their work and be able to provide you with a projected time frame for the completion of your powder coating project. Make sure if your item requires repair, that you take initiative prior to the beginning of the summer season so that your outdoor furniture can be returned and set in place for lounging!