One of the greatest joys of Summer is sitting outside in a comfy mesh patio chair. Mesh patio chairs are easy to maintain, and offer an added bit of comfort and utility to any outdoor space. However, even the best made mesh patio chairs can become worn with time, often resulting in damage that can quickly spread and ruin an otherwise lovely outdoor chair. Luckily, repairing these chairs is a fairly simple process that The Southern Company excels at. And with a variety of fabrics and patterns to choose from, your mesh patio chairs can not only be repaired back to their original state, but they can also be updated to match your outdoor decorating tastes as the seasons change. So, many people wonder how exactly we can restore even very damaged mesh patio chairs, and our answer is that we have a simple process through which all chairs we receive pass: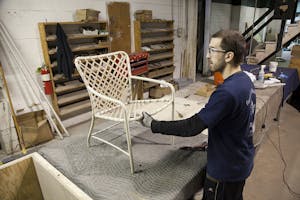 Initial inspection. Each mesh patio chair that we receive is given a thorough inspection. From top to bottom, and back to front, the chairs are checked carefully to make sure that the frame and other parts aren't damaged. If they are, then our specialists work to repair that damage as well as the mesh.
Removal of mesh and fasteners. The sling is typically the most damaged aspect of mesh patio chairs. Anything from simple sun damage to animal paws can damage these slings, and so they are removed and the fastener equipment is inspected. If any bolts, rivets or welds are damaged, the problems will be addressed before installing the new sling.
Cutting of a new custom sling. All chairs that we repair will receive a brand new, custom sling. These slings are measured and cut to fit any sized or shaped chair. Furthermore, we utilize strong Gore Tenara thread, which is chemical and weather resistant. This means that your new sling will not only look great, but that it will last for many years, regardless of the weather it sees or the cleaning agents you use on it.
Professional installation. Each custom-cut sling is installed by a professional mesh patio chair builder. These men and women insure not only that the sling is installed tightly and securely, but also that the edges are all clean and that the hinges are all tight and secure.
Finally, there are many cases where the paint on the chair's frame should be addressed. Many years of sun and weather can fade & discolor the existing coating. For these cases, we use a few extra steps to ensure that the chairs that our customers receive are of the highest quality:
A quick sandblasting. An aluminum-oxide sandblasting works to remove the existing finish on the frame. This process will strip off all paint, oils and contaminants before starting anew.
A shiny new powder coat. Powder coat paint is applied electronically, and it is extremely durable and aesthetically pleasing. The paint color can be color matched to the sling, or it can be chosen by the customer.
A final curing in the oven. Once the powder coat has been applied, we give all chairs a 400 degree cure cycle to harden the protective coating. This ensures that the beautiful finish will be strong and durable, lasting as much as 4 times as long as a traditional wet coat.
If you're outdoor furniture is showing its age, or if it's been damaged by the sun or the weather, give us a call today to set up a shipping option. We offer a 100% satisfaction guarantee on all repairs that we undertake, and that your chair will be showroom-new once it is returned.