Accentuating your yard or patio with new furniture is an exciting event to look forward to in the warmer months. Selecting the right patio furniture for your outdoor oasis, however, is more complicated than one may think. After all, there are many materials, designs, and brands from which to choose, as well as taking your climate into consideration. Each option for outdoor furniture has its own benefits. It's important to learn about the materials, in order to prolong outdoor furniture repair
Here are a few of The Southern Company's preferred types of outdoor furniture, which withstand rain, wind, heat, and sun over a long period of time.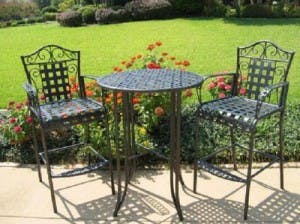 Wrought Iron Outdoor Furniture
These pieces add a certain beauty and elegance to your yard or garden. In many cases, wrought iron outdoor furniture is passed down generation-to-generation, holding lots of sentimental value. If you choose wrought iron, try looking for older pieces made by craftsmen who incorporated delicate design and character. This durable and extremely heavy furniture is ideal for windy or harsher weather conditions. However, wrought iron is predisposed to rusting, so be sure to read how to care for wrought iron furniture. The Southern Company can help refurbish any wrought iron piece you hold close to your heart.
Aluminum Outdoor Furniture
Generally, aluminum outdoor furniture is the choice for many due to the durability and rust-resistance. Available in many styles, you can find a complete set affordably, made with vinyl strapping or outdoor fabric sling seating. For those towing their outdoor furniture onto the beach, aluminum works wonders. It is ideal for nearly all types of weather and is resilient to drying out or cracking like other materials do. UV resistance can ensure that the furniture's finish does not fade.
Cast Aluminum Outdoor Furniture
Heavier duty than a standard aluminum frame but more lightweight than wrought iron, cast aluminum truly holds up again Mother Nature's mischief. Cast aluminum is powder coated, UV-shielded, and rust-proof. The set can be adorned with pillows, cushions, and umbrellas that change with your mood, while the frames themselves stay sturdy and timeless. Cast aluminum pieces will stay in place and unharmed during rain and wind, but can still be rearranged and stacked without much effort.
The type of material you choose depends on your budget, style, and climate. The most important thing is that you love it! As with any furniture, it's crucial to show a little TLC every once in while. Be sure to properly clean and maintain your furniture, and allow a professional lawn furniture repair company to assist you with restorations and refurbishing.