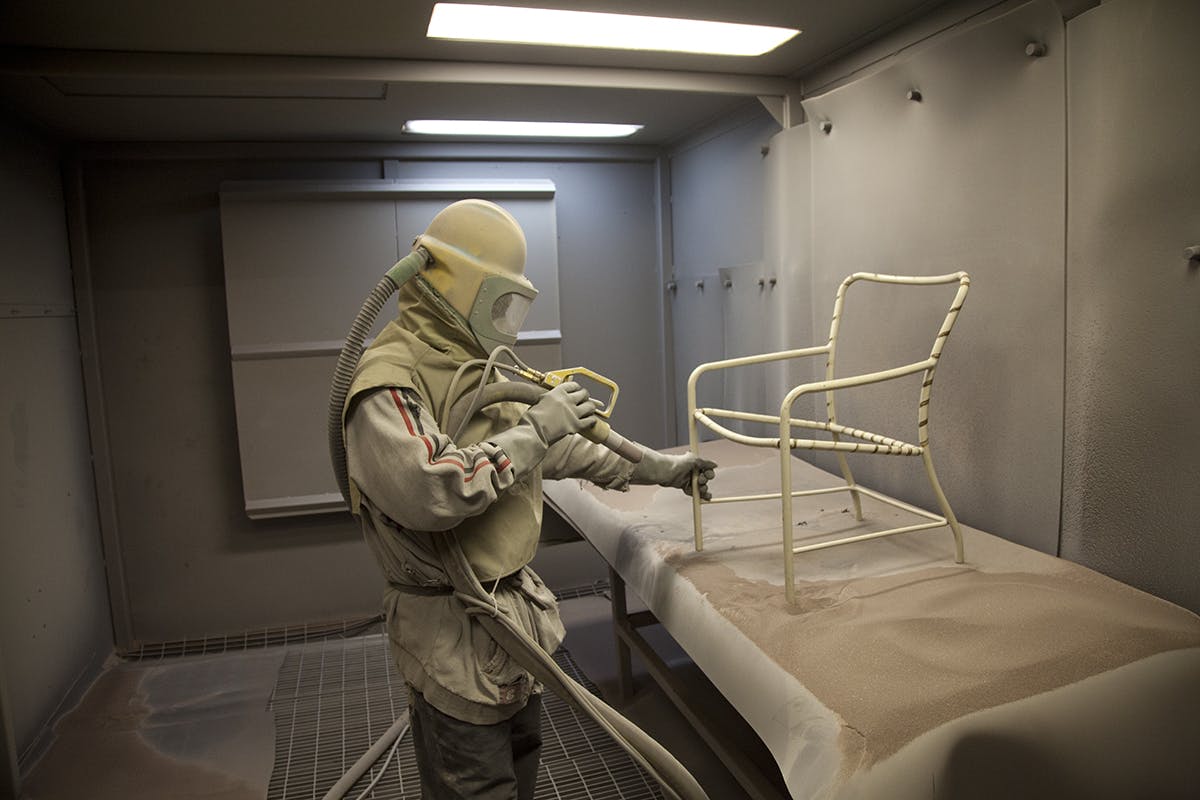 Here at The Southern Company, we use a state of the art repair process to restore your outdoor furniture to showroom condition. Our restoration technicians have extensive experience repairing all the most well-known brands and most common types of damage. And we use the highest quality materials for every one of our repairs, whether it's a sling that needs replacing, a chair that needs restrapping or relacing, or a frame that needs refinishing. You can count on The Southern Company to repair your patio furniture right.
Featured Furniture Brands We Repair
Current top of the line brands such as Brown Jordan and Tropitone aren't the only ones we repair. Carter Grandle may have gone out of business back in 2006, but our technicians are still here to keep your set in peak condition for years to come. The brands we work with include, but aren't limited to:
Common Outdoor Furniture Damage
The Southern Company was founded in 1984, and over the decades since then we've seen, and repaired, every type of outdoor furniture damage under the sun. The major culprits of furniture damage are UV sunlight, excessive heat and cold, mold and mildew, acid rain, cleaning chemicals, sunscreen, minor spills, and general wear and tear. Unless the entire frame of your furniture has rusted away, there isn't a repair job that we can't accomplish.
Materials We Use to Repair Outdoor Furniture
When it comes to repairing or restoring your outdoor furniture, we believe it should not only look as good as new, but be higher quality than when it was new too. To ensure this, we use only the finest materials available, such as GORE® TENARA® sewing thread and Sunbrella weatherproof fabrics. These materials can hold up against just about anything life throws their way, so you can rest easy knowing you won't need to see us again for repairs very soon. We also double stitch every seam for that added layer of durability.
And when your furniture is being restored, there's no need for it to keep the same look it had when you first bought it. In-style colors and patterns are constantly changing, so take this time to give your furniture a new look. To this end, we have over 125 replacement sling fabrics and colors, over 25 different vinyl strapping colors (with mildew inhibitors and ultraviolet stabilizers to help maintain color and brightness), and over 25 different finish colors.
Sling Replacement
Sling replacement is one of our specialties at The Southern Company simply because of how common it is. When your furniture arrives at our premises, the first step is to perform a full inspection. This will allow us to gauge the condition of the furniture and determine if frame refinishing is also necessary. If the frame is in need of refinishing, that will be done before the new sling is installed.
After the full inspection is complete, the old sling will be removed from the frame. This is done by cutting through the center of the sling and then pulling it out of the frame. We then measure, cut, and stitch a new, custom sling for your furniture. And finally, after the frame has been refinished if necessary, the new sling is installed.
Restrapping and Relacing
Restrapping and Relacing is a bit different from sling replacement in that it will almost always involve frame refinishing. As with sling replacement, the first step is to perform a full inspection of the furniture to determine the extent of the damage. We then remove the straps in a similar fashion to how slings are removed.
Once the frame is free from the straps, it's time to refinish it. This involves both sandblasting away the old paint and then applying a new powdercoat. Then, the finish is applied and the furniture is placed in an industrial oven for curing. With the fresh finish dry, it's time to restrap the furniture. The stock vinyl sizes we generally work with are ⅝ inch, 1 inch, 1 ½ inch, and 2 inch. After the frame has been restrapped, your furniture is ready to be used once again.
Frame Refinishing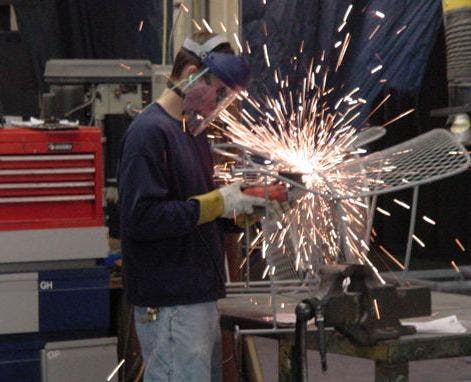 The first step of frame refinishing is to weld and repair the frame. If cracks and breaks are left in the frame, then it can compromise the finish. General use, as well as changes in temperature, will make these cracks and breaks worse if they are not repaired.
After the frame has been repaired, refinishing follows the same steps as it does when restrapping or relacing are also being done. The old finish is sandblasted off the frame, a new powder coat and finish are put on, and the frame is placed in the oven to cure.
When it comes to wrought iron furniture, professional frame refinishing is even more important. We work in a controlled environment which reduces the risk of imperfections and further damage to the frame. Additionally, our sand blasting is able to completely remove the old layer of paint — something which simply can't be accomplished by sanding manually. And these improvements in how we handle wrought iron patio furniture lead to our guaranteed long-lasting results.
The Southern Company
The Southern Company has extensive experience repairing the most common types of damage on the most popular brands of outdoor furniture. Our services include sling replacement, restrapping and relacing, and frame refinishing. And, we always use the highest quality materials when restoring your furniture to showroom condition. Contact The Southern Company today for more information on how we can make your outdoor furniture the envy of your neighbors.