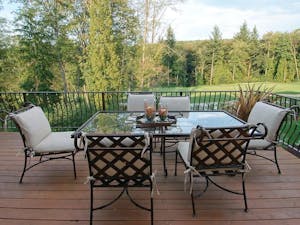 When it's time for you to buy patio furniture, you have several decisions you need to make prior to making any purchases. Among the chief decisions you need to make is the type of material you'd prefer your patio furniture to be constructed from. You also need to decide if you want to buy your furniture new or used. And, if you do buy used, do you want to refurbish patio furniture?
Before we jump into what benefits you get when you refurbish patio furniture, we'll talk about a couple different materials you can choose from.
Wrought Iron
If you're looking for outdoor furniture that is going to be placed in a formal or classic setting, then wrought iron is the material for you. Not only is it a strong and durable material, but its designs range from the traditional to the contemporary. Some advantages to the material is that it generally is very heavy and won't tip or fall when a strong wind blows. You do, however, need to take some rust prevention measures to ensure its longevity.
Aluminum
If you are looking for a material that won't fade or rust, then aluminum is the way to go. Powder-coated aluminum is even safer from rust. Most aluminum pieces are made into contemporary designs, so they can be used in most design schemes. There isn't a lot of maintenance that will come along with aluminum patio furniture, so you can generally rest easy knowing you won't need to do much outside of general cleaning, to keep your furniture in great shape.
Should you choose to refurbish patio furniture?
A lot of people want to go out and buy brand-new outdoor furniture. They just like the look, the feel, and that new-furniture smell. But, that can be costly. If you want to go the more affordable route, you can buy used and choose to refurbish patio furniture.
Many times, refurbishing patio furniture will save you money. Not only will you save money in the short-term, but you'll also save money over the long run as well. Many professional patio furniture repair companies can bring new life into your furniture. They have many different services that can make your furniture look good-as-new. Re-slinging, re-strapping, powder-coating, and other refurbishing services will make your furniture look like you just brought it home off the showroom floor.