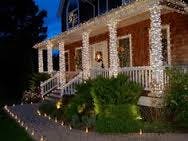 Whatever the weather is like over the Christmas season, you will want your home to look just as good on the outside as it does on the inside.
This can be especially important if you intend to do any of your entertaining outside. Obviously this will depend considerably on where you live, but even if it's cold, patio heating equipment or an outside portable stove or wood burner can be used for your guests' comfort. So there are options for most climates to extend your entertaining space beyond the confines of your house.
Even if you are not intending to entertain outside, making sure that your patio, porch and/or the entrance to your home feels like a seasonal wonderland can make all the difference in your company's experience.
 So let's look at some easy ways you can put together a high-quality outdoor holiday environment that is both practical and welcoming.
Make Sure Your Outdoor Holiday Lights Are Just Right
The one essential you need to get right when it comes to creating a fantastic holiday display in your outdoor space is the lighting.
When it comes to putting up temporary holiday lights, you should always have a plan and a budget before you start. This will ensure that you do not end up with excess lights (and costs!) and nowhere to put them, and it will also minimize the chances of not being able complete your vision satisfactorily.
Pick a focal point where you want the main lighting display to be. If you are decorating patio space, consider where people will approach and leave the patio, and also where they will stand while on it. In terms of creating a "wow" factor, think about how people will approach the patio and what lighting configurations will best enhance it.
Be stylish and artistic when it comes to positioning your lights. If you are unsure how to hang them most effectively, you can always do an online image search to get some inspiration. For example, wrapping string lights around the trunks of trees or shrubs is visually attractive as well as using net lights draped over shrubs, borders, and other flat surfaces.
Position Your Centerpiece Decorations Thoughtfully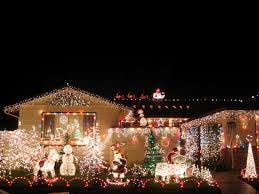 If you have any space in your yard or on your patio, then there's an opportunity for a gorgeous holiday display.
Your display can include anything from plastic decoration pieces to elaborate or expensive sculptures. Some of these decorations also contain lighting, or can be integrated into your holiday light plan. Make sure that you factor in the positioning of your larger seasonal decorations before implementing your lighting plan.
It's a good idea to focus on one decoration as a central piece. For example, you could have a porch sitter on your patio or front porch. Whether it's a reindeer, a snowman, Santa, or some other seasonal figure, it's important that you position and light your centerpiece decoration correctly. Make sure the decoration is visible from the street as well as when approaching the porch. This is a special way to welcome company to your home, and delightful for children.
Christmas Trees, Wreaths And Garlands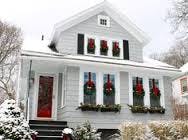 If you buy a real Christmas tree for the inside of your home, why not consider haggling on the price and getting two? The second tree can then be used outside to create a spectacular focal point.
It does not have to be expensive if you get a smaller tree and make sure to use decorations, like lights, that will stand up to the weather. This is an easy way to decorate and sure to be appreciated by everyone who sees it.
Traditional wreaths and garlands can also be purchased to decorate doors and other surfaces like porch columns, arches, fences, and windows. If you are feeling adventurous, you could also make them yourself or purchase ones that come pre-lit. This will add to your magical lighting display.  Think about adding winter greens like evergreen clippings and holly to your outdoor window boxes and even your mailbox.
When these natural elements are mixed with beautiful lighting and some highly recognizable commercial decorations, you can create a magnificent blend of a traditional and modern vision of Christmas.
Let The Whole Family Go To Town
If you have children or grandchildren, why not get them involved in creating the outdoor holiday display? They will love having a say, and may come up with some pretty good ideas on their own!
You could cut out star shapes from sheets of wood, and have them paint the stars to use year after year. A great tip is to attach a stick to the rear and then they can be place into containers, or hammered into the ground.
Other options include making decorations using metallic fabrics and other materials that look appealing but that will stand the rigors of being outside for a few weeks during the winter. Do a search on the internet for other kid-friendly ideas.
Whatever you decide to do, get everybody involved and come up with a plan in advance. Inviting the whole family to be a part of the process can be fun and a great way to spend time together over the holiday season.
 Happy decorating!