After the Second World War there was a rapid return to domestic industry development. This led to the creation and provision of time-saving devices at affordable prices.
Suddenly Americans found themselves better off. After the hardships of the war, they also found they had more leisure time than ever before.
One of the obvious places to spend this leisure time was in their own backyards. Rather than just being a place to keep the dog, the yards of middle-class America began to transform into entertainment areas. Patios and pools provided the backdrop for cocktail parties and barbecues.
Brown Jordan Changed The Way We Think About Outdoor Furniture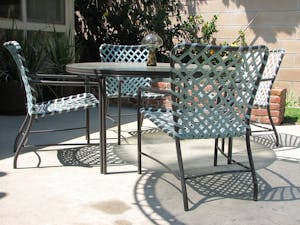 With a fabulous climate and strong all year round sunshine, it's no surprise that Californians were quick to embrace this transformation in fortunes.
Because of this, California became an area inextricably linked with the manufacture and sale of high quality outdoor furniture. Time, money and climate combined to give birth to a great American success story.
Hailing from Pasadena, Robert Brown and Hubert Jordan were quick to spot the opportunities in post-war America for high-quality outdoor leisure furniture.
In 1945 they founded the Brown Jordan company. It was the first company in America to focus purely on developing high-fashion outdoor furniture and accessories.
If you are not familiar with the industry, this may sound like a really bland statement to get excited about. But we're not just talking about making nice furniture to sit on. Brown Jordan turned furniture into the centerpiece of America's new entertainment focus.
Brown Jordan's first outdoor furniture collection was released in 1948 and was simply called "Leisure". This revolutionary collection came to define the new way of thinking about the look and use of our personal outdoor space.
The Leisure range design was innovative and robust. Its tubular aluminum construction held a fine wave that created a truly distinctive look. The materials used were extremely durable, while remaining comfortable.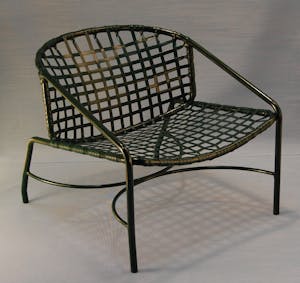 For the first time, outdoor furniture became desirable. A fashion accessory. A personal statement.
After the release of the Leisure range, Brown Jordan went on to release timeless classics that helped to create the backdrop for decades of American leisure time. Their influence on design excellence became so strong, that in 1959 their Kantan lounge chair was chosen by the Department of Commerce to represent the United States at that year's world industrial fair in Tokyo.
Brown Jordan is one of those companies who have helped define America in that subtle way most of us would never even notice.
Sometimes We Forget Those Things Which Change Our Thinking
Of course, with so many beautiful outdoor furniture products around nowadays, it's easy to forget how Brown Jordan changed the way we think about outdoor furniture design, and by extension how we spend our time outdoors.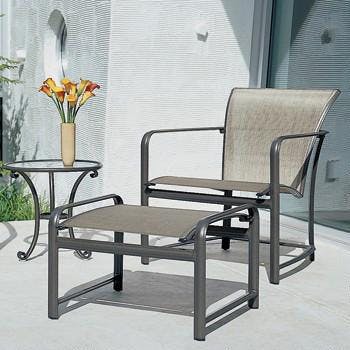 But to do so does a massive disservice to the innovation Brown Jordan created in the outdoor furniture industry, that we all benefit from nowadays without even thinking about it.
Their unique frame designs and thin vinyl strap weaving created simple beauty. The materials they used not only created beauty, but made them extremely durable.
This is the reason why retro Brown Jordan furniture still commands a high price, with lasting quality that often leaves modern furniture lacking.
We Are Proud To Be Connected With A True American Great
In the 1950's and 1960's, Brown Jordan designs were the "must have" items for discerning people.
Their outdoor furniture commanded attention around patios and pools throughout America.
And that iconic look, created in every single one of the designs, still commands attention today.
Nowadays, Brown Jordan offer around 30 collections in their product range. Whatever your taste, Brown Jordan outdoor furniture can be a talking point for the people around you.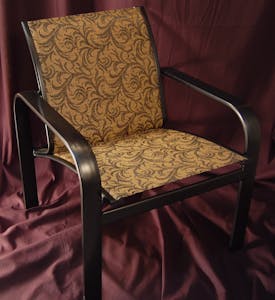 From kitsch to modern, the clean lines and beautiful quality is available in dining sets, deep seating, benches and all other types of outdoor furniture and accessories.
This year sees the 70th anniversary of Brown Jordan. Here at The Southern Co. we are immensely proud to be associated with this great American brand.
We share Robert Brown and Hubert Jordan's singular vision to give Americans the ability to benefit from quality and design excellence at an affordable price.
This piece is a tribute to the endless quality and innovation displayed by Brown Jordan since 1945. It's companies like theirs which drive companies like ours to strive for excellence in everything we do.
With so many trendsetting designs produced over 70 years, the Southern Co. seeks to follow the ethos of Brown Jordan in our own work. We lovingly maintain and restore Brown Jordan furniture using the highest quality materials and processes, so that people can continue to enjoy their design excellence for another 70 years.