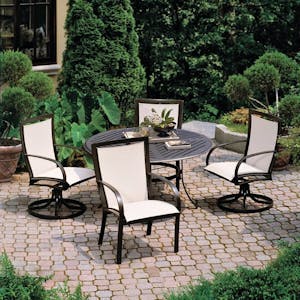 Are you lucky enough to have a patio at your home? If you are one of the lucky homeowners or renters with a patio, with the approaching warmer temperatures, you're probably looking to spend more and more time outside. Spring into warmer temperatures and give your patio a complete facelift for the upcoming season. Just freshening up your spring décor will give your patio a new feeling entirely – you'll be able to enjoy the outdoors fully.
How exactly you transform your patio is dependent on your own unique style and tastes. However, giving your patio a new look doesn't have to be expensive; in fact, it can be quite the opposite. Redesigning your patio with simple accessories can be an extremely affordable transformation if done properly.
Here are some helpful and affordable tips for sprucing up your patio and transforming it into your ultimate warm weather oasis:
Complete patio furniture repair. After years of use, your patio furniture may not be in the best condition. However, with an expert's touch, your patio furniture doesn't need to be just thrown out; instead, repurpose it. If you are just looking for a quick change, switch out your cushions or accent pillows with new material. You can also contact a patio furniture repair company and have your well-loved furniture transformed into a piece of furniture that looks as good as new.
Add draperies. By adding some variety of window treatment to your patio, you create a sense of an additional room, as well as gain privacy. You can hang window treatments from a wall-mounted rod and make a complete enclosure. Curtains are available specifically for the outdoors – they come in weather-resistant material and are machine-washable. Perfect to transform your patio into your own oasis-like escape.
Create better ambiance with additional lighting. If your patio is not exposed to much natural sunlight, add something extra with the help of lanterns or luminarias. Adding a few citronella candles into bamboo lanterns will instantly create a wonderful haven and best of all, keep the bugs away!
Add an area rug. A patio can contain elements of indoor design for extra flair and comfort, such as adding an area rug. A waterproof mat can also make a porch area appear larger. In addition, a rug can help complement the fabric on your patio furniture.
Accent with accessories. Think large cushions, decorative pillows, strings of lights, or even some new planters. Accessories are a great way to transform your room, as well as pull together a unique and personalized design.
Now that your "new" patio is ready, it's time for entertaining!